Looking for all Articles by Lynsey May?
Book sales and other ways to support author events in schools
How schools can help authors and children get the most out of a visit, by offering support where possible.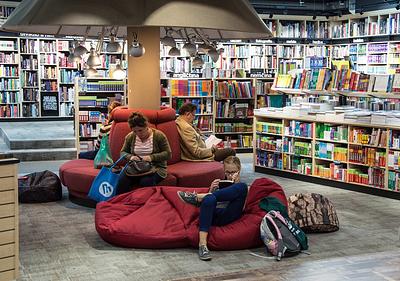 An author visit can be a truly magical experience for pupils, teachers, and authors. However, for the author, events are also a way for them to support themselves and ensure they can continue with a writing career. Between the rising cost of living and falling earnings, authors are facing big challenges – as we know schools are too.
School visits and book sales
In the past, school visits were often accompanied by a book sale, where the author could offer children the opportunity to buy a copy of their book. This is a lot less common nowadays, for a variety of reasons. Two of the biggest being the Cost of Living crisis(this link will open in a new window) and the Cost of the School Day project(this link will open in a new window) from Child Poverty Action Group (CPAG), a programme that supports schools to identify and overcome barriers that children from low income families face when it comes to costs associated with their participation and engagement at school.
Activities such as book buying may not be open to every child and some schools are mindful of this when it comes to planning visits. If you know that you won't be able to run a book sale alongside an author visit, please do let the author know. Otherwise, they're likely to assume there will be an opportunity to sell books and may buy and transport copies themselves in preparation.
How book sales help authors
While buying a book can be a relatively low cost for some families, especially in comparison to larger activities, it can also be a big cost when there isn't any money to spare. So it's understandable that a book sale may not be a suitable choice in every setting. That said, they do provide an important revenue stream for authors, who are currently facing a huge drop in revenue, with the median earnings falling to £7,000 a year(this link will open in a new window), according to research from the Authors' Licensing and Collecting Society (ALCS).
Alternative ways to support authors
If your school isn't able to hold book sales as a way to mark author visits, there are some other ways that you can offer support and also make books available to children who are keen. For example:
You could chat to the author and see if they would be interested in bringing along something for children to take home that has details of their books or website on it, such as bookmarks or activity sheets
You could put details of the author event in any newsletters you send out to parents, being sure to include direct links to places where the books are available to buy (feel free to ask the author which links might suit them best, whether it's direct from their publisher or a favourite bookshop)
If the biggest barrier to holding a book sale is to do with logistics or staff time, rather than the cost of books, then why not see if a local bookshop might be interested in hosting the sale for you? This not only makes things easier for you, but benefits the author and shop too
If possible, it's also a nice idea to buy a few copies of the author's book or back catalogue to add to the school library. This makes it possible for children to access the books after the visit, without each one needing to buy a copy
You could get in touch with any local libraries to see if they have copies and if they do, signpost them as an option during or after the event. Authors earn money when their books are taken out from the library, so this can be a great help
If you have a summer or Christmas fete, you might also consider asking the author if they would like to set up a stall there