Looking for more in Reading and Stories?
Your Stories: Writing workshops
Find our more about the authors leading our Celebration writing workshops and sign up to take part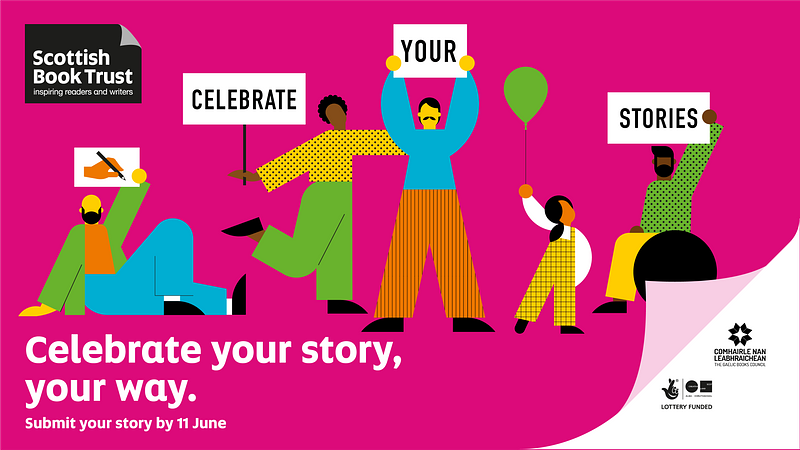 As part of this year's Your Stories writing project, we've teamed up with four incredibly talented authors to help inspire you to get writing about Celebration.
Each author has written about what Celebration means to them and will discuss their work and what inspired it. They will also share some exercises you can do at home to help you start writing during a series of online writing workshops held on Zoom.
So, if you're struggling for inspiration and fancy picking the brain of one of these wonderful authors, why not sign up for a workshop.
(this will open in a new window)Sign up for a workshop
Hannah Lavery
Hannah Lavery is a published poet and award-winning playwright and performer. Her poetry has been published by Gutter Magazine, The Scotsman Newspaper and others. Her play, The Lament for Sheku Bayoh, commissioned by the Royal Lyceum Theatre, was performed as a work in progress as part of the Edinburgh International Festival 2019. In February 2020, she was also named as one on BBC Writersroom's Scottish Voices of 2020.
Workshop dates:
Wednesday 21 April, 3–4pm
Thursday 22 April, 3–4pm
Sign up for one of Hannah's workshop dates(this will open in a new window)
Alice Tarbuck
Alice Tarbuck is an award-winning poet and writer who is interested in making poetry accessible to all. She has taught Creative Writing at the University of Dundee and is a 2019 Scottish Book Trust New Writers Awardee for poetry. Her debut non-fiction book, A Spell in the Wild: a year (and six centuries) of Magic, is published by Hodder & Stoughton. Alice also works as a Lead Reader for literacy charity Open Book.
Workshop dates:
Wednesday 28 April, 3–4pm
Thursday, 29 April, 6–7pm
Sign up for one of Alice's workshop dates(this will open in a new window)
Samina Chaudhry
Samina Chaudhry was born in Manchester and completed her Master's degree in Pakistan. Samina is currently working on a novel, Half-Woman, which is inspired by her experience of growing up in different places and the juxtaposition of different societies. Her work has been performed at the Linlithgow Book Festival and Aye Write Festival.
Workshop dates:
Sign up for Samina's workshop(this will open in a new window)
Michael Lee Richardson
Michael Lee Richardson is an award-winning writer who has worked in film, television and prose. Michael likes to write between the margins about people we don't often see in our stories. His film My Loneliness is Killing Me won a Bafta Scotland Award, and he is currently developing several projects for television. Michael edited We Were Always Here, an anthology of queer Scottish writing, for 404 Ink.
Workshop dates:
Wednesday 12 May, 3–4pm
Thursday 13 May, 6–7pm
Sign up for one of Michael's workshop dates(this will open in a new window)