Looking for more in Reading and Stories or About Sensory Storytelling?
Inclusive Stories Festival: Rebecca Burgess and Speak Up!
Register to watch this inclusive online author event with Rebecca Burgess. This is part of Scottish Book Trust's Sensory Storytelling programme, funded by The Mohn Westlake Foundation.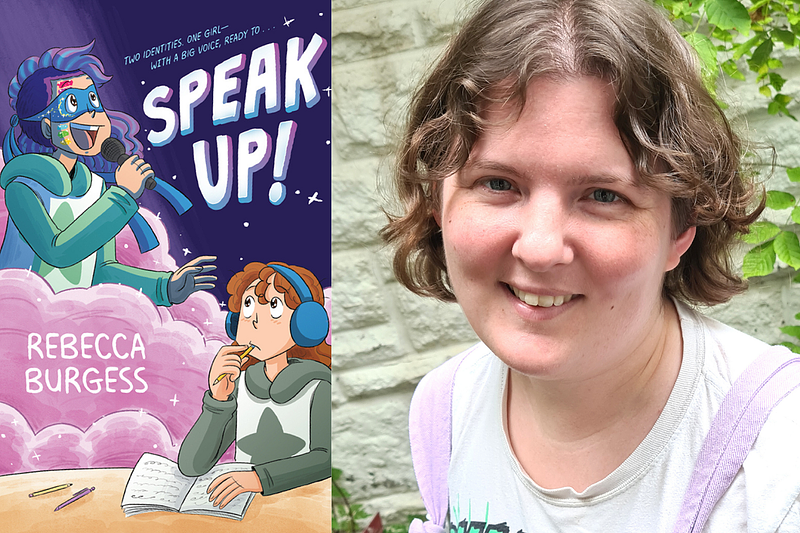 Rebecca will be discussing their graphic novel, Speak Up!, what it feels like to be autistic and the different ways you can express yourself if you find it hard to talk. Join Rebecca after this for a little drawing session, in which they will create their own alter-ego character and give some fun ideas (along with templates) on how you could create your own alter-ego to express yourself!
When: Thursday 9 February, 10am
Who: Special and mainstream schools
Audience: P4 + (age 8+). Please note our audience guidelines should be used as a rough guide only. We encourage you to share events with pupils of all ages and stages if you think they'd enjoy taking part!
Location: Online; we will send you a link to watch the video
Cost: Free
Accessibility information: Videos will be captioned in English
Deadline: Event videos will be available to watch on demand for those registered on the Scottish Book Trust website until Friday 3 March. You can still register to receive a link after the event launches on 9 February.
About the author
Rebecca Burgess(this will open in a new window) is a comic artist and illustrator working in the UK, creating award winning published and small press work. Along with drawing comics for their day job, Rebecca also loves drawing webcomics in their free time. Being autistic, they are particularly passionate about bringing more autistic characters into comics and stories! Outside of drawing comics and cuddling their cat, Rebecca also loves playing RPGs with friends, going on deep dives into history and growing vegetables in their humble Bristol garden.