Looking for more in Reading and Stories or Bookbug?
What's inside the 2022 Bookbug Toddler Bag?
Find out what's in the 2022 bags and where to get them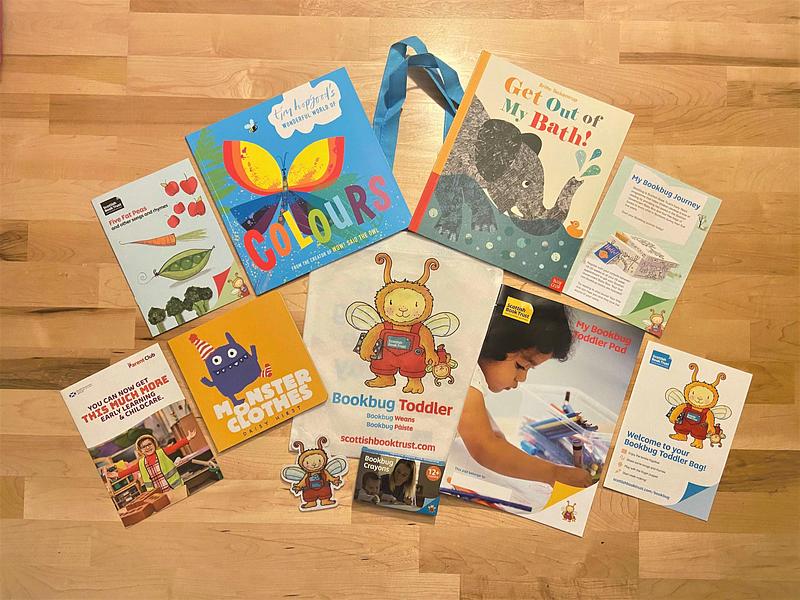 The Bookbug Toddler Bag is gifted by your health visitor when your baby is 3–5 weeks. Ask your health visitor, local library or the Bookbug Co-ordinator in your local authority if you have not received a bag for your child. Alongside the books, toddlers will receive a Bookbug finger puppet, some chunky crayons for mark making and a bright white pad of paper.
Monster Clothes
by Daisy Hirst
Toddlers will love sharing this delightfully silly board book with you! With brightly coloured illustrations of monsters wearing everything from dungarees to tomatoes and leaves, it's full of fun for you and your wee one.
Get Out of My Bath!
by Britta Teckentrup
Can you help Ellie the elephant make some waves in her bath? Little ones will love the interactive elements in this adorable picture book, brimming with chaos and fun!
Tim Hopgood's Wonderful World of Colours
by Tim Hopgood
This is a mesmerising picture book, with wonderful colours for you and your children to delight in. You'll love finding the colours in places you might not expect.
Looking for information about this year's Toddler Bag?
(this link will open in a new window)Explore the 2023 Bookbug Toddler Bag contents
Looking for the rest of the Bookbug Bag contents?