Looking for more in Reading and Stories or Bookbug?
What's inside the 2022 Bookbug Explorer Bag?
Find out what's in the 2022 Bookbug bags and where to get them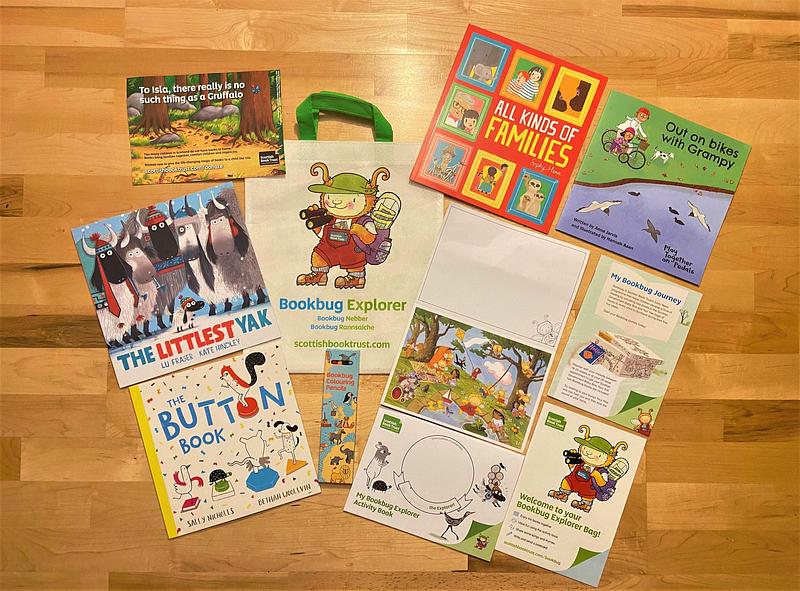 The Bookbug Explorer Bag is gifted at childcare settings when your child is 3. Home educated children who have not received their bag at nursery can request these from their local Bookbug co-ordinator. Alongside the books, this bag includes a pack of bright colouring pencils and an activity book full of fun activities and space to draw.
All Kinds of Families
by Sophy Henn
Celebrate diverse families with this adorable picture book, with every spread full of colour and life. There's lots to learn as it's packed with interesting facts about the different animal families you might find in the wild.
The Littlest Yak
by Lu Fraser and Kate Hindley
Little Gertie the yak looks around and all she sees are yaks that are much bigger than her. She wishes she could be big too, so she tries with all her might to grow – until she learns that bigness can be found in the smallest of places. This is an adorable rhyming picture book with a lovely message about being brave and being yourself!
The Button Book
by Sally Nicholls and Bethan Woollvin
What happens when you press a button? Some buttons are for beeping, some are for clapping, some for singing and some for tickling! In this brilliant book, every page has a colour theme to go along with its button and wee ones will love to find out what each one does. Chaos and fun ensue whilst sharing this picture book – but it has a lovely, calming ending for winding down, too.
Out on bikes with Grampy
by Anna Jarvis and Hannah Asen
This year we also have a special book from Play Together on Pedals. Out on bikes with Grampy is a lovely story about an adventurous day out shared between Grampy and his grandchild. From lochs and tunnels to ghost trains, there's so much to explore on their bikes!
Looking for information about this year's Explorer Bag?
(this link will open in a new window)Explore the 2023 Bookbug Explorer Bag contents
Looking for the rest of the Bookbug Bag contents?