Looking for more in Reading and Stories or Bookbug?
Ready, Steady, Sing: Bookbug singing confidence booster sessions
A fun and informal workshop for Bookbug practitioners to boost confidence leading singing, with time for discussion and peer support.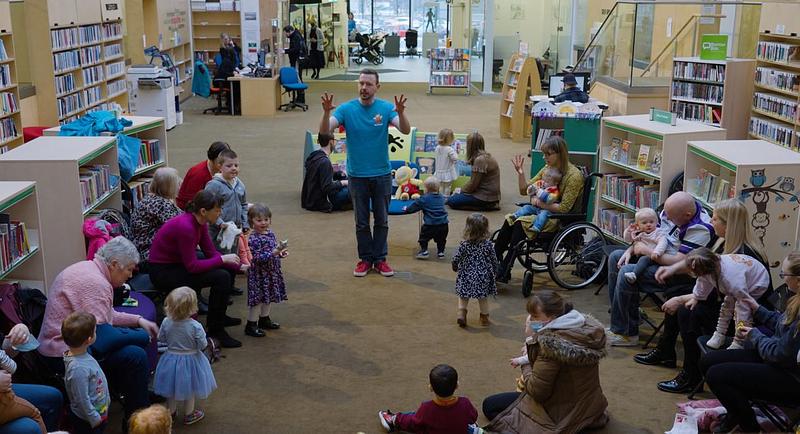 Families love to hear you sharing songs and rhymes, but many of us are out of the habit after the pandemic. Ready, Steady, Sing sessions will help you rebuild your confidence, refresh your content, and reignite your passion for singing.
Developed in collaboration with the National Youth Choir of Scotland, this lively and enjoyable two and a half hour workshop will:
Lead you through a range of familiar and new nursery songs
Explore techniques to help you feel calm and confident when leading singing
Give you time to informally discuss other aspects of leading Bookbug sessions with the trainers and other participants
Please note: No solo singing required!
Who can apply?
Applicants must:
Have previously completed Bookbug Session Leader or Bookbug for the Home training
Be affiliated with an organisation, either as a staff member or volunteer, which will support the applicant to use Bookbug
Plan to run Bookbug Sessions, or work with families, within two months of completing this session
Priority will be given to applicants who:
Completed

online

Bookbug Session Leader or Bookbug for the Home training, rather than in person
Have not been able to start up their Bookbug sessions or work with families since their training
Work in communities or areas with a specific need for Bookbug, can reach as wide a range of people as possible or are spread throughout every local authority in Scotland
Are targeting families who are not currently reached by Bookbug Sessions
How to apply
Applications for Ready, Steady, Sing are completed through Eventbrite. Click the link next to your chosen date in the list below.
We will check applicants against our records to ensure they meet our eligibility criteria and have previously completed the relevant training.
Successful applicants will be contacted to confirm their place two weeks before their chosen session date.
Unsuccessful applicants will be informed one week before their chosen date.