Looking for more in Learning resources?
Bookbug Session Plans: Bookbug's Big Journey!
Learning type:
Professional learning
Category:
Talking and listening
Age group:
0-2, 3-5, Children
Audience:
Pre-birth, Professionals, 3-5, 0-2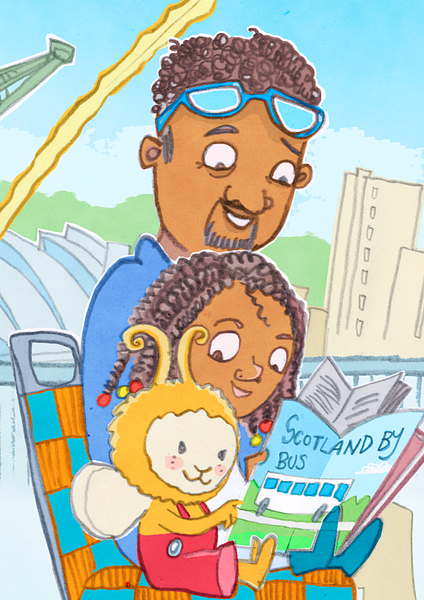 To celebrate Bookbug Week, let's take children and their grown-ups along with us for Bookbug's Big Journey! What transport will we use and who will we meet along the way?
Introduction song
Benefits
Familiar start – lets everyone know a Bookbug session has started.
Tips
Smile and use names if you know them.
Transition song
Hurlin up and doon in the Big Green Tractor
Benefits
Fun for children and grown-ups to learn a Scots song and an opportunity to learn about yummy vegetables!
Tips
Babies and toddlers will both enjoy being bounced along to this song – encourage the grown-ups to have their wee ones facing them.
Familiar rhyme
Benefits
Touch and tickles encourage bonding.
Tips
Older children can do this on their grown up's hands. Remember to build up to the tickles!
Active rhyme
Benefits
Strong and steady beat is fun for children and also supports language development.
Tips
Build lots of anticipation after 'Uncle John went. . .' and then follow with some bouncing and tickles.
Song with actions
Benefits
This is a familiar song which will help children and grown-ups feel confident joining in. The actions are fantastic for developing children's gross motor skills.
Tips
Why not add in some of your own passengers and actions? Maybe the children and families in your session will have some ideas!
Story
Trains Trains Trains! by Donna David and Nina Pirhonen
Benefits
Full of spotting and counting fun, Trains Trains Trains! has five trains to find on each page and an exciting fold-out race at the end. The rhythm, rhyme and illustrations in this interactive picture book will captivate both children and grown-ups!
Tips
Use the supporting sections at the end of the book for fun ideas on how to share this book with children and families in an interactive way.
Active song
Benefits
Repetition of Z sound is great for speech development and there are lots of opportunities for bouncing, jumping and swaying.
Tips
Build up anticipation with the countdown and bring in some finger play to help children understand 5, 4, 3, 2, 1.
Calming song
Benefits
A traditional song to pass down the generations.
Tips
This can be a calming song for babies and toddlers, being rocked or bounced. Perhaps pre-schoolers might like to pretend they are rowing or sailing the boat.
Last song
Benefits
Signifies that the session is over.
Tips
Thank all of the babies, children and grown-ups. Let them know about upcoming sessions!
Please read our guide on permission to read books aloud online.