Looking for more in Learning or Authors Live?
Authors Live: Young Scottish Voices panel
Join Nadine Aisha Jassat, Chris McQueer and Cat Hepburn for a celebration of young Scottish voices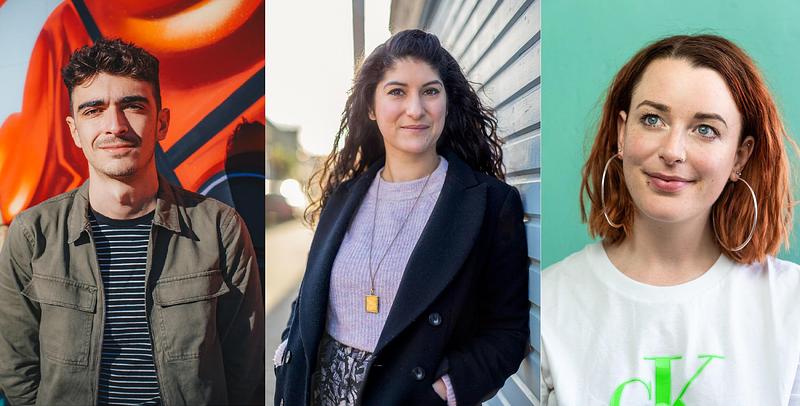 In this Book Week Scotland special, Nadine Aisha Jassat, Chris McQueer and Cat Hepburn take to the stage to showcase their writing and share how young people can use their own voices and experiences in writing and storytelling.
Nadine Aisha Jassat is an award-winning writer and author of poetry collection Let Me Tell You This, shortlisted for a Scottish Herald Award for Outstanding Literature. Her writing has been published widely; including in popular anthologies such as Picador's It's Not About the Burqa and Bloodaxe Books' Staying Human. Nadine has performed her work as part of Edinburgh International Book Festival's Outriders Africa, and the BBC's The Big Scottish Book Club.
Chris McQueer is a writer from Glasgow. He has written two collections of short stories, Hings and HWFG. Hings was recently adapted as a short series for BBC Scotland and won the 2018 Saboteur Award for Best Short Story Collection. Chris has also presented documentaries, written plays and performed spoken word. He is currently working on his first novel.
Cat Hepburn is an award-winning scriptwriter and spoken word artist who has written for stage, screen and page. In addition to story-writing for television dramas and soaps for the BBC and Channel 4, her poetry has been featured on BBC 6 Music, ITV and the Edinburgh Fringe.
Get involved
Register now to join in with this live digital event. After registering, you will be emailed a link to watch along live. The recorded event will also be available to watch afterwards in our Authors Live on Demand library.
If you would like to send questions for our panel to answer during the event, please get in touch with anna.broomfield@scottishbooktrust.com(this will open in a new window). You can also ask questions live during the broadcast using #BBCAuthorsLive on Twitter.
Date: Thursday 18 November
Time: 11–11:40am
Age range: S3 (age 14)+