New Suns, Different Futures: Speculative Fiction by People of Colour
Thursday 19 November | 20-21:00
Panel Event / Author Reading
Adults
---
This event is part of the Book Week Scotland 2020 Digital Festival.
There's nothing new under the sun, but there are new suns," proclaimed Octavia E. Butler.
Nisi Shawl and Andrea Hairston talk about their contributions to New Suns: Original Speculative Fiction by People of Color, a collection of short fiction which showcases emerging and seasoned writers of many races telling stories filled with shocking delights and powerful visions of the familiar made strange. This book brings together works from authors aware of our many possible pasts and futures, authors freed of stereotypes and clichés, ready to dazzle you with their daring genius.
Nisi Shawl, editor of New Suns, is a writer of science fiction and fantasy short stories and a journalist. They are the co-author (with Cynthia Ward) of Writing the Other: Bridging Cultural Differences for Successful Fiction and the author of the novel Everfair. Their short stories have appeared in Asimov's SF Magazine, Strange Horizons, and numerous other magazines and anthologies.
Andrea Hairston is a playwright, scholar and award winning author. Her latest novel, Master of Poisons, which brings together African Folktales and postcolonial literature into unforgettable fantasy, was published this October.
This event is chaired by Nyla Ahmad, editor of Full Colour, and former chair of the Scottish Independent Comic Book Alliance Awards.
Accessibility information: British Sign Language, closed captions and a transcript are available.
(Andrea Hairston photo credit: Micala Sidore)
(this will open in a new window)Buy New Suns from Waterstones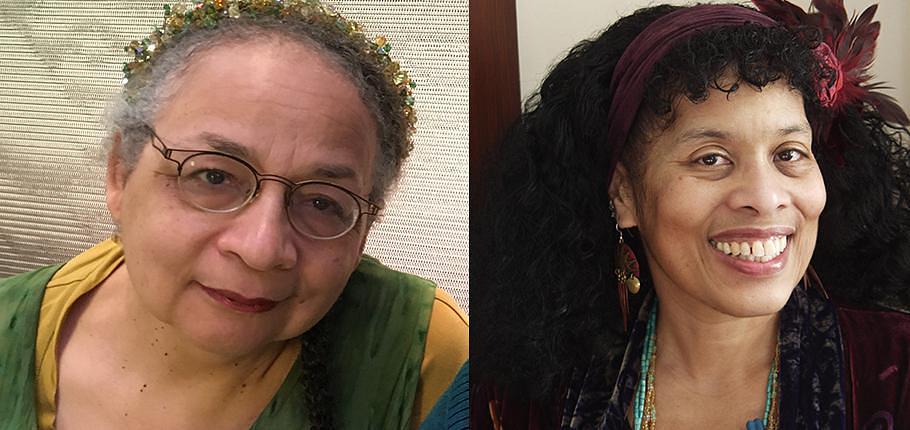 ---
Back to list of events