Book of the Month: The Pharmacist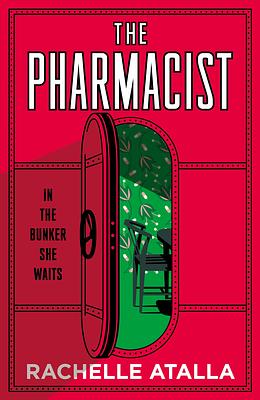 We have five copies of The Pharmacist by Rachelle Atalla (New Writers Awardee 2015) to give away! All you need to do is answer the question at the bottom of the page. Entries close on Tuesday 31 May at midnight. All entrants must reside in the UK and full terms and conditions apply.
And you can check out our Competitions page for other giveaways, too.
About
The Pharmacist

by Rachelle Atalla

In the end, very few people made it to the bunker. Now they wait there for the outside world to heal. Wolfe is one of the lucky ones. She's safe and employed as the bunker's pharmacist, doling out medicine under the watchful eye of their increasingly erratic and paranoid leader.

But when the leader starts to ask things of Wolfe, favours she can hardly say no to, it seems her luck is running out. Forming an unlikely alliance with the young Doctor Stirling, her troubled assistant Levitt, and Canavan – a tattooed giant of a man who's purpose in the bunker is a mystery – Wolfe must navigate the powder keg of life underground where one misstep will light the fuse. The walls that keep her safe also have her trapped. How much more is Wolfe willing to give to stay alive? Beautifully written and utterly gripping, The Pharmacist will be a guaranteed conversation starter.

We caught up with Rachelle to ask her some questions about the book and her experience on our New Writers Award programme.
Q&A with Rachelle Atalla
What inspired you to write
The Pharmacist
?
I've always been interested in the cruelties and kindnesses we are capable of imposing upon one another, particularly under strained and stressful circumstances. I think all my writing explores this in some way, but the inspiration for The Pharmacist came by chance when I stumbled across a community-size, post-war nuclear bunker in Berlin. I had given bunkers very little thought until then, but I found it to be a disturbing and compelling environment, and a place that stayed with me long after my visit.
There were so many societal thoughts and questions to consider: that governments built these structures with the anticipation of potential mutual destruction. That if ever needed, only a fraction of the population would be permitted inside. Who would be selected and would current political leaders be expected to continue in their roles? Ultimately, was a life living under these bleak conditions worth it? I had been working as a community pharmacist and writing in my evenings, keeping these two parts of my life quite separate, but there was something about the often claustrophobic, repetitive nature of my day job that I thought would lend itself well to my fictional bunker. Once I found the voice of Wolfe, my pharmacist protagonist, everything else fell into place.
How did the New Writers Award affect your writing journey?
Receiving a New Writers Award was monumental to me and came at such a pivotal point in my writing. Aside from providing me with the confidence to continue, it offered a tailored package of support in which to develop as a writer. Perhaps the most important aspect for me was receiving a mentor who guided me through the process of writing a novel, something I had always been reluctant to attempt because of its sheer scope and size. I was also lucky enough to meet some incredibly talented writers who have become close friends. I will be forever grateful to the Scottish Book Trust for their endless enthusiasm and encouragement, and for the role they played in helping me become a published author.
What can readers expect from your debut novel?
An unreliable and flawed narrator. A character driven story. Dark humour. Claustrophobia. Themes including: motherhood, morality, corruption, love and desperation. Niche pharmacy details. Oppression. Politics. Hope, because we're human and we all need a little hope. A bunker that reflects life in its most messy, questionable and unresolved form. A story open to interpretation and speculation – not something neat to be wrapped up and tied in a bow. A speculative yet familiar world, offering a reflection to the troubles and worries we face today. A book about a pharmacist by a pharmacist. My publishers say it is thought-provoking and a guaranteed conversation starter. We shall see.