Schools Book of the Month: The Tzar's Curious Runaways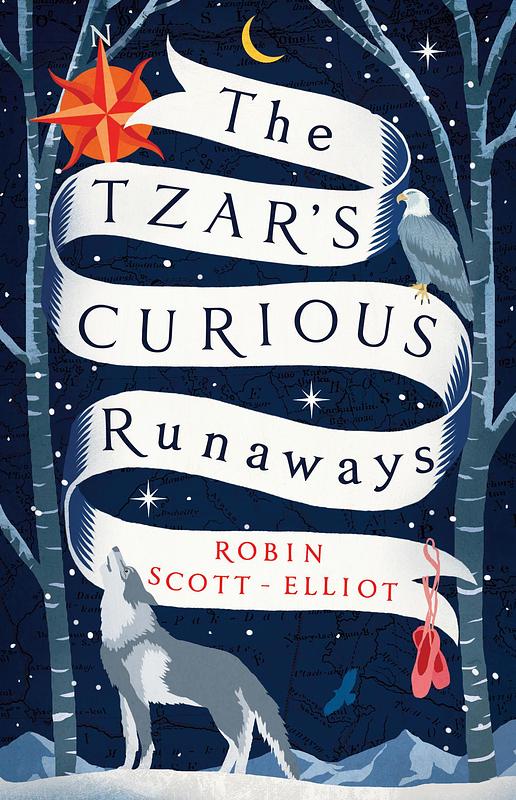 We have 5 copies of The Tzar's Curious Runaways to be won – just answer the question at the bottom of the page. Entries close at midnight on Monday 6 January. All entrants must reside in the UK.
Full terms and conditions(this will open in a new window) apply.
About
The Tzar's Curious Runaways
From the very first page, The Tzar's Curious Runaways is a gripping page turner full of action. In 18th century Russia, Katinka is running for her life. A talented ballet dancer with a curved spine, Katinka grew up in Peter the Great's Winter Palace as part of his Circus of Curiosities, but now the Tzar is dead and she is in grave danger if she stays in Saint Petersburg. It's a race against time for Katinka and her friends Alexei and Nikolai as they make their way across Russia, searching for safety before the brutal Russian winter descends.
This is a fantastic adventure story with heartfelt themes of acceptance, friendship and overcoming adversity. Throughout their lives, Katinka, Alexei and Nikolai have been seen as different from the rest of society and have been objectified and mistreated. In The Tzar's Curious Runaways, they form a strong friendship and learn that their differences can be a strength.
Robin Scott-Elliot's history as a sports journalist shines through in the action scenes. From fighting with wolves to an intense getaway across an icy river, Scott-Elliot skilfully describes the action in a way that is very clear and keeps readers glued to the page. There is also a particularly beautiful memory of Katinka dancing in the Tzar's court, which is brilliantly described and full of passion.
To top it all off, there is sprinkling of magic reminiscent of fairy tales and folklore that makes this the perfect book to curl up with this winter.
Why did you want to write a story about Peter the Great's Circus of Curiosities?
History is so often about Kings and Queens, Presidents and Prime Ministers and I wanted to give a voice, even if it is an imaginary voice, to those who are heard less often.
I was reading a history of the Russian Tzars when I first came across Peter's Curiosities – his entire court, his Jolly Company, leapt off the page as a story in waiting and the Curiosities most of all. It struck me that here was a fantasy world made real, the perfect setting for a children's story that has at its heart, shining through the darkness and cruelty of the adult world, a tale of friendship and hope – with plenty of adventure on the way.
What kind of research did you do for this book? Did you enjoy the research?
I love history – it was my favourite subject at school and university and I remain fascinated by it, and in particular the history of Russia. I was reading Simon Sebag Montefiore's thumpingly large and thumpingly excellent history of the Romanovs when I first read of the Curiosities. That book was the basis for the background of the story, along with a couple of other Russian histories. There were also many happy and meandering hours of web research into Russian monks, the early history of smelting around Perm, the uniforms of the Preobrazhensky Guards and so on.
I'm lucky enough to have been to Russia a number of times, including to St Petersburg, which is one of the world's most captivating cities. There is history around every corner.
What tips can you give to any aspiring writers?
To borrow from Mrs Doyle… go on, go on, go on, go on. Read and write, read and write. My second attempt at writing a children's novel was better than my first and my third was the Tzar's Curious Runaways, my 'debut' novel. In a sense you are learning a trade and the more you practice it the better you should become. Along the way you will also probably have to get used to handling rejection and working out why your story was rejected. Whatever happens don't give up – write some more, and keep reading as you do.
Being able to boil your plot down into one snappy paragraph – the dreaded 'elevator-pitch' – I think is also important. Firstly for getting your story read by agents and publishers, but also because if you can't it suggests there is something not quite right with your plot.
About the Author
Robin Scott-Elliot is a former sports journalist with The Independent and has also worked for the BBC and ITV. During his career as a journalist he reported on more than 25 different sports. His most memorable moment was covering the Paralympics for The Independent, which he called 'a life-affirming experience'. In the pursuit of his book writing career he quit his job three times.
Inspired by the tragic story of his great grandfather and his three brothers who went to war in 1914 with none returning, Robin self-published an epistolary novel The Way Home in 2006. It was Robin's two primary school-aged daughters who encouraged him to start writing for children. An early manuscript about time travel, the Jacobites and Bonnie Prince Charlie, was shortlisted for the Kelpies Prize. His fascination with Russian history and Peter the Great's Circus of Curiosities was his inspiration for writing The Tzar's Curious Runaways.
Born in Edinburgh, Robin's early childhood was spent on the move, living in various places around the world - wherever his father was sent with the army. At 7 years-old Robin returned to Scotland where he attended boarding school and spent his summer holidays in Mull with his grandparents. He now lives in the countryside near Edinburgh with his wife and two daughters.