Schools Book of the Month: The Time-Thief by Patience Agbabi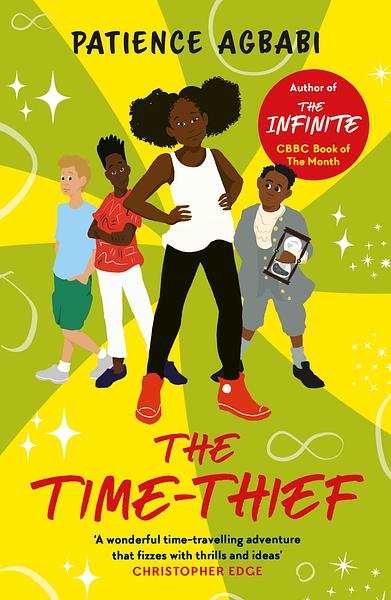 We have 5 copies of The Time-Thief by Patience Agbabi to be won! All you need to do is answer the question at the bottom of the page. Entries close on Monday 31 April at midnight. All entrants must reside in the UK and full terms and conditions apply.
About
The Time-Thief
The Time-Thief is the second book in the Leap Cycle, a brilliantly imaginative series about time-travelling protagonist Elle.
The first book, The Infinite, is set in the future. This time, Elle and her friends head back to 1752 after they witness the theft of a precious item, the Infinity-Glass. This leads Elle and her best friend Big Ben on an exciting, dangerous adventure full of twists and turns as they try to catch the thief!
Elle is autistic, and many other characters are neurodivergent too. By including a range of autistic and neurodiverse characters, the books show how neurodiversity can vastly differ from person to person. The mission is challenging for Elle at times – from having to mask her autism in order to hide her identity, to coping with the overwhelming sounds and smells of London in 1752. The Time-Thief also introduces some real-life figures from history, like Francis Barber and Samuel Johnson, and touches on the danger Elle faces as a black girl in Britain during the 18th century.
Patience Agbabi masterfully weaves these important topics into the story in a way that will allow children to identify with the characters similar to them and empathise with those that aren't. Overall, The Time-Thief is a thrilling adventure story with lovable characters, evil villains, and high stakes.
Q&A with Patience Agbabi
What was it like creating Elle's character? Did her voice come to you quite easily?
Around the time Elle entered my brain, I'd been doing some research on autism in girls (my older son is autistic) and was shocked at how often girls are misdiagnosed and how rarely autistic girls are represented in literature. So when it came to developing Elle's character, she had to be autistic. It was also essential she was Black and obsessed with some of the same things as me: linguistic play, athletics and the Olympics. Also, she had to experience some of the same challenges I faced when growing up: extreme sensitivity to food and difficulty making friends when I changed school at the age of 12. Whilst I'm not diagnosed as autistic myself, I share some traits and many of my friends are people who think outside the box, so Elle's voice came very easily. For Elle, as for me, the sound of words and the physical sensation of speaking aloud is as thrilling as the linguistic sense.
In The Infinite, Elle time travels to the future, and in The Time-Thief she goes to the past. Did you have to do a lot of research for these two (very different) settings?
Yes, lots! And the research mirrored the eras. For The Infinite, it was computer-based: online articles about climate change, food production and possible future inventions by the year 2050. At that time, 2050 was the date often pledged by governments to reach zero carbons emissions so I chose 2048 for The Infinite as the closest leap year to that. For The Time-Thief, in contrast, the research was book-based and in situ. The period scenes are set in 1752 and two books proved invaluable: Dr Johnson's London by Liza Picard which has tiny sections full of inspiring facts; and The Fortunes of Francis Barber, a moving and at times dramatic biography by Michael Bundock. Francis Barber became servant to Dr Johnson in 1752 so both absolutely HAD to feature in The Time-Thief. Finally, visiting Dr Johnson's House museum was the most enjoyable way to research the Georgian backdrop, the physical space where some of my scenes are set and the real historical characters.
If you were a Leapling, what period of time would you like to Leap to?
There are as many answers to that question as years! I'm a child of the 60s so would like to leap to that era as an adult, not only for the popular culture but also the politics. And I'd love to visit the key years I've created in fiction, 2048 and 1752, to compare my versions with the reality. But I'm not sure I'd want the burden of knowing what the future might be like and 18th century London would be dangerous for a Black woman! I'm an ambivalent time-traveller, if truth be told, in awe of Elle's ability to feel the fear but do it anyway.
About Patience Agbabi
Patience Agbabi was born in London in 1965 to Nigerian parents, spent her teenage years living in North Wales and now lives in Kent with her husband and children. She has been writing poetry for over twenty years, and her first novel for children, The Infinite, the first in the Leap Cycle series, was published in 2020. Like Elle, she loves sprinting, numbers and pepper soup, but, disappointingly, her leaping is less spectacular.
About Canongate Books
Based in Edinburgh, Canongate was formed in 1973. Since then, they have worked to unearth and amplify the most vital, exciting voices we can find, wherever they come from, and they have published all kinds of books – thoughtful, upsetting, gripping, beatific, vulgar, chaste, unrepentant, life-changing. Canongate are fiercely independent, and are as committed to unorthodox and innovative publishing as ever.