Schools Book of the Month: The Stone of Destiny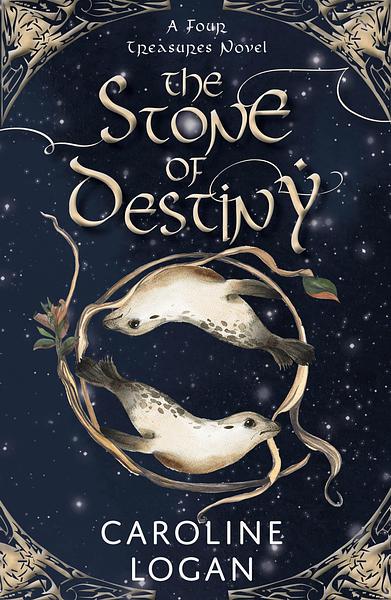 We have 5 copies of The Stone of Destiny to be won, signed by author Caroline Logan. All you need to do is answer the question at the bottom of the page. Entries close at midnight on Sunday 2 February. All entrants must reside in the UK. Full terms and conditions(this will open in a new window) apply.
About
The Stone of Destiny
Caroline Logan has created a beautiful fantasy world inspired by Scottish myths, featuring selkies, kelpies, and ceasg – to name just a few! The story is set on the fictional island of Eilanmòr, where Ailsa has convinced herself that she is quite happy living alone on a secluded beach, far away from society. All her life, she has been ostracised and detested due to a mark on her face which the people of Eilanmòr believe signifies that she is a changeling, a faerie child who took the place of a sick human baby.
However, Ailsa's life is about to change. After she saves two selkies from bloodthirsty raiders, they ask her to protect them during their mission to retrieve the Stone of Destiny, a mythical stone that is needed to crown the new king and protect the realm against evil forces – in particular, the evil faerie queen Nicnevan.
As Ailsa journeys north with Harris, a mischievous selkie, and Angus, the Prince of Eilanmòr, they develop a strong friendship. Between near-death experiences, thrilling ceilidhs and terrifying creatures in the forest, Ailsa slowly learns that opening up to others and being vulnerable can be just as much a source of strength as her skill with an axe. This is a truly magical adventure for older teens, with an excellent combination of laugh out loud moments, daring escapes and heartfelt themes of found family and self-acceptance.
Interview with Caroline Logan
What inspired you to write this book?
I love to read YA Fantasy but they all seem to be very based in English and Welsh mythology. I wanted to write a story that explored Scottish myths and legends because they are so interesting.
The story is full of Scottish folklore. Did you do a lot of research for the book, and did you enjoy it?
In terms of mythology, I did a lot of research. I already had an idea of which myths I wanted to use, but I had to check I was getting them right. I love reading and writing about monsters so this was my favourite part of writing the book. One of the creatures, the bog monster, was actually inspired from a story my friends and I made up when we went on our outward bound trip in Primary 7.
Is there anything you can tell us about what to expect next?
I'm currently more than halfway through the sequel to The Stone of Destiny, titled The Cauldron of Life. It's the second in a four part series. So far, I think it's a bit darker, and even more exciting. We'll see all the main characters from The Stone of Destiny plus many new ones. The cast is a lot more diverse as Ailsa starts to explore more of the world, but the monsters also become a lot more frightening.
About Caroline Logan
Caroline Logan is a writer of Young Adult Fantasy. Her debut novel, The Stone of Destiny, is the first in The Four Treasures series.
Caroline is a high school biology teacher who lives in the Cairngorms National Park in Scotland with her fiancé. Before moving there, she lived and worked in Spain, Tenerife, Sri Lanka and around Scotland. She graduated from The University of Glasgow with a bachelor's degree in Marine and Freshwater Biology. In her spare time, she tries to ski and paddle board, though she is happiest with a good book and a cup of tea. Follow Caroline online on Instagram(this will open in a new window) and Twitter(this will open in a new window).