Schools Book of the Month: An Amazing Animal Atlas of Scotland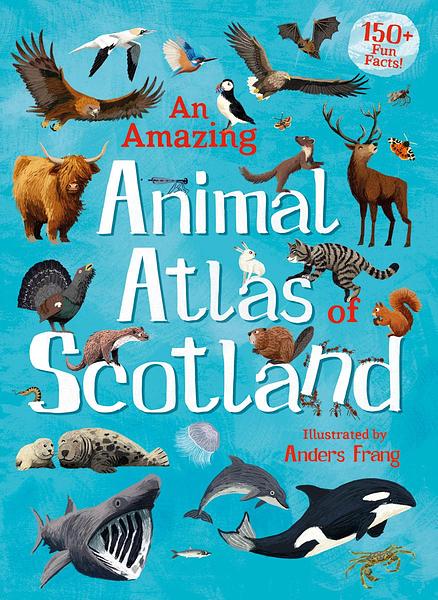 We have two copies of An Amazing Animal Atlas of Scotland to be won. All you need to do is answer the question at the bottom of the page. Entries close at midnight on Wednesday 30 September. All entrants must reside in the UK and full terms and conditions apply.
Due to the current unusual circumstances with Coronavirus (COVID-19) there may be a delay in sending out prizes to the winners.
About
An Amazing Animal Atlas of Scotland
A beautiful non-fiction book that is perfect for primary school classrooms and libraries. Scotland's animals are brought to life by Anders Frang's expressive illustrations that give all of the animals their own character. The book is full of fun facts about all kinds of animals, from deep sea swimmers to birds of prey. Did you know that a peregrine falcon dives through the air as fast as 200 miles per hour? That's the top speed of a Ferrari!
Complete with maps and accessible information on conservation, this gorgeous book is sure to get pupils excited about their local wildlife and encourage them to care for the environment.
Q&A with Anders Frang
Do you have a favourite animal or page from the book?
I really enjoyed drawing all the animals! Every animal has its unique characteristics, and it's fun to try and capture that in the illustrations. Some of the animals in the rock pool were a bit tricky as they don't really look like animals, more like weird alien creatures! A few of my favourites from the book are the herons, the beaver and the wildcats.

Did you learn any fun, interesting or surprising animal facts from the book?
I never knew that limpets' teeth are the world's strongest natural material! I think that's very impressive for such a small creature. And I didn't know that pine martens have blue poo! I find that very funny.
Why is it important that children learn about local animals and wildlife?
Sadly, we humans are not very good at taking care of the environment. Rather than co-exist with nature we tend to want to conquer it, and the climate and many animals suffer from this. I think learning about local animals and wildlife helps give a better understanding of the world around us and helps us appreciate it much more.
About Anders Frang
Anders Frang is a freelance illustrator from Denmark. He studied at the Danish Design School in Copenhagen as well as Edinburgh College of Art. He is currently based in Edinburgh, Scotland. Follow Anders on Twitter(this will open in a new window) or visit his website(this will open in a new window).