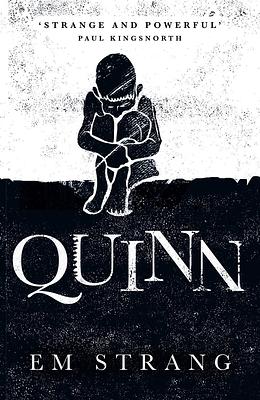 We have five copies of Quinn by Em Strang to be won, thanks to our friends at Oneworld Publications.
How far would you go to overcome the limits of your own forgiveness? In this New Statesman Most Anticipated Title for 2023, award-winning Scottish poet and New Writers Awardee Em Strang explores radical forgiveness and memory in an unforgettable debut.
Quinn is serving a life sentence for a crime he's convinced he hasn't committed. He believes Andrea, his childhood sweetheart, can clear his name. An unexpected letter from her mother invites Quinn to the family home in what seems to be an act of forgiveness. What follows is much more complicated than that, setting in motion a final reckoning.
All you need to do is answer the question at the bottom of the page for a chance to win. Entries close on Friday 31 March at midnight. All entrants must reside in the UK and full terms and conditions apply.
Check out our competitions page for other giveaways.
Q&A with Em Strang
How did you get into writing?
I started writing in my teens because, like many teenagers, I went through a period of feeling miserable and lost. Writing gave me an outlet for my emotions; I could hide in my room and – in utter, delicious privacy – respond to the world however the hell I wanted. Meanwhile, I began English A-level, fell in love with R.S. Thomas and D.H. Lawrence and that was that.
Over the years, writing has evolved from lifesaver to discipline to creative liberation and joy, and often all four at once. It has undoubtedly been a tool for healing, even though I went through a weird, snobby phase of believing that writing literature was about cleverness and how many books you'd read, not something 'soft subject' like healing. But I was wrong, and thank God for that. The longer I write, the more I realise that essentially the art and practice of writing is for my own learning: I'm trying to work something out; I'm trying to heal the skewed ways in which I see the world, to help myself bring things together rather than set them further apart. And I'm inviting readers to do the same: unique enquiry alongside unique enquiry.
What can readers expect from
Quinn
?
Quinn is an exploration of male violence, incarceration and radical forgiveness. I've spent a decade working with long-term prisoners in Scotland, trying to understand and come to terms with notions of justice and responsibility: does guilt begin and end with the perpetrator of a violent act or are we all in some way culpable? It's been a difficult book to write, not least because it focuses on male violence towards women – such a pressing issue of our times – and tries to treat Quinn as a whole person, rather than neatly labelling him. Sitting with that broader perspective has been profoundly unsettling, but necessary: how else can we arrive at a place where restorative justice might be possible? Is it even desirable to forgive the unforgivable, and if so, what might that look like?
Quinn doesn't have any answers and nor do I, but he wants to talk about it and so do I.
You are originally a poet. How did the motivation to write a novel come about?
Ha ha, now I'm remembering that awful, desperately dire novel I wrote in my twenties that somehow got terminally erased from my shonky 1990's laptop, and thank goodness for that! I also scribbled a few short stories in my teens and twenties, mostly because I was in love with Raymond Carver's work and wanted to write like him. The truth is, I wasn't ready to write fiction back then and the right material hadn't come knocking.
If I look at my poetry, I see that it's all about love, and if I look at Quinn and the new novel I'm working on, I see that it's all about evil. I seem to be using different genres to explore opposite ends of the same spectrum. It wasn't intentional, at least not consciously.
The one major difference between writing poetry and writing fiction for me is the mode of inspiration: poetry comes through feelings and fiction comes through an internal image, usually the central scene of the book that carries all the key themes that I'm to explore. With Quinn, I also had the first line of the book going around my head for ages before I began to write:
'Things have been done that hurt the mouth to speak of.'