Schools Book of the Month: Orion Lost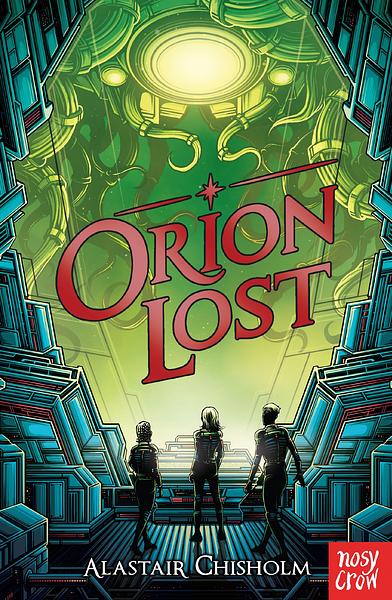 We have five copies of Orion Lost to be won. All you need to do is answer the question at the bottom of the page. Entries close at midnight on Tuesday 31 March. All entrants must reside in the UK and full terms and conditions(this will open in a new window) apply.
About
Orion Lost

by Alastair Chisholm

13 year old Beth is a passenger on the colony ship Orion. When catastrophe strikes, Beth finds herself suddenly in charge of the ship. All of the adults (including her parents) are stuck in a permanent Sleep, and the alarm bells are - literally - ringing. Beth and her classmates need to work together to survive, as they face the constant threat of space pirates and the terrifying alien race known as Videshi (which means foreigner in Hindi). As if that wasn't enough, Beth also needs to decide how much she can trust her guide, Orion's artificial intelligence system called Ship. As the story develops, it becomes obvious that something is not quite right... Full of twists and turns, this is a really exciting adventure story that will have readers on the edge of their seat!

Alognside all of the adventure, the story has a great deal of heart and some important messages for young people. Initially, Beth is not necessarily a natural captain of a space ship - she suffers gravity sickness, agoraphobia, and struggles to control her emotions. Over the course of the novel, she grows considerably and her emotional journey is wonderfully told. Beth is a very relatable, imperfect hero that readers will love.

Alastair Chisholm does an incredible job of building the world aboard Orion, with a brilliant cast of believable characters. Overall, this is an epic sci-fi adventure packed with emotion, which keeps readers guessing right up until the final chapter.
Interview with Alastair Chisholm
What inspired you to write a story for children that is set in space?
I've always been a sci-fi nerd, particularly for the Star Trek and Star Wars variety, where sci-fi is the setting for essentially human stories. And when I was growing up there was a lot of really great sci-fi for kids, so it just felt right.
But in fact, mostly when I write it comes from one single scene that pops into my head and nags me until I do something with it. In this case, I had an image of a girl waking up on a cold, dark spaceship, all alone, and a voice saying, You have to save us. I got such a strong impression of the way her feet sounded on the deck, and the dimmed lights in the corridor, and the voice speaking to her... Before I knew it, I was plotting out chapters and writing away!
Beth learns a lot about leadership, teamwork and how to cope with her emotions in the story. If there was one message you'd like children to take away from this book, what would it be?
You are the master of your own ship. So many things that happen in our lives seem out of our control, it can make you feel helpless. I wanted to say: it's ok. Just do what you can do. Behave in the way you feel is right, even if others don't. You can't control all the things, but you can control how you react to them. You are the master of your own ship. (Also, you are awesome. Yes, you. Yes you are.)
There are lots of scientific aspects to the story, and lots of technology that doesn't exist (yet!). Was it fun to create this futuristic world, and did you have to do a lot of research?
It was loads of fun! The best thing about being a sci-fi or fantasy geek is making up your own worlds.
In this case, I wanted the world of the Orion to feel close enough to ours that readers could imagine it – just a bit more technologically advanced. And I wanted it to feel 'real'. So I did quite a lot of research into space colony ships, generational ships (ones that would take hundreds of years to reach their destinations), spaceship ecosystems, crew sizes, populations… I learned stuff that didn't make it into the book, like which animals are best to take to colonise a new planet - it's pygmy goats! I learned about space suits, and watched videos of fire in zero-gravity too - look it up, it's amazing.
Is there anything you can tell us about what to expect from you next?
Killer robots and dragons, though not in the same book. Although that would be very cool, now I think about it...
About Alastair Chisholm
Alastair is a children's author and puzzle creator. As a puzzle creator he wrote quite a lot of books of Sudoku and other puzzles for kids and grown-ups, and as an author he writes picture books and middle-grade fiction. Alastair lives in Edinburgh with his wife (who is lovely), two teenagers (who are lovely but very loud), and a cat named Maudie, who is yowling at him even though there is clearly food in her bowl, look, it's right there, look. His hobbies include writing and playing games on his phone when he should be writing. You can follow him on Twitter @alastair_ch(this will open in a new window), if you like.