Schools Book of the Month: Evernight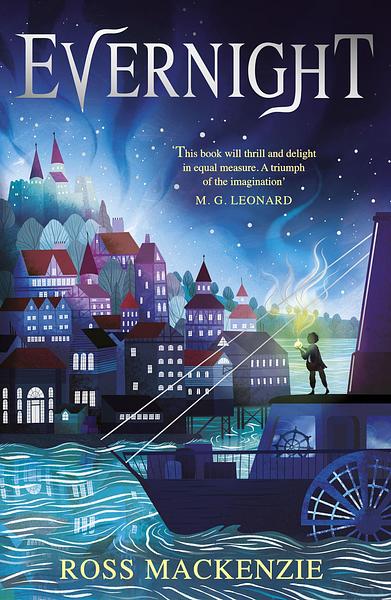 We have 5 copies of Evernight to be won. All you need to do is answer the question at the bottom of the page. Entries close at midnight on Sunday 29 February. All entrants must reside in the UK.
Full terms and conditions apply.
About
Evernight

by Ross MacKenzie

Evernight is a rich and beautiful middle grade fantasy novel that will appeal to fans of Harry Potter, His Dark Materials and Nevermoor. Larabelle Fox, known as Lara, is an orphan who survives on the streets by searching for lost coins and treasures in the sewers underneath the city of King's Haven. Double Eight is a White Witch, a magical being controlled by the fearsome Mrs Hester, who is not permitted to have any feelings of his own - unlike the rogue Hags, who are feared by non-magical folk and the White Witches alike.

In Evernight, Lara and Double Eight will discover that there is so much more to the story they have been told all their lives. There is an even darker plan at work between Mrs Hester and the terrifying Djinni Shadow Jack, who have the power to unleash the Evernight, a devastating eternal darkness, on the world.

MacKenzie achieves an incredible amount of world building in the first half of the novel, which never feels cumbersome or boring. Short chapters and witty, intriguing characters will keep readers glued to the page, and when things really ramp up, it's an exhilarating ride. MacKenzie's writing is so evocative, with gorgeous turns of phrase and heartfelt storytelling spilling from every page. The beautiful descriptions of this magical world will have readers itching to see the story realised in art or on screen, and to find out what adventures Lara gets up to next.
Interview with Ross MacKenzie
What inspired you to write
Evernight

?

The inspiration came from reading about Victorian London. I'm a bit of a history geek, and I find the Victorian era especially fascinating! One day I was researching some of the strange and wonderful jobs that existed in that period, and came across this amazing group of people - known as Toshers - who would make their living by treasure-hunting for lost things in the sewers beneath London. The thought of these brave and adventurous souls descending into the dark with their gas lamps was so evocative that I knew instantly I had to write a story around them - with my own twist, of course!
What is your favourite thing about writing fantasy?
For me, Fantasy is a joy to write because, as the author, I get to make up the rules! It's so much fun to create a new world and let my imagination run wild - but if you're writing fantasy you have to be careful too. I've learned the hard way that it's very easy to get tangled up in knots. And I always have a great time writing the bad guys too. In fantasy, the antagonists can be larger than life and it's such a blast to write their nasty, cruel dialogue!
The world in
Evernight

feels both very real, and very magical. Do you have any tips on fantasy world-building for young writers?

Thank you for saying that! It's wonderful to hear that people think of the world of Evernight as being simultaneously real and magical, because that's what I strive for. When inventing a fantasy world, I think it's always very important that there are rules, and an author must be vigilant and stick to those rules. For instance, if there's magic in the world, as there is in Evernight, it's vital to set the limits of what that magic can do. If magic can solve everything, then your characters really won't have any problems. There'll be no real peril, or conflict - and without those things there isn't a story to tell. So it's important to set those limits. Your story will be much better for it.
About Ross MacKenzie
Ross MacKenzie has been writing stories since he was seven years old, when he created an illustrated short story about a hungry crocodile named Crunchy Colin in a smuggled school jotter. His novel The Nowhere Emporium won the Blue Peter Best Story Award and the Scottish Children's Book Award. He now splits his time between writing, his day job as a graphic designer and his wife, daughters and cocker spaniel, with whom he lives near Glasgow.