Book of the Month: Duck Feet by Ely Percy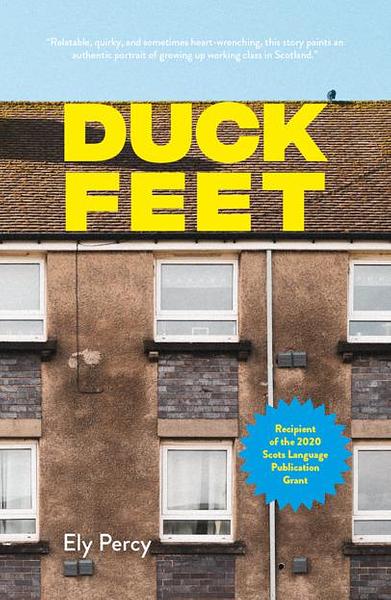 We have a copy of Duck Feet by Ely Percy to be won! All you need to do is answer the question at the bottom of the page. Entries close on Friday 30 April at midnight. All entrants must reside in the UK and full terms and conditions(this will open in a new window) apply.
About
Duck Feet
Hilarious, poignant, and authentic, Duck Feet by Ely Percy perfectly captures the teenage experience of growing up working-class in Scotland. Written in Scots and brimming with razor sharp wit, the novel follows Kirsty Campbell from first to sixth year at Renfew Grammar School.
Ely Percy takes an unflinching approach to their depiction of teenage life – there's unplanned pregnancy, eating disorders, and Mad Dog 20/20 at the local park. Older teenagers will appreciate the honesty in the story, and adults will enjoy the nostalgia of the early 2000s setting. Although Duck Feet tackles some difficult subjects, Ely Percy does so with heart and lashings of dark humour that will appeal to fans of Ross Sayers. Kirsty is such a loveable character, and it's an absolute joy to watch her grow up in this story.
Note: Duck Feet contains strong language and themes that are most suited to readers age 15+
Q&A with Ely Percy
Why is it important to you to write in Scots?
I've spent most of my life surrounded by people who speak with a Scottish regional accent, and yet I've found very few books that highlight these voices. Writing in this way has always felt much more authentic and honest to me – I also find it easier to read stories written in Scots aloud!
You've said online that Duck Feet was 16 years in the making - can you talk about the process of the novel coming together?
Duck Feet started off as a short story I wrote in 2004. I'd just spent the best part of two years working on my debut novel (Vicky Romeo Plus Joolz) at uni, and I wanted to try something different, something shorter! So when I saw a call for submissions of new writing on the theme 'shoes' I thought I'd give it a shot. I remember sitting in my parents' living room writing a list of high heels, trainers, brogues etc when my dad came in with a basin of water to steep his feet… Out of nowhere, I heard this voice saying 'Ma da's got bad feet'. And that was Kirsty Campbell's voice clear as a bell. A few days later I wrote another story about Kirsty doing her French lessons… and then another about Social Dancing.
There were sixty-five stories in my original 'collection' (and seventy chapters with an additional twenty thousand words when the book finally went to print). But although I had some success publishing them individually in anthologies and small press magazines, no-one seemed keen to take them on as an entire manuscript. It was frustrating because the feedback I got mostly was either 'this is really funny but it'll never sell outside of Scotland' or 'this is written in slang and if you change it someone will probably publish it'. But I didn't want to change the way the words looked on the page because it was really really important to me that it was written the way that people I knew and grew up with spoke, because I'd never seen a book about people from Renfrewshire told from our point of view. So I put the manuscript to the side. But every so often I sent out individual Duck Feet stories. And they were published in Scotland, England, Ireland – I even did a recording for a podcast in Canada! And I never gave up hope that someone, someday, would want the whole thing. Sixteen years later, Monstrous Regiment contacted me and said 'we love your Duck Feet stories … could you turn them into a novel?'
What was it like developing Kirsty's character?
I loved writing from Kirsty's point-of-view. Previously, I'd favoured unreliable narrators in my work, so it made a nice change to write from the perspective of this very earnest, very ordinary, high school girl who acted as a fly-on-the-wall documenting all the trials and tribulations that she witnessed her friends and classmates going through.
I found it very easy to get into Kirsty's head: she's compassionate, empathetic, not particularly confident in her own abilities, and a born worrier – I think we have those things in common. She definitely isn't me though. We're both white, working class, and we grew up in the same Renfew housing scheme with parents who share some of the same values and opinions, but that's probably where the similarities end. If Kirsty has a downside, it's that she's not the always the best ally to the marginalised characters in the book – one example is when a close friend asks her to chum them to their first visit to a gay bar, and Kirsty initially refuses because she's worried that she won't find a boyfriend! Thankfully, Kirsty learns from her mistakes and as a result she becomes more and more invested in social justice issues as the book goes on.
About Ely Percy
Ely Percy is a Scottish writer who grew up in Renfrew. They have released a memoir Cracked: Recovering After Traumatic Brain Injury (JKP, 2002), graduated with distinction from Glasgow University's MPhil in Creative Writing (2004) and contributed over fifty short stories to literary journals (e.g. New Writing Scotland, Scotsman Orange and Edinburgh Review).
They've also been a writer-in-residence in a prison, a community librarian in an LGBT centre, and the facilitator of a therapeutic writing class for adults with mental health difficulties. Percy's debut novel Vicky Romeo Plus Joolz was published in March 2019 by Knight Errant Press. Their second novel Duck Feet (Monstrous Regiment) came out in March 2021.