Children's and Young Adult Book of the Month: The Summer We Turned Green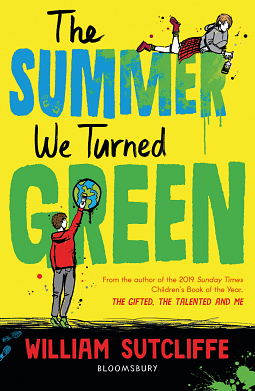 We have five copies of The Summer We Turned Green by William Sutcliffe to be won! All you need to do is answer the question at the bottom of the page. Entries close on Sunday 3 October at midnight. All entrants must reside in the UK and full terms and conditions apply.
For younger readers, enter our Bookbug Book of the Month competition.
About the book
When Luke's sister decides she's had enough of their parents and moves in with the climate rebels living across the road, it turns the whole family's life upside down. Before they know it Luke's dad is out there too, wearing weird clothes and joining drum circles. Clearly, it's Luke's turn to intervene. But the more time he spends with the climate rebels, the more he learns about the cause and starts to understand the passion behind it.
Climate fiction can often be dark and intimidating, but by connecting climate activism with a comedic family drama, The Summer We Turned Green is a highly entertaining story. William Sutcliffe writes satire with such a brilliant wry comedy that you're guaranteed to laugh out loud as you read. The core message is never lost though, as Sutcliffe shines a light on the passion behind climate activism, and the fact that nobody is too small to make a difference. This is the perfect book to inspire action against the climate crisis and to lift your spirits!
Q&A with William Sutcliffe
What inspired you to write a book about the climate crisis?
This novel was inspired by my children, and specifically by the way they were in turn inspired by Greta Thunberg's school strike movement. It's about how, for the young, the battle for climate justice isn't an abstract or intellectual one. They feel in their hearts, passionately, that this is their own future they're fighting for.
We love all of the witty dialogue between the family members. Was it important to you that the book was a comedy?
Climate change is a very serious topic and a profound tragedy, but I didn't want to write an angry or depressing dystopian novel. I thought that instead of just making dire warnings about what will happen if we do nothing to change our ways, by writing about climate activism I could tap into the amazing energy, passion and imagination of the people who are standing up against inertia and taking practical steps to try and save humanity from itself. I think the first job of any novel is to entertain the readers who pick it up, and I don't see any contradiction between this and also taking complex issues seriously. This is what I most love about comedy: when it's good it's both funny and serious at the same time.
Did you do a lot of research into the climate crisis for the book? If so, do you have recommendations for where people can go to learn more?
There are so many resources out there. I had to do quite a bit of research into climate activism and what happens when protests are broken up by force, which involved many hours lost in YouTube wormholes, but I don't think teenagers need any encouragement to spend more time on YouTube. Greta Thunberg's book No One is Too Small to Make a Difference is very powerful, and helped me see what passionate and personal engagement with the climate crisis really looks like. And a book called The Hidden Life of Trees by Peter Wohlleben taught me some amazing facts about trees, which was very useful for the treehouse section of the book. But above all, the lesson of the book is that it's not enough to just stay at home and contemplate the encroaching catastrophe, we all have to get out there, on our feet, and do something!