Children's and Young Adult Book of the Month: The Night My Dream Came Alive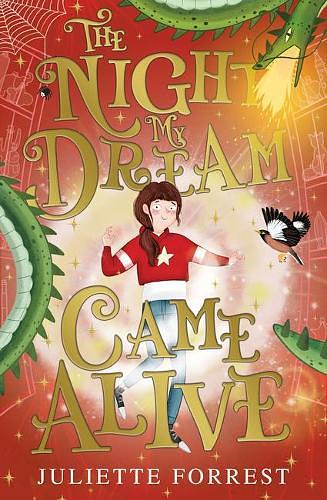 We have five copies of The Night My Dream Came Alive by Juliette Forrest to be won! All you need to do is answer the question at the bottom of the page. Entries close on Sunday 31 October at midnight. All entrants must reside in the UK and full terms and conditions(this will open in a new window) apply.
For younger readers, enter our Bookbug Book of the Month competition.
About the book
More than anything, Ollo wishes she could have dreams like all the other kids, but she's never been able to. While fleeing from the school bully, Ollo hides in The Dream Store - the local shop which sells DreamDrops, which allows children to choose their own dreams. When the owner of The Dream Store, Mr Curley, gives her a part time job assisting in the Store, Ollo is thrilled that she might finally be able to afford some DreamDrops of her own.
However, Ollo's dream come true takes a dark turn when Myrdina, The Mother of All Nightmares, threatens to turn the whole world into a waking nightmare. It's up to Ollo to discover her inner strength in order to save the day!
This is an imaginative, heart-racing adventure that will appeal to fans of Ross MacKenzie. Ollo is such a lovable character, and her bravery is bound to inspire children to stand up for themselves.
Q&A with Juliette Forrest
What inspired you to write this story?
I have always been fascinated by dreams. They're our first Disney-like experiences where we can do things like fly, jump backwards and forwards in time and adventure in new places every night. Dreams are universal, magical and mystical, so I thought it would be interesting to write a story around them. Compared to other cultures, I don't think we celebrate our dreams enough. The Rarámuri people of Northern Mexico wake during the night to discuss their dreams with one another. I love that South Asian Hindus believe this world is actually a dream and the "real" reality is somewhere else.
Mr Curley sells dreams in the form of DreamDrops. If you could create any dream, what would it be?
In the book, the protagonist, Ollo, can weave dreams from magical ingredients. She invented one called A Novel Adventure where you can enter the world of your favourite book, meet the characters and go on an adventure with them. I've just started reading Darwin's Dragons by Lindsay Galvin and would love to join Syms Covington and Mr Darwin on H.M.S Beagle. What a dream that would be.
What tips would you give children who like writing their own stories?
I always encourage children to bring their story alive using the five senses. And when creating characters, I ask them to think about something their character is good at and bad at to make them more human. It's always handy to know what characters are frightened of as it creates drama when they face their fears. Ultimately, I think children should have fun and be able to use their wild and wonderful imaginations freely.
Myrdina is so brilliantly scary! Is it fun writing villains?
I would watch Bond movies as a child and find 007 so boring compared to the baddies. With villains comes danger and that's exciting. If they're scary, you root for the protagonist all the more. From a writing point of view, I love coming up with characters who make the worst happen, unleash mayhem and are chilling to the bone. Equally, it's important for children to see the main character, Ollo, come out the other side of the adventure safe and stronger than before. This helps to instil a confidence in children when it comes to facing their own fears.