Book of the Month: Fin & Rye & Fireflies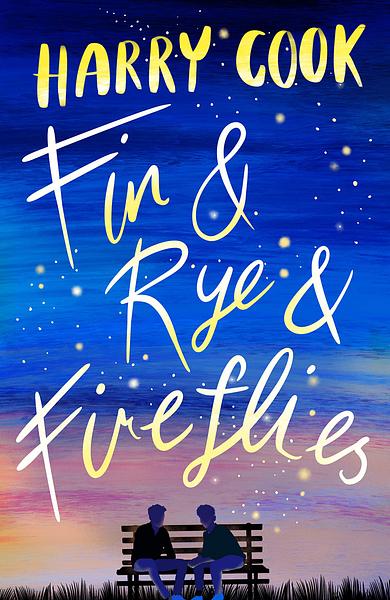 We have five copies of Fin & Rye & Fireflies to be won. All you need to do is answer the question at the bottom of the page. Entries close at midnight on Wednesday 30 September. All entrants must reside in the UK and full terms and conditions apply.
Due to the current unusual circumstances with Coronavirus (COVID-19) there may be a delay in sending out prizes to the winners.
About
Fin & Rye & Fireflies
After Fin is caught kissing a boy from his high school, his intolerant parents move him to a new town for a "fresh start". Although it's painful for Fin that his parents don't accept him, he forms a heart-warming friendship with Poppy, June and Rye – a charming group of LGBTQ+ pupils from his new school.
Fin and Rye have instant chemistry, and as the novel goes on they become closer through a series of sweet moments, blossoming into an adorable romance. Full of playful banter and cute dates by the lake, their relationship makes for a super feel-good read and vital representation for LGBTQ+ teens.
The light of the relationship and friendship is balanced with important and sometimes painful subjects, such as June fighting for her right to use the female bathrooms as a transgender girl, and Fin's parents' homophobia. Later in the novel Fin is sent to conversation camp, where he faces awful treatment and lectures on why being gay is "unnatural". Harry Cook addresses the detrimental effects of homophobia and transphobia on LGBTQ+ youth, but it's a testament to his writing that the novel remains a beautiful, hopeful story full of heart-warming relationships and an underlying message of acceptance.
This is a beautiful and important novel with diverse characters, that will mean a lot to LGBTQ+ teens and adults alike.
Q&A with Harry Cook
What inspired you to write
Fin & Rye & Fireflies?
I wanted to write a story that I would have loved to read when I was younger and coming to terms with my sexuality. I was so aware of the massive void when it came to LGBTQI+ stories. Everything I watched on TV or film, every book I read, it was all from the heterosexual perspective. I was constantly translating my experience to that of the straight (usually white) protagonist of the story and I wanted queer people to be the main characters. Our stories matter and it is so important for young queer people to see themselves. Representation is so incredibly important to me.
The novel tackles some difficult and heavy topics but is still a wonderfully heartwarming story. Was it important to you to show both aspects of the story?
I didn't want to gloss over the difficulties young queer people face, but at the same time, I was desperate for a 'happy-ever-after'. Teenage years are extremely difficult and confusing - even more so for young LGBTQI+ kids - so I didn't want to hide away from that, but I also wanted some hope. I want young people to realise that regardless of how hard it is at the time, eventually, it does get better. It does get easier. Life can be so beautiful when you're freed from the fear of being who you know you are.
Are there any other brilliant LGBTQ+ writers/novels you would recommend?
Oh, SO many. I know that I'll miss some, but here are a few off the top of my head:
A Little Life

by Hanya Yanigahara

Camp

by LC Rosen

Like a Love Story

by Abdi Nazemian

Lie with Me

by Philippe Besson

Straight Jacket

by Matthew Todd

Will Grayson Will Grayson

by David Levithan and John Green

Where We Go From Here

by Lucas Rocha

The Perks of Being a Wallflower

by Stephen Chbosky

Simon Vs The Homosapiens Agenda

by Becky Albertalli

Running with Lions

by Julian Winters

Tell The Wolves I'm Home

by Carol Rifka Brunt
About Harry Cook
Born in the UK, Harry Cook is an Australian actor and international LGBTQI+ activist. He has starred in major film, TV and theatre productions, including the lead opposite Geena Davis in Accidents Happen. In 2013, age 22, Harry came out to his fans on YouTube. The video went viral and Harry became front-page news in Australia, the UK and the US. Harry lives in Sydney with his rescued English Bulldog, Poppy.
About Ink Road/Black and White Publishing
Ink Road is the Young Adult fiction imprint from Black & White Publishing. Black & White Publishing was founded in 1999 by Managing Director Campbell Brown and Publishing Director Alison McBride. Since then, the business has grown into one of Scotland's leading independent publishers with over 300 books in print across a variety of genres.