Schools Book of the Month: Bea and Brodie's Mindful Journey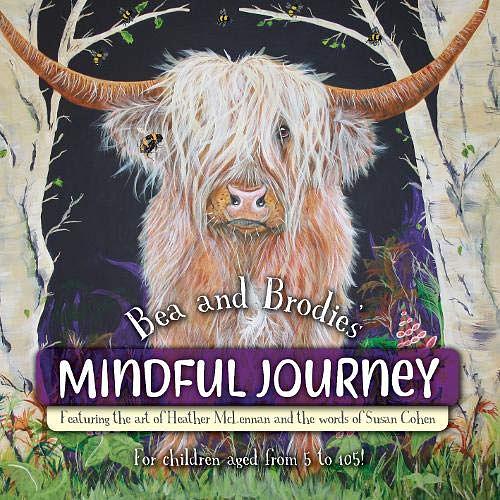 We have five copies of Bea and Brodie's Mindful Journey by Susan Cohen and Heather McLennan to be won! All you need to do is answer the question at the bottom of the page. Entries close on Wednesday 31 March at midnight. All entrants must reside in the UK and full terms and conditions(this will open in a new window) apply.
About
Bea and Brodie's Mindful Journey
Beautifully illustrated with a timely focus on mindfulness, Bea and Brodie's Mindful Journey is the perfect picture book for 2021. Brodie the highland cow is in a very bad mood at the start of the story until his honey bee friend Bea helps to cheer him up. Together Bea and Brodie explore their favourite spots around Edinburgh and the Firth of Forth, admiring the beautiful scenery. With Bea's gentle encouragement Brodie eventually feels more grounded and calm.
This is a brilliant and accessible way to introduce mindfulness to children. The story demonstrates how getting out for walks can help our mental health – especially important when we are all spending so much time indoors at the moment. This message is complemented by a soothing rhyme scheme and lovely illustrations. A wonderful read for children aged 5 and above!
Q&A with Susan Cohen
Why do you think mindfulness is so important for children, and how do you think books help children with their mental health?
Now, more than ever, it is vitally important for children to learn that each and every one of them was born with the ability to manage their own emotional state so they can 'make each day a good day'. The Bea and Brodie series seeks to introduce the concepts behind straightforward but important mental health tools to children, and the friends' 'Mindful Journey' introduces the simple yet beautiful technique of mindfulness which can be used to bring about a healthy, balanced, calm state of mind in a gentle, low-key way.
The dynamic between Bea and Brodie is a Scottish ying and yang. The heaviness of Brodie, the big handsome Highland cow, is complemented and balanced by the lightness of his best friend, Bea the flighty buzzy honey bee. This mirrors the natural tendency we all have, to varying degrees, to experience different levels of energy – sometimes we feel heavy and down, sometimes we feel as light as air, sometimes there's a reason, sometimes there's not. However, what's important is that we take time to become aware of what's happening within our own selves and we slowly learn to understand it. It's also important that our fluctuating feelings are treated with compassion and ultimately, that we should feel empowered by the realisation that we are not at the mercy of a changing world but instead we can learn to manage our own emotional responses to it. This, in truth, is what can completely transform our lives.
About the Wee Book Company and Susan Cohen
The Wee Book Company Ltd wus incorporated in 2018 wi' the aim o' producing quality, modern non-fiction Scottish humour an' children's fiction. We're a' aboot the funny but we underscore wur books wi' messages o' love, positivity, confidence an' resilience. Aye, it's important tae us tha' laughter an' love go haund in haund (jeez-oh, get us!).
Wur authors are largely individuals (nae a' large individuals) who huv trained in wan therapy or anither, an' so write wi' wan eye oan the importance o' the guid stuff o' life.
Our Director, Susan Cohen originally hails frae Inverness. She started her wurkin' life as a lawyer an' spent a lang time representin' clients in court in various jurisdictions roond the wurld. Efter huvin' her twa sons, she went back tae University tae study English - frae there, she nivver looked back. She ended up becomin' interested in combinin' elements o' therapeutic techniques such as meditation, mindfooness an' hypnosis (Susan's a qualified clinical hypnotherapist) intae her writin' an' this noo feeds the content o' The Wee Book Company's books, tae varyin' degrees.