Looking for more in Book Lists?
Val McDermid's 21 books for a 21st anniversary
The bestselling crime writer shares 21 of her favourite books, in celebration of Scottish Book Trust's 21st birthday
Check out our 21 Campaign(this will open in a new window), where you can help ensure everyone experiences the life-changing magic of stories.
Robert Louis Stevenson
Treasure Island
This would be my desert island book. It has everything – memorable characters, vivid settings, a terrific story and great prose. And it has an open ending – Long John Silver is still out there and there's still treasure on the island…
Agatha Christie
The Murder at the Vicarage
The first Miss Marple novel, this was my gateway drug into crime fiction and I was fortunate that my first encounter was so well-crafted. And it also features something Christie is not always given credit for – an acerbic sense of humour.
Kate Millett
Sexual Politics
Sexual Politics by Kate Millett improbably transformed my life. It's a book of feminist literary criticism and it completely revolutionised the way I looked at the canon of English literature. It led me to feminism, which in turn led me to understand my sexuality. So many of the ways of thinking many of us take for granted now sprang from Millett's work.
Sara Paretsky
Indemnity Only
In the UK in the early 80s, the crime genre consisted almost entirely of police procedurals or village mysteries and I wasn't comfortable with either of those. Then a friend sent me a copy of Chicago PI VI Warshawski's first outing, and I was blown away. Here was a female protagonist with a brain and a sense of humour and the ability to get things done without calling in the cavalry. The story was organic – it arose out of the lives people led and the jobs they did—and it had politics. It unlocked a whole new set of possibilities for me.
William McIlvaney
Laidlaw
This is the novel that made so-called Tartan Noir possible. A grim fiction set in Glasgow, full of complex characters and dark places, it was revolutionary to me because it put working class lives and language front and centre, yet the prose still managed to be lyrical. It showed me that it was possible for people like me to make our voices heard in a literary world that was overwhelmingly middle-class.
Edwin Morgan
The Second Life
I still turn back often to my battered copy of this remarkable collection. It covers a wide range of style and content, showing the ambitious range of Morgan's restless imagination. From moving love poems to concrete poetry, from science fiction to playful linguistic games, this is a book that never disappoints me.
Jackie Kay
Red Dust Road
Our current Makar was adopted at birth by an extraordinary Scottish couple who supported her in her quest to connect with her birth parents. This memoir is brave and moving, heart-warming and joyous, just like the Makar herself.
Josephine Tey
To Love and Be Wise
Tey is often called 'the crime writer's crime writer'. Like all her novels, this deals fascinatingly with questions of gender and identity. But it was written at a time when these were not what readers expected to find in a detective novel.
Elinor M Brent-Dyer
The Chalet School in Exile
There are almost 60 books in the series, but this one, set in Austria during the Anschluss in 1938, was published a year later. I can't think of another children's writer who was dealing directly and contemporaneously with the rise of Hitler. I loved these books as a child.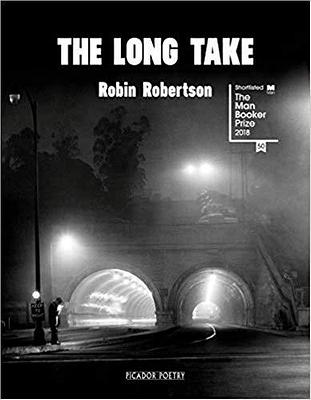 Robin Robertson
The Long Take
A novel in verse, or a long prose poem – but don't be put off by that. Set in Los Angeles at the end of WWII, it looks through the eyes of a demobbed Nova Scotian soldier cast adrift, too profoundly changed to go home. The tearing down and rebuilding of LA is a mirror for what happened in the war and a metaphor for what has happened to the protagonist.
Lewis Grassic Gibbon
Sunset Song
The first novel in the Scots Quair trilogy. Set in the Mearns in the early 20th century, it tells the story of Chris Guthrie, an intelligent young woman struggling against the hardships of farming life and family dysfunction in a time of turbulent change.
Denise Mina
Garnethill
A debut novel that put down a clear marker that Mina had a distinct voice and a dramatic sense of story. Like all her novels, this gives a voice to someone on the edges of society, and it shows us aspects of Glasgow not seen anywhere else.
Christopher Marlowe
Edward II
From my first encounter with his work, I've loved Marlowe's gloriously ambitious language and the excess he brings under his command in all his plays. This is a thinly disguised critique of Elizabethan politics, and Marlowe spares nobody.
Reginald Hill
On Beulah Height
I consider this to be the perfect crime novel. Well-written, not afraid to be clever or emotional, it takes as its leitmotif Mahler's songs about the death of children. It plays by the rules yet still shocks with its ending. And it's firmly rooted in it Yorkshire setting by the characters of Dalziel and Pascoe.
Patricia Highsmith
The Talented Mr Ripley
The first book to feature everyone's favourite psychopath, this is a story of obsession and identity and introduces a villain who is irresistible. I consider Highsmith the first queen of the psychological thriller.
Thomas Harris
The Silence of the Lambs
Hannibal Lecter remains one of the compelling villains of fiction, counterbalanced by Clarice Starling who is forced to pit her wits against the improbably brilliant Lecter. It's one of the earliest novels about psychological profiling and remains one of the best.
Jeanette Winterson
The Passion
Fascinating, fabulous in the literal sense, Winterson makes mythology out of real history and real place. She plays with words, with gender and of course, with passion itself. It lays down her fundamental position: 'I'm telling you stories. Trust me.'
Ali Smith
The Whole Story
I first encountered Ali Smith as a short story writer whose brilliance left me speechless. Her stories sit at a tangent to the world as we see it, taking unexpected turns that nevertheless provoke recognition in us. She is the only writer who has reduced me to tears on a plane.
Margaret Atwood
The Blind Assassin
Atwood's command of narrative is unrivalled and this is a bravura piece of story-telling. The main narrative moves back in time, revealing its secrets gradually, but like a Russian doll, other stories are embedded within it. It's a measure of her skill that we never lose our way in the labyrinth.
Sue Black
All That Remains
Professor Dame Sue Black is an internationally acclaimed forensic anthropologist. She has worked in several theatres of war, excavating mass graves and providing evidence of war crimes. This is a riveting account of her work, but also a meditation on death, both in professional and personal terms.
Jane Austen
Emma
Inexplicably, it doesn't matter what age you are when you read a Jane Austen novel. You will find something there that speaks directly to your own understanding of human nature. The story of the education of the self-satisfied Emma Woodhouse is by turns funny and excruciating and she remains my favourite Austen heroine.