Looking for all Articles by Abi Baross?
Writing Exercise: Where I was when we celebrated
Creative writing exercises based on the theme of Celebration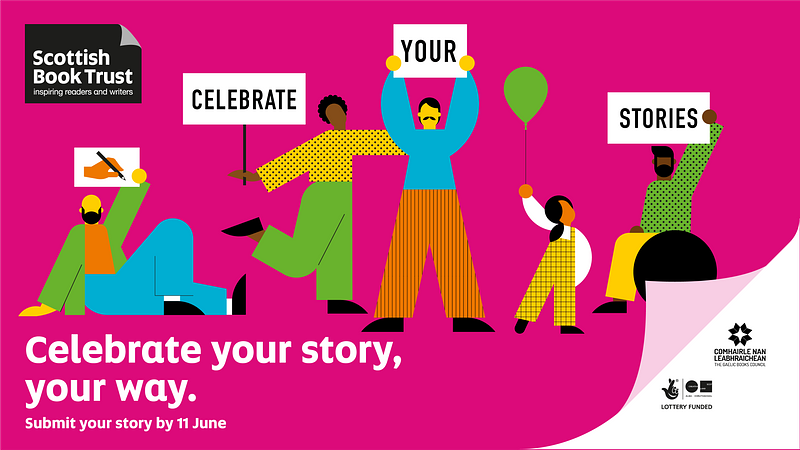 It has been said many times over the past year – we are living through unprecedented times. We are all looking forward to the end of the pandemic, so that we can celebrate with loved ones, but we will also celebrate overcoming the virus as communities and collectively across wider society.
We would like you to tell us about your memories of a previous celebration that was shared across communities – do you remember V.E. day or the moon landing? Were you at a street party for the Silver or Golden Jubilees? How did you celebrate when gay marriage was legalised or when the Berlin Wall came down, or when Nelson Mandela was released? Were you ever at an opening ceremony for an Olympic or Commonwealth Games? Has your team ever celebrated a win by driving through your town in an open top bus?
Warm up Exercise

–

Word Bank

Think of a place familiar to you – it could be your living room, the bus you take to school or work, your office or the corner shop – and write it down at the top of your page or document.

Make a list of words that come to mind when you imagine this place. What can you see and hear? What can you smell or touch? Is it bright or dim? Quiet or full of chatter? Try to think about all of your senses as you come up with your list.

Do any of the words in your list contradict each other? Do any make an interesting pairing, or surprise you? Do they evoke a particular emotion or atmosphere?
Brainstorm -
moments you've celebrated
Make a list of significant cultural moments you've lived through and celebrated. These could be celebrating the legalisation of gay marriage, cheering when your team won the cup, or watching Neil Armstrong walk on the moon.
Think about what the events on your list have in common, and where they differ. Which feel most personal to you, or hold the most significance in your life? Where do you think you or society would be if those events hadn't happened?
Start writing
Now it's time to take inspiration from your word bank and your brainstorm and get writing! Choose a cultural moment or event you celebrated to focus on, and make sure to think about the sensory experience of your celebration. Your piece could be structured like a diary entry, a poem or a short story.
Inspiration
Herald Information Systems gathers memories of Live Aid from people around the world(this will open in a new window) – those who were there in person, and those who were watching from their living rooms.