Looking for all Articles by Gordon Connelly?
The future won't write itself
The story of this year's Book Week Scotland book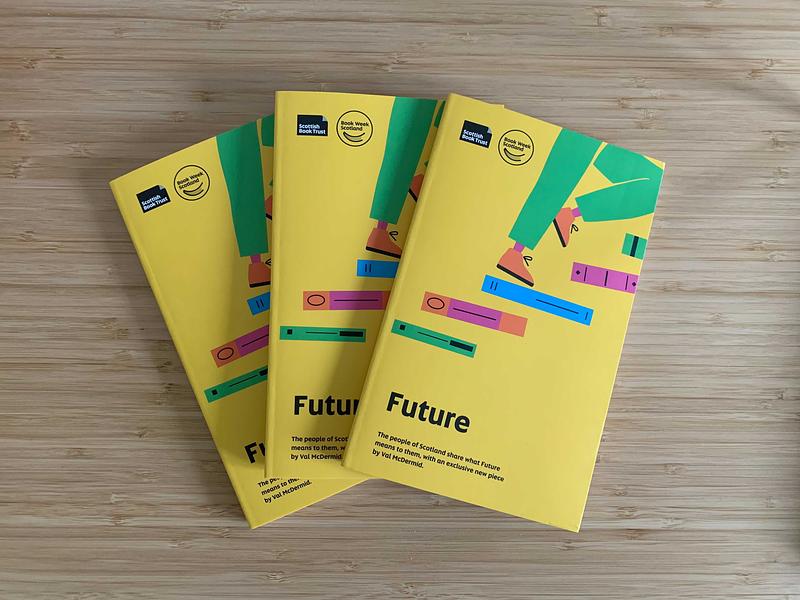 Over the past two weeks, thousands of copies of Future - a free book made up of true stories written by people all over Scotland - have been distributed to libraries, arts organisations and book gifters across the country to help celebrate Book Week Scotland 2020. It's taken a lot of hard work to get to this point but we're so excited to share this wonderful collection of stories and help spread a little bit of joy in what has been a tough year for everyone.
We started planning for Future in March, and it quickly became clear that this year's stories would have even more poignancy than normal. We're always indebted to the people who submit their stories, but it was incredible to see that people still wanted to share their experiences with us in spite of everything else that was going on this year. Hundreds of people were inspired to put pen to paper and submit to Your Stories this year and we can't thank them enough for their support.
Our first job after the deadline was to read through all the entries. Reading through so many pieces is a mammoth task and we were so grateful to our team of dedicated readers, who gave these stories so much time and attention.
Then we held a panel meeting to decide which pieces would make it into the final copies of Future. It was a difficult prrocess to choose just 25 stories from the longlist, but we were lucky to have support from our colleagues at SLIC, Gaelic Books Council and the Scottish Poetry Library who helped us whittle down the selection. One of the things that struck the panellists about many of the submissions this year was how hopeful and positive they were. This hope was something we wanted to reflect in the final selection, to show that even in dark moments the belief in a brighter tomorrow keeps us moving forward.
After deciding on the final pieces we launched straight into book production. Seeing the book take shape, from the initial drafts to the final proof was fantastic. We were grateful to be able to work with talented designers O-Street, who did an amazing job of translating the spirit of the project into the cover design. We think it looks incredible! That yellow, right?
One of the most enjoyable parts of the book production process was working with RNIB Scotland on the audiobook. Usually the writers would head to the RNIB studio to record their stories; this year they were forced to find the quietest corners of their homes to record in instead! Listening to Future stories being read aloud by the writers themselves is so powerful. Making stories accessible to as many people as possible is very important to us, and we're very grateful for our continuing partnership with RNIB for helping to make that happen.
My copies of Future came in the post a few weeks ago and it was a very emotional moment seeing the book in real life after months of work. In a year when so many of us have been isolated and unable to connect with friends and family, it was a real joy to know that people across Scotland would be able to spend some time with these stories and feel a little less lonely in the process. Book Week Scotland is all about celebrating the transformative power of storytelling and this collection of pieces pays tribute to that power.
We think this collection embodies the spirit of a hopeful future and are very proud to be able to share it with the people of Scotland. We hope you find it as moving, uplifting and inspiring as we do.