Looking for all Articles by Lindsay Quayle?
Stories to share at times of change
Have you got a little one starting school or embarking on a new adventure? Here are ten great picture books that offer reassurance at times of change and spark helpful conversations about the emotions that transitions can bring.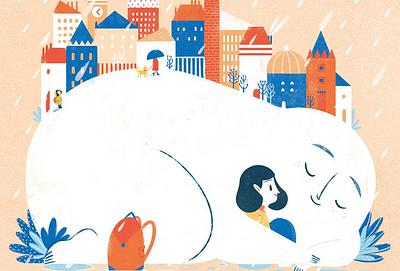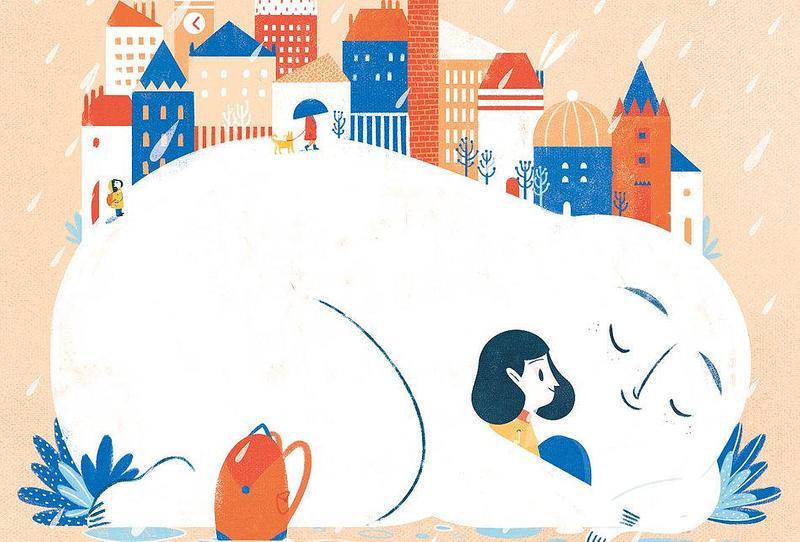 Don't Worry, Little Crab by Chris Haughton
When Big Crab suggests to Little Crab they leave the safety of their tiny rockpool in search of the sea, Little Crab is totally onboard. But oh! Little Crab suddenly comes face to face with the enormity of what lies ahead. This gem of a book explores how little people – with the reassurance of loved ones by their side – have the courage to overcome life's big obstacles. Haughton's gorgeous artwork breathes life into the sea, and the special bond between Big and Little Crab.
Almost Anything by Sophy Henn
George the rabbit doesn't think he can do anything like his friends can. He'd love to give painting, and dancing and even kite-flying a go - but he doesn't have the confidence yet to try any of these new activities. Thankfully, Bear is on hand to spread a little bit of magic and a whole lot of self-belief. Gorgeous illustrations bring George and his magical powers to life in this perfect story for little ones feeling wobbly about giving something new a go.
Mouse's First Night at Moonlight School by Simon Puttock and Ali Pye
The first day of school can be intimidating for any little person - just as Mouse discovers in this sweet story. 'I'm hiding because I'm shy!' Mouse explains to Miss Moon when her new teacher and new classmates can't find her. With some comforting words of encouragement, Mouse soon joins Bat, Owl and Cat for the first day's activities, including a playful game right up Mouse's street! An uplifting story for anyone dealing with those first day nerves.
What Does the Crocodile Say? by Eva Montanari
From the 'Dringg' of the alarm clock, to the 'Mwah' of little crocodile's kisses at pick-up, every moment of crocodile's nursery day is expressed through sounds. The playful language lends itself perfectly to being read aloud to groups, or equally read calmly at bedtime as little ones cuddle up to consider their own day ahead at nursery. Although the transition from tears to smiles may not be quick for every child, this story shows that stories, music and playtime with friends can all help allay any anxieties.
Eric Makes a Splash by Emily MacKenzie
Eric was a worrier! And nothing worried him more than trying new things; climbing a tall climbing frame, eating new foods…and swimming parties. What if he sinks, or water gets into his eyes? Thankfully, his fearless friend, Flora, is on hand to offer encouragement and friendship when he needs it the most. Splash! A charming wee story full of imagination and sprightly illustrations, and themes which can spark many gentle conversations about anxiety, transition and what it means to be brave.
Me and My Fear by Francesca Sanna
When a young girl moves home and starts a new school, her little friend Fear goes too. But when Fear starts to impact negatively on the girl's well-being, the kindness of a stranger - and the realisation that everyone carries their own fears - helps the girl get Fear back under control. Sanna tackles this difficult subject sensitively - reminding us all that our fears can be a positive force as long as they are carefully managed. A wonderful exploration of change and our emotional responses to it.
Owl Babies by Martin Waddell and Patrick Benson
Three baby owls wake one night to find their mum has left their hole in the trunk of the tree. They wait anxiously for her to return – 'I want my mummy!' says baby Bill. They stick together until mum finally returns with food for them all. This soothing story provides lots of opportunities to discuss separation anxiety, and reminds little ones that their mum, dad, or carer will always be there for them. A delightful bedtime read.
Alfie Gives a Hand by Shirley Hughes
Alfie can't wait to go to Bernard's birthday party - until he realises that mum or Annie Rose won't be there with him. It's a big step for Alfie so he takes his special blanket with him, just in case. It turns out that parties can be great fun, and Alfie isn't as shy as he thought! A reassuring read for any small person about to embark on a big adventure - with traditional, pencil drawings and a nostalgic party atmosphere complete with sausages on sticks and bowls of jelly.
The Koala Who Could by Rachel Bright and Jim Field
Kevin the koala likes to stick to what he knows best - high up in the safety of his tree. But when a tap, tappity woodpecker brings him face-to-face with a new way of living, (and a host of new friends) he realises that a little change can open your world to big possibilities - what better message is there than that to share with little ones embarking on a new adventure? This delightfully rhyming story is full of colourful characters and engaging illustrations from the creators of The Lion Inside.
Little Owl's Egg by Debi Gliori and Alison Brown
Mummy Owl has laid an egg and Little Owl isn't happy. He's Mummy's baby and she doesn't need another! Perhaps it's a penguin instead? Or a dragon? This delightful, reassuring story about the enduring love between children and their grown-ups is perfect for little ones expecting a new arrival in the home, or dealing with a moment of change in their lives. Cuddle up and talk about how your wee ones are feeling with the help of this sweet story.
Main image: Me and My Fear by Francesca Sanna