Looking for all Articles by Barbara Middleton?
Read, Write Count 'Bag Unpacked' video series
Arts and craft video activities inspired by the P3 Read Write Count bags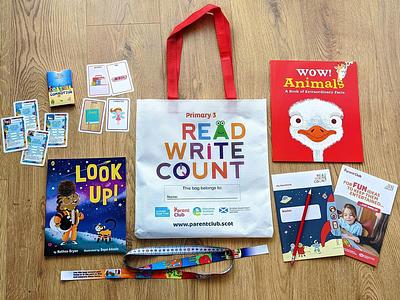 This video series by the Moray House Read Write Count Collaborative(this link will open in a new window) is full of fun home learning ideas to be used with the Read, Write Count P3 Bag.
Each short video shares a step-by-step process to guide parents and carers through different interactive activities they can do with their child, making use of all the resources in their P3 bag and some everyday recyclable household items. The visual demonstrations are easy to follow therefore suitable for a wide audience, including families for whom English is an additional language.
From turning a toilet roll into a telescope to using a potato to make pawprints – these videos are full of great ideas and activities for families to get creative with their children, both indoors and outdoors, which can positively contribute to developing literacy and STEM learning.
(this link will open in a new window)Watch videos now
Using the Read Write Count P3 'Bag Unpacked' videos for imaginative outdoor play
As restrictions lift and the weather improves, these videos provide lots of ideas to take outside and enjoy meaningful play in our natural environments:
Inspired by all the items in the P3 Read Write Count bag, the videos show simple and fun objects for families to enjoy making together that can then be taken to explore the outdoors and used as a prompt for imaginative play. P3 teachers and others working with P3 families are encouraged to share this video link with parents.
This video series has been funded by the Scottish Government and Edinburgh University through the Read, Write, Count Collaborative in Edinburgh.
Welcome to the P3 Read Write Count 'Bag Unpacked' video series