Looking for more in Articles?
Summer books for 3-5s
To celebrate summer, Publishing Scotland(this will open in a new window) has collaborated with Scottish publishers to create a series of book lists with recommended books for all ages, from brilliant board books and gorgeous picture books, to activity books and rip-roaring stories of fantasy and adventure.
Where you see a 'Buy now' button you can use the promotional code SBTSUMMER20 where directed to receive 20% discount on the publishers' websites.
Happy reading!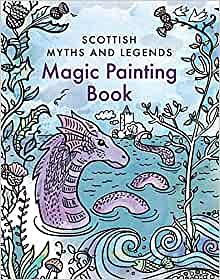 Magic Painting Book: Scottish Myths and Legends
Let your children unleash the magic of Scotland's myths and legends with this remarkable magic painting book!
Unveil dragons, unicorns and even Nessie with the magic paint brush! Go on a journey of discovery through this exquisite and stimulating book that will entertain children of all ages.
Just dip the brush (included with the book) in water and apply directly to the page to bring the illustrations to vibrant life!
(this will open in a new window)Buy now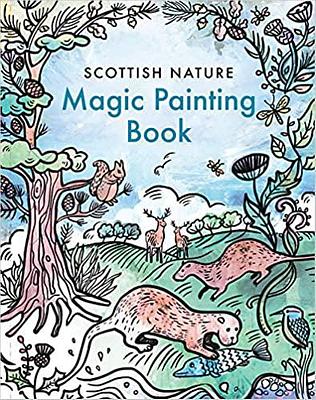 Magic Painting Book: Scottish Nature
For more magical painting adventures, you can discover the majestic red deer, playful otter, the shaggy Highland cow and more amazing animals with the magic paint brush.
Just add water!
(this will open in a new window)Buy now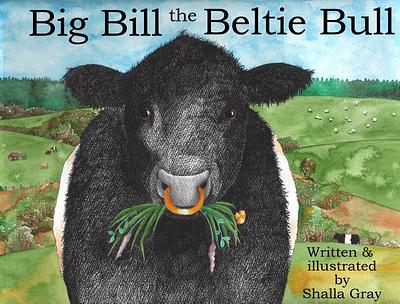 Big Bill the Beltie Bull

by Shalla Gray

Say hello to Big Bill, the beautiful Beltie Bull! In this gentle rhyming story, set in the beautiful countryside of South-West Scotland, Bill wants an easy life, but the farmer has other ideas . . .

(this will open in a new window)Buy now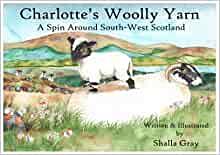 Charlotte's Woolly Yarn

by Shalla Gray

This much-loved tale showcases the beauty of Dumfries & Galloway with lovely watercolour illustrations and an easy to follow rhyming story, where we follow the Charlotte the little lamb on the search for her lost fleece.

(this will open in a new window)Buy now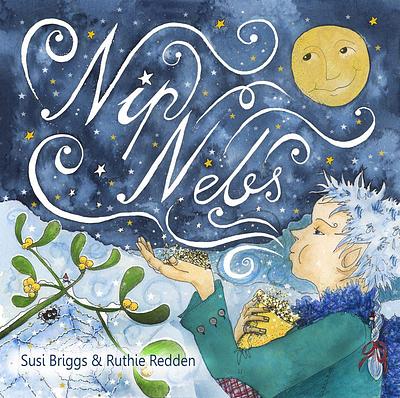 Nip Nebs

by

Susi Briggs and Ruthie Redden

Shortlisted for the Scots Bairns Book of the Year in 2019, this stunning tale has the reader follow the in Jack Frost's footsteps when the moon is shining bright. Journey across the glittering landscape to find all the creatures and faerie folk that Jack passes by.

Explore more Curly Tale books, including Big Bill's Beltie Bairns(this will open in a new window), Mustard and Pepper(this will open in a new window), Sammy the Rainbow Snail(this will open in a new window) and Saving Gracie(this will open in a new window).

(this will open in a new window)Buy now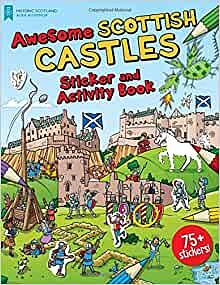 Awesome Scottish Castles

by Moreno Chiacchiera

Discover Scotland's most awesome castles in this bright and lively activity book, bursting with a variety of things to do!

Created in partnership with Historic Environment Scotland, it is filled with historical facts and illustrations of real castles.

(this will open in a new window)Buy now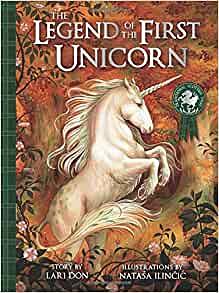 The Legend of the First Unicorn

by Lari Don and Natasa Ilincic

The unicorn, magical and strong, is Scotland's national animal and heraldic symbol, and this is a captivating, beautifully illustrated story of the first unicorn in Scotland, filled with magic, love and folklore charm.

(this will open in a new window)Buy now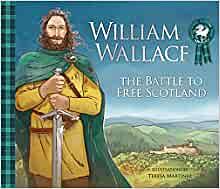 William Wallace

by Molly MacPherson and Teresa Martinez

The inspiring story of Scottish outlaw hero William Wallace adapted into a stunningly illustrated picture book for young readers, packed with historical detail. This thrilling retelling shares the message of intelligence triumphing over might.

(this will open in a new window)Buy now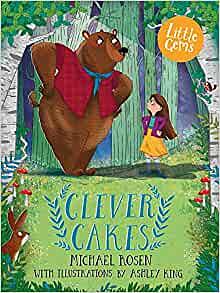 Clever Cakes

by Michael Rosen and Ashley King

Sometimes when you go into the woods, you're sure to meet someone unexpected. That's what happens to Masha when she encounters a hungry grizzly bear.

Luckily, she's a clever girl – find out how she outsmarts the bear in this charming and beautifully-illustrated tale.

(this will open in a new window)Buy now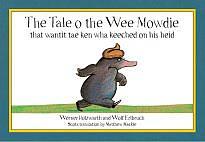 The Tale o' the Wee Mowdie

by Werner Holzwarth and Matthew Mackie

Oor gallus wee hero gangs oot tae speir wha's keeched on his heid in this brilliant Scots story. Outrageously funny, this cracking little book is an absolute delight.

It not only gives children the chance to talk about one of their favourite topics for discussion, it is also an intriguing way of introducing the idea of a nature trail, taking them on a trip that will leave them both laughing and learning.

(this will open in a new window)Buy now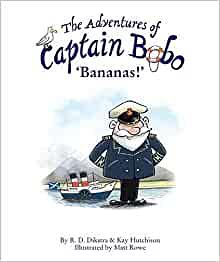 The Adventures of Captain Bobo: Bananas

by R D Dikstra, Kay Hutchison and

Matt Rowe

The book series 'The Adventures of Captain Bobo' tells the many stories of wise Captain 'Bobo' and his paddle steamer the Red Gauntlet. No matter what challenges he encounters at sea, he always manages to save the day. He knows his craft better than anyone and has a comical crew to help him including Bleep, Boing Boing , The Giant Fish-Eater and his trusty dog Salty who bring their unique fun to the ensemble.

You can also receive 20% off the sequel on the Belle Media website(this will open in a new window).

(this will open in a new window)Buy now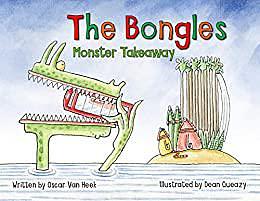 The Bongles Monster Takeaway

by Oscar Van Heek and

Dean Queazy

Meet the Bongles – a motley crew of bouncy, colourful creatures who reuse objects that wash up on their pristine island shore. They love turning trash into treasure and clearing up beaches and oceans. When a telephone phone box is pulled out of the sea, they discover how to get a takeaway, but a distant sea monster, smelling the delicious food, isn't happy...

Make sure you check out the rest of the series too! The Bongles Pet Washing Machine(this will open in a new window) and The Bongles TV Dinner(this will open in a new window)

(this will open in a new window)Buy now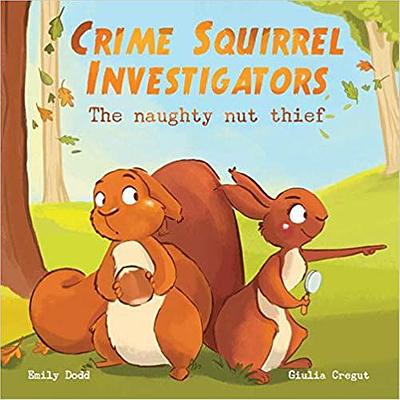 Crime Squirrels Investigators: The Naughty Nut Thief

by Emily Dodd and Giulia Cregut

Rosie's secret hazelnut store has been ransacked and her best friend Charlie agrees to help her to find the naughty nut thief. Bestselling children's author Emily Dodd brings her scientific background to this quirky, fun investigative tale. With a wonderful mix of educational elements coupled with beautifully energetic illustrations, children will learn how different woodland animals eat nuts and how little clues can help them solve the crime.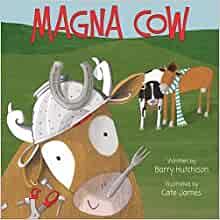 Magna Cow

by Barry Hutchison and Cate James

A moooving tale (see what we did there?!) about being yourself, and friendship. And magnets. Mostly magnets. Meet Magna Cow – she is always messing up the other cows' fun with her mysterious magnetic powers. She ruins their camping trips, spoils their darts tournaments, and plays havoc with their cutlery. But when disaster strikes the herd, Magna Cow finally gets her chance to shine.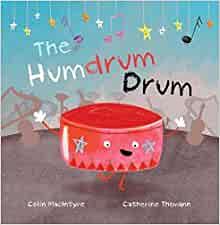 The Humdrum Drum

by Colin McIntyre and Catherine Thomann

Multi-award-winning musician and author Colin MacIntyre and wonderfully quirky illustrator Catherine Thomann have come together to create this bright, colourful, fun musical tale about togetherness, teamwork and inclusiveness. When Drum is feeling unhappy he stops playing and the entire orchestra comes to an embarrassing halt. But with the help of his friends - a cast of colourful instruments, as well as ironing mice and shaving pigeons - Drum realises that without him keeping the beat, they lose their way and that they need him to save the day!