Looking for all Articles by Heather Collins?
Programming 10 years of Authors Live
Heather Collins has been working on Authors Live from the very beginning. She shares her highlights from a decade of author events.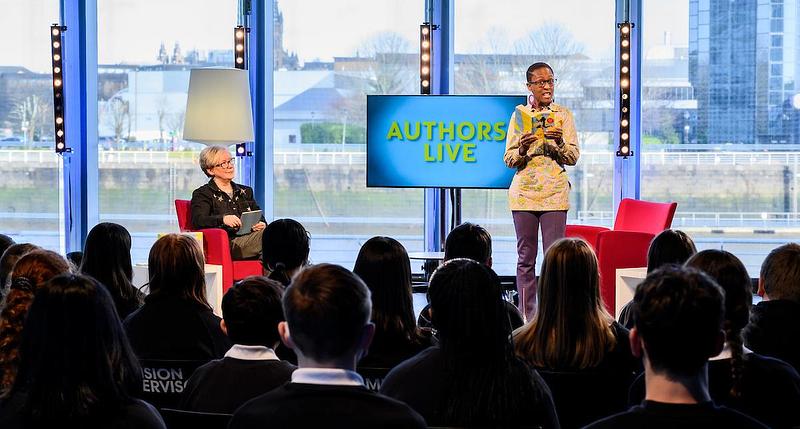 I'd been working at Scottish Book Trust as the Children's Programme Administrator for less than a year when we launched Authors Live. I remember going along to BBC Scotland so full of excitement to meet our very first guest Michael Rosen, and be part of something that felt really innovative and ambitious.
We were putting world class children's authors at the front of classrooms across the UK, even in some of our most remote locations. We knew that widening access to writers like this was bold and we also knew it was important. By allowing children to connect with the writers they loved, or writers we felt they'd love once they knew more about them, we knew we were helping to create lifelong readers.
If you've ever been to an author event in your home town or city, then you'll know what a valuable experience it can be. For many school children meeting an author is impossible due to travel costs, funding or because they're based in a remote location. Authors Live makes it virtually possible! Ten years on from that morning in the BBC Scotland studio, we've streamed 79 live events with the biggest, best and most interesting writers and artists to schools and homes across the UK. The initial excitement has never dwindled.
Ten years and over five million views later, I have the huge privilege of programming Authors Live. I try to make sure we have something for everyone. We're lucky to be able to work with big-name authors children know and love, as well as championing rising stars and new releases.
To celebrate 10 years of Authors Live, I've chosen some of my favourite moments from the past decade to share. The other incredible aspect of Authors Live is that you can all still watch these events in full on the Authors Live On Demand Library. I hope you will and that you'll let us know how you enjoyed them! Get in touch on Twitter by tagging @scottishbktrust(this will open in a new window) and using the hashtag #BBCAuthorsLive(this will open in a new window)
Heather's highlights from 10 years of Authors Live
David Almond
David shared his writing tips and showed us the inside of his notebook, reassuring everyone that the planning stage of writing is messy and that's not something to be afraid of.
Polly Dunbar and Long Nose Puppets
Polly brought her puppet company along to bring to life her beautiful picture book Arthur's Dreamboat. It was truly magical and I still have the music stuck in my head all these years later.
Watch Polly and Long Nose Puppets
Chae Strathie
Chae is one of the very best authors at events. He helped us celebrate Bookbug Week with a bedtime story themed event. It was so much fun - and probably the first and last time I've had to buy pyjamas for an author!
The Gruffalo in Scots and Gaelic with James Robertson and Catriona Lexy Campbell
Last year we marked the 20th anniversary of The Gruffalo by celebrating it in Scotland's indigenous languages. The response from over 400 schools tuning in live was overwhelming as they all delighted in sharing their favourite Scots and Gaelic words with us. When I'm watching tweets fly in from excited schools whilst standing at the back of the studio it's always a moment I know that my job is truly special.
Watch The Gruffalo in Scots and Gaelic
Bessora and Sarah Ardizonne
Alpha is a beautiful and moving graphic novel about the refugee crisis, about exploitation, hope and family. It was translated from French by Sarah Ardizzone who joined author Bessora on Authors Live to discuss the book, the process of translation and the importance of telling this story. I think it's one of the most important events we've ever done.