Looking for all Articles by Lindsay Quayle?
Book sharing with dads and father figures
Father's Day feels like the perfect time to celebrate some of our favourite book sharing films featuring dads and father figures.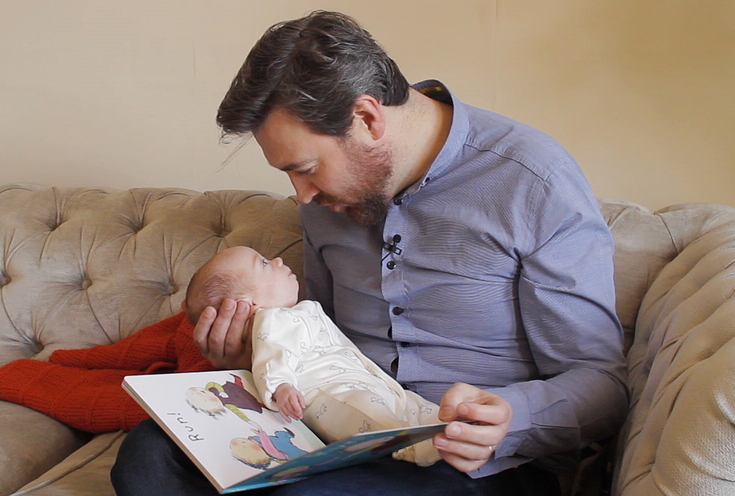 Round and Round the Garden illustrated by Annie Kubler
It's never too early to start sharing stories with your little one! We love how the dad-to-be in this film traces the actions of this well-known rhyme on mum's tummy - and also gives his baby chance to hear his voice by reading along too.
One, Two, Three . . . Run! by Carol Thompson
A beautiful film showing the connection between a very young baby and his dad. Look out for the wonderful eye contact between baby and dad, and the way that dad's voice engages his little one as they share this simple story.
One Sleepy Night by Sebastien Braun
We love how the dad moves in close to share this bedtime story with his son. He reads the story in such a calming way, speaking slowly and clearly to help his wee one catch the words and give him chance to look at the pictures.
Pants by Giles Andreae and Nick Sharratt
The little girl and her grandad in this film share lots of conversation - and a few snacks - as they read this funny book together. They point at different animals and grandad brings the story to life with lots of different voices and sounds.
Can Halò Mar Seo! (Say Hello Like This!)
The two boys in this film are having great fun listening to their dad's silly animal voices! We love how dad cuddles his wee one in and makes sure he can see what's going on in the pages too. A brilliant lift-the-flap book to share with children of different ages.
Penguin by Polly Dunbar
The dad in this film gives his daughter plenty of time to ask questions about the story, and responds in such a positive way. He uses his voice brilliantly to express emotion and add drama to the story! And because his daughter enjoys the story, he suggest they all read it again together.
Enjoy these? You can watch more films of dads (and mums and other carers) sharing our Bookbug Bag books on our Bookbug pages(this will open in a new window).