Looking for all Articles by Heather Collins?
Celebrating Authors Live 100th episode
Heather Collins, our School Communities Manager, looks back on her favourite Authors Live moments.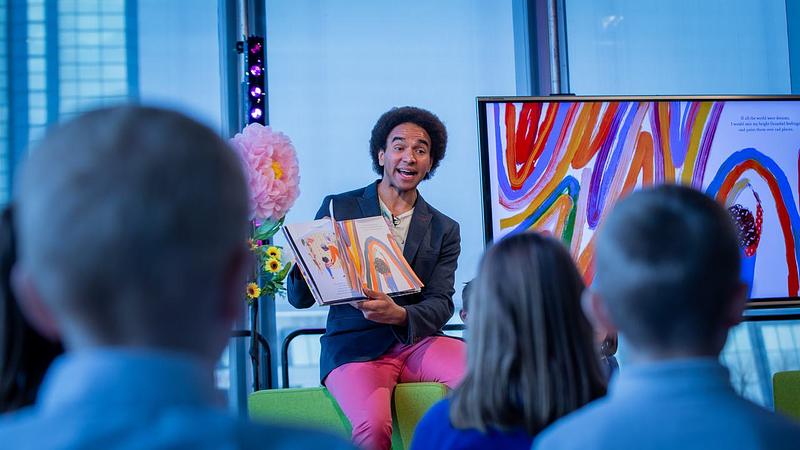 When we launched Authors Live on World Book Day 2010 I don't think any of the team were able to imagine that twelve years later we'd still be going strong and about to broadcast episode 100, but here we are!
In 2010 broadcasting the best children's authors online so everyone could have writers in their school felt bold and revolutionary. These days there are lots of ways to access writers online but we know that the quality Authors Live has to offer has kept it very special. I've got too many favourite broadcasts and picked a few back in 2020 for our 10th anniversary. This time I was asked what my favourite moments were.
Joseph Coelho reading
If All The World Were
When the now Children's Laureate joined us on Authors Live to share his picture book If All The World Were, beautifully illustrated by Alison Colpoys, it was the first time we'd had a reading to music. Joseph is an incredible performer and seeing how captivated the children were during the reading was a very special moment. I can't wait to invite Joseph back to Authors Live in his capacity as Children's Laureate. Watch this space!
Watch Joseph Coelho on Authors Live
Kwame Alexander reading
The Undefeated
Sometimes on Authors Live we get the opportunity to have international authors on our Glasgow stage. When I was offered the chance to feature Kwame Alexander I jumped at it, having really enjoyed his verse novels. The best part of the programme for me though was his performance of his poem The Undefeated, which has been published in a stunning picture book illustrated by Kadir Nelson. Sharing Black history on the Authors Live stage was so important and having a performer of Kwame's calibre a real honour.
Watch Kwame Alexander on Authors Live
Lari Don and James Robertson sharing Scots and Scottish folklore
I always really enjoy having the best of Scotland's writing talent on Authors Live. Lari and James were such a wonderful pairing and their passion for Scots and Scottish tales is completely infectious. The pandemic meant James wasn't able to be on the stage in person but Lari was and the whole thing was just a joyous exploration of Scots, autumn, Halloween and our heritage. No one tells a story like Lari, the whole studio was rapt.
Watch Lari Don and James Robertson on Authors Live
Deanna Rodger and Ellen Renton for National Poetry Day
We've celebrated National Poetry Day a number of times on Authors Live but one of the best was when Janice was joined by Deanna Rodger and Ellen Renton. I had first met Ellen when she was a teenager attending Scottish Book Trust's first ever Young Writers Conference, I didn't recall this when I booked Ellen to appear on Authors Live but when she arrived at the studio I was suddenly hit with the memory of first meeting her way back then. It felt unbelievably special to realise I'd met Ellen as a young, passionate writer and then years later here she was at the BBC getting other teenagers enthused about poetry. A very memorable moment.