Looking for more in About us or Press releases?
Press release: Ten schools in Scotland receive free author residency
Three ASN schools also receive residencies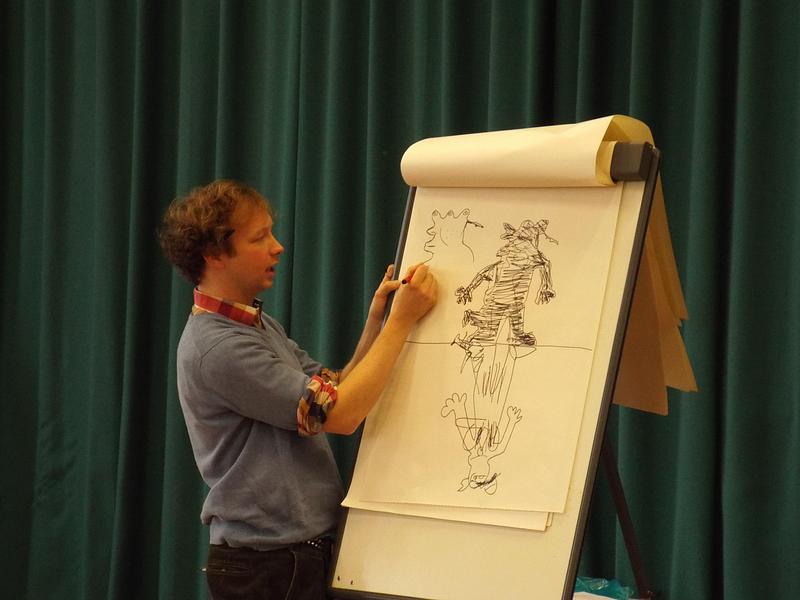 Scottish Book Trust today (Tuesday) announced ten schools who will receive fully-funded author residencies this school year to inspire a lifelong love of reading and writing. The residencies will also give professional writers the opportunity to build relationships with the school and work together on a creative project.
The Live Literature School Residencies Programme, now in its sixth year, is funded by the Walter Scott Giving Group and delivered by Scottish Book Trust, the national charity changing lives through reading and writing.
Three ASN centres were also awarded fully-funded author residencies in the third year of the Additional Support Needs strand of the programme, funded by the Mohn Westlake Foundation.
Schools across the country were invited to apply to the programme which brings professional authors into the classroom to inspire and engage pupils. Each school taking part in the programme will receive 12 fully-funded residency sessions and ASN schools will receive 15 fully-funded sessions, carried out by an author from Scottish Book Trust's author directory. It includes over 600 professional writers, poets, playwrights, illustrators, performance poets and storytellers.
The 10 successful schools and their chosen authors are:
Cumbrae Primary, North Ayrshire with writer Lindsay Littleson
Eastbank Academy, Glasgow with screenwriter Michael Lee Richardson
Fallin Primary School, Stirling with poet and playwright Elspeth Murray
Longstone Primary School, Edinburgh with storytellers Macastory
Manor Park School, Aberdeen with writer Joan Haig
Millbank Primary, Highlands with writer and illustrator John Fardell
Newbattle High School, Midlothian with writer Ruth Thomas
Our Lady's High School, North Lanarkshire (Motherwell) with poet and podcaster Andrew Blair
Sandwick High School, Shetland with writer Elizabeth Wein
Uphall Primary School, West Lothian with writer David Macphail
The 3 successful ASN centres are:
Elgin High School, Moray with storyteller Carol Scorer
Stanmore House School, South Lanarkshire with storyteller Jackie Ross
Woodlands School, Edinburgh with comic artist and writer Malcy Duff
Marc Lambert, CEO of Scottish Book Trust, said:
'The Live Literature School Residencies Programme is incredibly important, as it allows authors to build relationships with a school over time, working together with pupils on a dedicated project. Many of these projects will work with the local community and will also build on the school's COVID recovery plan, addressing issues such as pupil wellbeing; rebuilding reading and writing cultures and also lost transition time for P7/S1. We are grateful to our funders the Walter Scott Giving Group and the Mohn Westlake Foundation for making this programme available to all schools including ASN settings.'
The residencies will run across the 2021-22 school year and finish by May 2022. The Walter Scott Giving Group has funded the Live Literature School Residencies Programme for six years, and the Mohn Westlake Foundation has funded the ASN School Residencies Programme for three years. As well as an author residency, schools will receive a resources grant of £500.
Each school's project will be showcased on Scottish Book Trust's website, alongside suggested learning resources and helpful tips to make the most of the residency sessions.
School Quotes
Julie McAleese, Head Teacher at Cumbrae Primary School, said:
'We are very excited to be working alongside local author Lindsay Littleson, who will motivate and inspire our young people to love literature and develop skills to share their own thoughts and writing within our community.'
Dana Neumannova, School Librarian at Eastbank Academy, said:
'We are excited about working with Michael Lee Richardson on a project involving some of our most vulnerable pupils and celebrating their strengths and individuality. We want pupils to feel valued and empowered by being chosen to work with an established author. The residency will complement the work currently underway within the school and would assist us in celebrating LGBT+ voices and stories.'
Kirsten Macleod, Library Resource Centre Coordinator at Elgin High School, said:
'The Elgin High School students are absolutely delighted to be given the opportunity to explore local oral tradition, and sea tales, with storyteller Carol Scorer. This feels like a once in a lifetime opportunity to work at length, with someone we really value and admire. By bringing the project into the 'whole school' spotlight, we wish to enhance inclusion for the ASN Department across the school community.'
Sarah Lamont, Principal Teacher at Fallin Primary School, said:
'Fallin Primary is delighted to be given this wonderful opportunity to participate in a School Residency. Elspeth is very talented and just the right sort of person to inspire our learners. We are looking forward not just to the input she will have with the group she is working with and their teachers, but also the ongoing impact this will have on literacy engagement in our school.'
Angela Pearston, Head Teacher at Longstone Primary School, said:
'We are so excited about our forthcoming residency and hope that it will inspire and motivate our pupils to have confidence in their abilities as storytellers and writers.'
Paul Murray, Project Co-Ordinator at Manor Park School, said:
'We are very excited to work with the Live Literature School Residency programme to develop our children's passion for reading and writing. We are keen to develop a love of reading not just for learning but for life. By involving live authors, we believe this will bring an engaging element to reading which will support pupils and families to develop their literacy skills.'
Maria McPherson, Head Teacher at Millbank Primary School, said:
'We are really excited about Millbank school's participation in Scottish Book Trust's author residency this session. I'm sure our P7s will really benefit from this very special and positive learning experience, working with author John Fardell.'
Jim Fair, Depute Head Teacher at Newbattle High School, said:
'We are very excited about working with Ruth Thomas as our Writer in Residence. We hope that our young people will gain a fresh insight and understanding of themselves and their own experiences. By exploring and expressing their thoughts and feelings they will more fully appreciate their own relevance and worth.'
Jennifer Macfadyen, Library Resource Centre Manager at Our Lady's High School, said:
'We were delighted when we discovered our Live Literature School Residency application to create a podcast had been successful. Andrew Blair has a fantastic mix of experience to encourage and inspire our pupils in developing their creativity and digital and literacy skills.'
Zuzanna O'Rourke, Library Assistant at Sandwick Junior High School, said:
'We are excited to work with Elizabeth Wein on this project. We hope it will bring local World War Two history to life for our pupils through the power of creativity, imagination and empathy.'
Michelle Campbell, ASN Teacher at Stanmore House School, said:
'At Stanmore House School we are so excited to have the opportunity to take part in the Live Literature School Residency. We cannot wait to work with Jackie Ross, we are sure it is going to be lots of fun!'
Megan Rodger, Class Teacher and Literacy Development Lead at Uphall Primary School, said:
'We are delighted to find out that Uphall and our primary 7's have been given the opportunity to work with David Macphail! We can't wait to work alongside a role model author to inspire pupils to enjoy reading and writing. We are excited to start planning our author in residence project and share our journey with the Uphall learning community.'
Karen Byrne, Principal Teacher Support for Learning at Woodlands School, said:
'Woodlands is excited to explore journeys of hope and resilience through word and sequenced visuals. We want to share and establish confidence in our personal and collective voice and continue this beyond the residency.'
Author Quotes
Lindsay Littleson said:
'I'm thrilled to have the opportunity to work with the teachers and pupils of Cumbrae Primary. The Isle of Cumbrae is one of my favourite places in the world and is the setting of my first novel, The Mixed-Up Summer of Lily McLean. I'm hoping to inspire the children to write their own island-set adventure stories.'
Michael Lee Richardson said:
'I've worked with Eastbank Academy in the past, and I'm incredibly excited to be working on this longer-term project with them! We'll be working with words and looking at ways to make LGBT+ pupils and their experiences more visible within the school – I can't wait to get started!'
Elspeth Murray said:
'I love it when children recognise some real connection between words on the page and the story of their own life. I'm really looking forward to helping bring about vibrant and relevant stories with the P5s at Fallin Primary School especially those who have been reluctant to read.'
Macastory said:
'We are delighted to be involved in the project and are excited to explore stories of the past from the Longstone area of Edinburgh with the children. We'll see where that takes their imaginations! We can't wait to see how the pupils will imagine their version of Longstone's amazing history.'
Joan Haig said:
'There are so many books! But often, the choice in front of young readers appears limited, or it is intimidating for them to know where to start. I'm looking forward to engaging with staff and pupils to help source fabulous fiction and nonfiction, guiding young people on how to get the most out of their reading, and supporting the school in 'making reading cool'.'
John Fardell said:
'I'm very excited and honoured to have been invited to carry out this residency project at Millbank Primary School. I'm greatly looking forward to meeting everyone there and to helping the pupils develop their imaginative, creative and visual ideas.'
Ruth Thomas said:
'Words are fabulous! There are so many ways you can put them together to tell stories and make connections. I can't wait to start working with Newbattle High School pupils this autumn, when we'll look at how and why words can be so powerful, and working on our own writing projects.'
Andrew Blair said:
'I'm excited about sharing all the different ways you can be creative with a podcast with pupils of Our Lady's High School.'
Elizabeth Wein said:
'I fell in love with Shetland during a visit in October 2019; its intricate past and present inspired some of my own poetry. I'm thrilled to explore Shetland's wartime history with a new generation of local writers and to help these young people find connections and inspiration of their own!'
David Macphail said:
'Over the course of this fabulous project I look forward to working closely in partnership with everyone at Uphall Primary School to inspire and empower pupils (and teachers!), unlock creativity and instil confidence and enjoyment in reading and writing.'
Carol Scorer said:
'Delving into the oral tradition we will gather stories and memories from the sea and coasts of Scotland and beyond. Using a multi-sensory and exploratory approach we aim to re-inhabit the heart of these stories and in the retelling make them our own.'
Jackie Ross said:
'I'm really excited to work with Stanmore House School. I love their 'whole school theme' methodology and their focus on using outdoor play to enhance learning. Storytelling will fit very well with this creative approach. I feel sure we will have lots of fun and learn a lot together too.'
Malcy Duff said:
'I'm excited about offering comic book storytelling as a creative medium for learners to develop their own visual language and explore new narratives that challenge the old. I hope this work will increase participants' confidence and expand the use of comic book storytelling as an important form of communication.'
Notes to editors
For more information, please contact Keara Donnachie, PR and Marketing Manager at Scottish Book Trust, on Keara.Donnachie@scottishbooktrust.com(this will open in a new window) or 07956 773749.
Scottish Book Trust
Scottish Book Trust is a national charity that believes everyone living in Scotland should have equal access to books. Our work provides opportunities to improve life chances through books and the fundamental skills of reading and writing. Access to books and a love of books bring many important benefits from family bonding and advancing children's learning, to unlocking creativity, helping employability and improving mental health & well-being. Scottish Book Trust aims to support all communities across Scotland, with particular focus on those who are vulnerable and under-represented.
Our programmes and outreach work include:
Gifting books to every child in Scotland to ensure families of all backgrounds can share the joy of books at home, through Bookbug and Read Write Count
Working with teachers to inspire children to develop a love of reading, creating innovative classroom activities, book awards and author events such as Authors Live with the BBC and our Scottish Friendly Children's Book Tour
Supporting and nurturing Scotland's wide-ranging literary talent, both emerging and established through our training, awards and writing opportunities including New Writers Awards
Creating events to share books and connect writers with communities, including Book Week Scotland
Providing support to people living with dementia, and their carers, through Reading is Caring
In addition to the funding we receive from the Scottish Government and Creative Scotland, we need the constant support of trusts and foundations, corporate sponsors and individual donors.
Follow Scottish Book Trust on Instagram(this will open in a new window)
Follow Scottish Book Trust on Twitter(this will open in a new window)
Follow Scottish Book Trust on Facebook(this will open in a new window)
Creative Scotland
Creative Scotland is the public body that supports the arts, screen and creative industries across all parts of Scotland on behalf of everyone who lives, works or visits here. We distribute funding provided by the Scottish Government and The National Lottery. Further information at creativescotland.com(this will open in a new window).
Follow Creative Scotland on Twitter(this will open in a new window)
Follow Creative Scotland on Facebook(this will open in a new window)
Follow Creative Scotland on Instagram(this will open in a new window)