Looking for more in About us or Press releases?
Press release: Scottish Book Trust opens search for real life stories
National campaign ties in with 'Scotland's Year of Stories'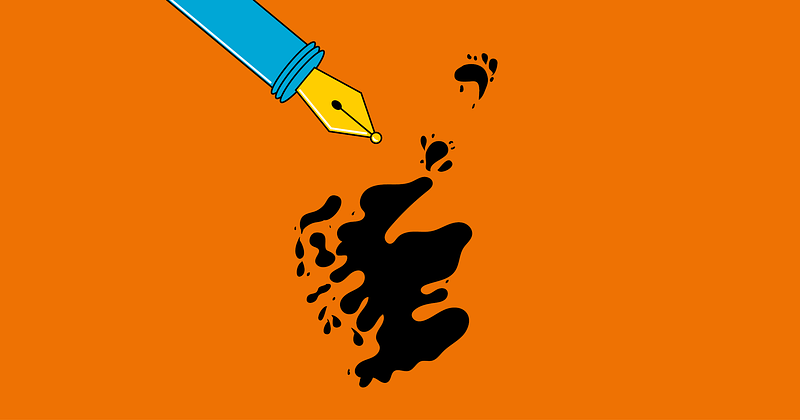 National charity Scottish Book Trust has today opened submissions to encourage the public to share their real-life stories. It marks the 14th year of Scottish Book Trust's annual Your Stories campaign, which this year is partnering with EventScotland as part of Scotland's Year of Stories 2022. From those who write regularly to those who have never written before, Your Stories is open to all submissions, regardless of writing experience.
Submissions can be made in English, Scots, or Gaelic in any form – story, poem, comic strip, play or letter – of up to 1,000 words. Every entry will appear on Scottish Book Trust's website and a selection of pieces will be published in a free book distributed to libraries, community groups and schools during Book Week Scotland (14-20 November 2022) – the national celebration of books and reading.
Marc Lambert, CEO of Scottish Book Trust said:
'The Your Stories programme has always been a cornerstone of Scottish Book Trust, giving a platform for the public to share personal experiences and for some, be published for the first ever time. Working with our partners EventScotland for Scotland's Year of Stories, we hope that many people will be encouraged to share their different experiences and shape the narrative of our country.'
Alison Lang, Director of the Gaelic Books Council, said:
'Ann am Bliadhna nan Sgeul tha sinn an dòchas gum bi daoine air feadh na dùthcha deònach na sgeulachdan Gàidhlig aca fhèin innse, agus gum bi e na bhrosnachadh dhaibhsan agus do na leughadairean aca an cuid obrach fhaicinn ann an clò. Tha e na thlachd do Chomhairle nan Leabhraichean a bhith a' toirt taic don iomairt seo a-rithist.'
'In this Year of Stories we hope that people all over the country will be willing to tell their own Gaelic stories, and that they and their readers will be inspired by seeing their work published. The Gaelic Books Council is delighted to be supporting this Scottish Book Trust initiative once again.'
Scottish Book Trust has commissioned real life stories from: Helen Fields, author of the DI Callanach series; Graeme Armstrong author of The Young Team; Raman Mundair, filmmaker and playwright and Gaelic authors, Morag Ann MacNeil and Angus Peter Campbell.
Scottish Book Trust will share a variety of prompts through their website and social networks to help inspire those hoping to submit. Find out more about Your Stories.
The deadline for submissions is Friday 10 June.
Submissions can be made online via Scottish Book Trust's website or via post to:
Your Stories, Scottish Book Trust, Sandeman House, Trunk's Close, 55 High Street, Edinburgh, EH1 1SR
Notes to editors
For media enquiries please contact Keara Donnachie, PR and Marketing Manager at Scottish Book Trust, on Keara.Donnachie@scottishbooktrust.com(this will open in a new window) or 07956 773749.
Biographies
Helen Fields is an author of best-selling crime, thriller and historical fiction books. Her DI Callanach series is set in Scotland and she has been twice long-listed for the McIllvanney Scottish Crime Book of the Year. Helen's new novel The Last Girl to Die will be released in September. A former barrister and film producer, her books have been translated into more than 20 languages.
Raman Mundair is an Indian-born director, writer, artist, activist, filmmaker and playwright. She identifies as a disabled, Queer, British Asian intersectional feminist and is based in Shetland and Glasgow. She is the award-winning author of Lovers, Liars, Conjurers and Thieves, A Choreographer's Cartography, The Algebra of Freedom (a play) and is the editor of Incoming: Some Shetland Voices. She was awarded the Ignite Fellowship in 2021.
Graeme Armstrong is from Airdrie and is author of the bestselling The Young Team. His teenage years were spent within North Lanarkshire's gang culture. He defied expectation to read English at the University of Stirling where, after graduating with honours, he returned to study a Masters' in Creative Writing. The Young Team won Scots Book O' the Year, the Betty Trask and Somerset Maugham Awards. In 2021, Graeme presented Scotland: The Rave, a documentary screened by the BBC that explored Scotland's rave and PCDJ culture.
Morag Ann MacNeil is originally from the Isle of Harris, and now lives on the Isle of Barra in the Outer Hebrides of Scotland. Mòrag Ann studied English Literature and Celtic Studies at Glasgow University and she was a Gaelic teacher for 26 years. She received a New Writers Award from the Scottish Book Trust and the Gaelic Books Council in 2015 and now writes full-time. Her children's novels, Granaidh Afraga and Èiginn Ùisdein, were shortlisted for the Donald Meek Award in 2016 and 2017 respectively, Èiginn Ùisdein winning third prize in that year. In 2018, Artair sa Chaisteal won the Chrisella Ross Memorial Prize for children's fiction.
Angus Peter Campbell was born near South Boisdale on the Hebridean island of South Uist. He returned to South Uist after university, before starting work as a journalist for the West Highland Free Press, and then both BBC and Grampian TV. He continues to write and present for television and radio. He also appears in the Gaelic feature film Seachd: The Inaccessible Pinnacle, in a role for which he was nominated for a Scottish BAFTA award. Angus Peter Campbell has written three Gaelic novels for children, for the Gaelic education service Stòrlann; two English poetry collections, three Gaelic adult novels and Invisible Islands, his first English-language novel. His most recent novel, An Tilleadh Dhachaigh, was published in 2009.
Scottish Book Trust
Scottish Book Trust is a national charity that believes everyone living in Scotland should have equal access to books. Our work provides opportunities to improve life chances through books and the fundamental skills of reading and writing. Access to books and a love of books bring many important benefits from family bonding and advancing children's learning, to unlocking creativity, helping employability and improving mental health & well-being. Scottish Book Trust aims to support all communities across Scotland, with particular focus on those who are vulnerable and under-represented.
Our programmes and outreach work include:
Gifting books to every child in Scotland to ensure families of all backgrounds can share the joy of books at home, through Bookbug and Read Write Count
Working with teachers to inspire children to develop a love of reading, creating innovative classroom activities, book awards and author events such as Authors Live with the BBC and our Scottish Friendly Children's Book Tour
Supporting and nurturing Scotland's wide-ranging literary talent, both emerging and established through our training, awards and writing opportunities including New Writers Awards
Creating events to share books and connect writers with communities, including Book Week Scotland
Providing support to people living with dementia, and their carers, through Reading is Caring
In addition to the funding we receive from the Scottish Government and Creative Scotland, we need the constant support of trusts and foundations, corporate sponsors and individual donors.
Visit the Scottish Book Trust website
Follow Scottish Book Trust on Instagram(this will open in a new window)
Follow Scottish Book Trust on Twitter(this will open in a new window)
Follow Scottish Book Trust on Facebook(this will open in a new window)
Creative Scotland
Creative Scotland is the public body that supports the arts, screen and creative industries across all parts of Scotland on behalf of everyone who lives, works or visits here. We enable people and organisations to work in and experience the arts, screen and creative industries in Scotland by helping others to develop great ideas and bring them to life. We distribute funding provided by the Scottish Government and the National Lottery.
Follow Creative Scotland on Twitter(this will open in a new window)
Follow Creative Scotland on Facebook(this will open in a new window)
Follow Creative Scotland on Instagram(this will open in a new window)
The Gaelic Books Council
Comhairle nan Leabhraichean (The Gaelic Books Council) is the lead organisation with responsibility for Gaelic writing and publishing, and for raising the profile and reach of Scottish Gaelic books in Scotland and internationally. Established in 1968, Comhairle nan Leabhraichean is a registered charity and receives funding from Creative Scotland and from Bòrd na Gàidhlig to support its programme of grants, professional training and events.
Visit the Gaelic Books Council website(this will open in a new window)
Follow the Gaelic Books Council on Twitter(this will open in a new window)
Follow the Gaelic Books Council on Facebook(this will open in a new window)