Looking for more in About us or Press releases?
Press release: Scottish Book Trust announced as new charity partner of McCarthy Stone Foundation
Charities to work together on dementia programme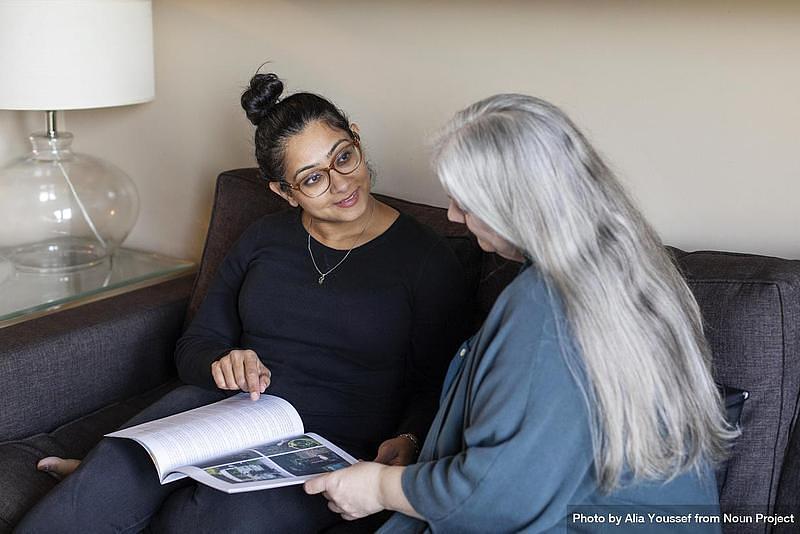 Scottish Book Trust, the national charity changing lives through reading and writing, has today been announced as the new charity partner of the McCarthy Stone Foundation. Together, they will work on Scottish Book Trust's programme Reading is Caring, which aims to help people living with dementia and their carers.
There are an estimated 90,000 people with dementia in Scotland. Around two-thirds are living at home at any one time, with the remainder in acute or residential care. Reading is Caring teaches carers how to share stories and create their own life story book box. This includes learning how to select and tailor reading to enjoy together with the person they care for, as well as gathering pictures, objects and other sensory triggers to complement the reading.
A new report for Carers Week 2021 found that carers in Scotland were reporting high levels of fatigue and stress, with 77% feeling exhausted and worn out. Reading is Caring not only benefits those with dementia, but also their carers. Shared reading is enjoyable and can provide comfort to those participating. Furthermore, the life story book boxes can help relieve stress, evoke positive memories, and maintain the relationship between carer and those with dementia. If they have been trained, multiple family members and any professional carers can use Reading is Caring, which supports the person living with dementia with a consistent, connective experience in many of their relationships.
The McCarthy Stone Foundation believes that a sense of community and purpose are essential for quality of life, particularly for older people. The partnership with Reading is Caring is a perfect fit, as the programme helps to establish relationships with people living with dementia, their carers, and families. The Foundation has awarded Scottish Book Trust a £2,000 grant and through fundraising, McCarthy Stone's employees and homeowners will support the Reading is Caring programme across Scotland.
Marc Lambert, CEO of Scottish Book Trust, said:
'We are delighted that the McCarthy Stone Foundation has chosen Scottish Book Trust as their new charity partner. Reading is Caring aims to support people living with dementia and the people who provide care for them. We are grateful for the experience that McCarthy Stone employers and homeowners will bring to this programme, and we look forward to spreading the joy of shared reading.'
Graeme Marsh, Foundation Manager at the McCarthy Stone Foundation said:
'The Reading is Caring programme developed by Scottish Book Trust is an innovative way to engage the carers, families, and partners of people living with dementia. We have been encouraged by the early research supporting its efficacy, but even more by the passion and commitment of the team behind it. We look forward to seeing the programme grow, and we are excited to engage with McCarthy Stone employees and homeowners across Scotland to further its development.'
Colin Tate, carer and Reading is Caring participant, said:
'Reading is Caring opened up a whole new line of ideas and techniques for me to help support my mother, who is living with dementia in a care home setting. The programme will help her have better, positive, emotional memories.'
Ends
Notes to editors
1) https://www.alzscot.org/our-work/campaigning-for-change/scotlands-national-dementia-strategy/statistics(this will open in a new window)
2) https://www.carersweek.org/about-carers-week/latest-news/posts-folder/2021/june/breaks-or-breakdown-new-report/(this will open in a new window)
For more information please contact PR and Marketing Manager Keara Donnachie on keara.donnachie@scottishbooktrust.com(this will open in a new window) or 07956 773749.
Scottish Book Trust
Scottish Book Trust is a national charity that believes everyone living in Scotland should have equal access to books. Our work provides opportunities to improve life chances through books and the fundamental skills of reading and writing. Access to books and a love of books bring many important benefits from family bonding and advancing children's learning, to unlocking creativity, helping employability and improving mental health & well-being. Scottish Book Trust aims to support all communities across Scotland, with particular focus on those who are vulnerable and under-represented.
Our programmes and outreach work include:
Gifting books to every child in Scotland to ensure families of all backgrounds can share the joy of books at home, through Bookbug and Read Write Count
Working with teachers to inspire children to develop a love of reading, creating innovative classroom activities, book awards and author events such as Authors Live with the BBC and our Scottish Friendly Children's Book Tour
Supporting and nurturing Scotland's wide-ranging literary talent, both emerging and established through our training, awards and writing opportunities including New Writers Awards
Creating events to share books and connect writers with communities, including Book Week Scotland
Providing support to people living with dementia, and their carers, through Reading is Caring
In addition to the funding we receive from the Scottish Government and Creative Scotland, we need the constant support of trusts and foundations, corporate sponsors and individual donors.
www.scottishbooktrust.com(this will open in a new window) @scottishbktrust http://www.facebook.com/scottishbktrust(this will open in a new window)
About the McCarthy Stone Foundation
The McCarthy Stone Foundation believes that people need people, and that a sense of community and purpose are essential for quality of life, particularly for older people. As society has grown more divided, the Foundation seeks to bring together people of different generations to share experiences, and live a life that is fulfilling, connected, and independent. Collectively, we can help the people in our communities who find this challenging – older people facing isolation, loneliness, or poor health, and young people who may be falling behind personally and academically.
With the support of McCarthy Stone employees, homeowners, and partners, the Foundation delivers a small grants programme, longer-term charity partnerships, volunteering, and other resources. Through these programmes, the Foundation will deliver a range of impacts that will strengthen communities, support local charities with resource and expertise, and be a voice that champions the role of older people in a thriving society.
The McCarthy & Stone Foundation is an independent registered charity in England and Wales No. 1191504
For Further information please visit www.mccarthystonefoundation.org(this will open in a new window) or contact Foundation Manager Graeme Marsh Graeme.marsh@mccarthyandstone-foundation.org.uk(this will open in a new window)