Looking for more in About us or Press releases?
Schools across Scotland recognised by First Minister's Reading Challenge
The winners of the First Minister's Reading Challenge 2019-2020 were today announced online by Scottish Book Trust, the national charity changing lives through reading and writing.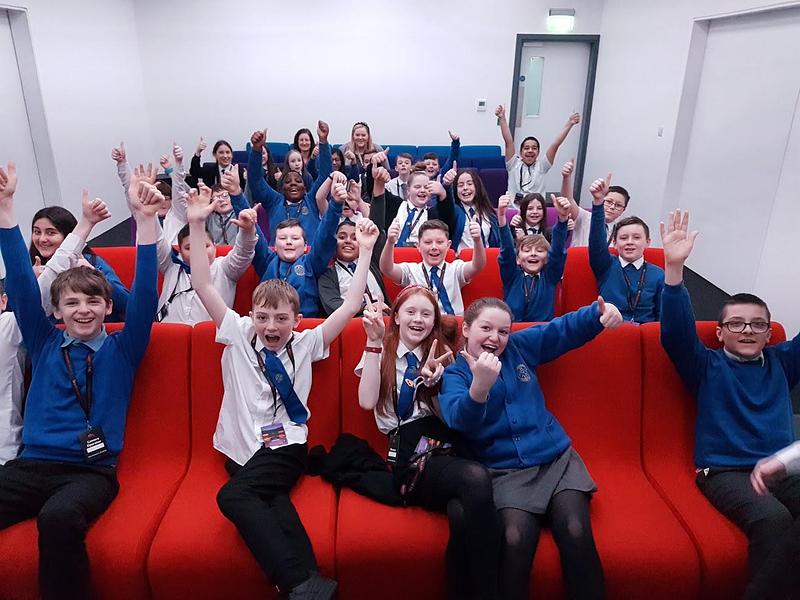 Despite the school year being disrupted by lockdown, many schools still submitted their challenge, showcasing the excellent work achieved by their pupils and staff.
The national winner, receiving the School Reading Journey Award, was Beancross Primary School from Falkirk. ​The school made an excellent effort to increase reading for pleasure in creative ways involving all ages and types of reader, including: their Library Leaders Group; themed class libraries, pupil author project for primary 7s and community partnerships with a local care home, library and their cluster secondary school. Panel members also commended the comprehensive nature of their events and the variety of activities that were held, and thought the links made with the community were excellent.
Andrew Watson, Head Teacher at Beancross Primary School said:
"We are absolutely delighted to have won the First Minister's Reading Challenge for the Whole School Reading Journey. At Beancross our journey has been one of excitement led creatively and with enthusiasm by Principal Teacher Lauren Miller and supported fully by the staff team, parents and children. We look forward to continuing our journey next session with the addition of a new school library and the continuation of the many successful reading events from Session 2019-2020."
The national winner for the Reading Inspiration Challenge was Arbroath High School in Angus. They were recognised for creating a reading culture which includes the whole school community. Staff from across the school are involved in promoting reading with a number of successful events helping to inspire pupils, particularly their Big Book Swap involving hundreds of pupils. Their weekly reading group for pupils with additional support needs, pupil suggestion box and new manga club are just some of the ways that they respond to pupil needs and interests. The panel also thought the school was responsive to pupil need and voice, especially in their work with their pupils with ASN and School Library Improvement Fund project.
Bruce Pandrich, Head Teacher at Arbroath High School said:
"This year's Literacy Project has brought us together as a learning community: developing a very positive reading culture through an extraordinary variety of experiences and a celebration of the power of reading to transform and enhance our learning and our lives. We are enormously proud and pleased about the remarkable achievements of our Literacy Group, which has been so effective and active throughout the last year. It has brought many rich benefits such as the joy and pleasure of reading to our whole school and learning community, which have been recognised in this award and success in the First Minister's Reading Challenge."
The Gaelic Medium Education (GME) Reading Journey was awarded to Sgoil Stafainn in the Highlands. Reading for pleasure is at the heart of the school, with staff continually finding innovative ways to approach reading in a way that pupils find fun, all while they gain confidence with the Gaelic language. This year they used the Gaelic alphabet to inspire a great reading project, with new stories to discover for each letter. Pupils have continued to engage with books while schools have been closed and have responded to what they have been reading with fantastic drawings and reviews. The panel also commented on the commitment to reading and enthusiasm from the P1-3 teacher.
Karen Graham, Acting Head Teacher at Sgoil Stafainn said:
"Here at Sgoil Stafainn we are extremely proud of everything we have done whilst taking part in the First Minister's Reading Challenge and are delighted to have taken part in the Gaelic Reading Challenge again this year. Everyone at our school has worked together to promote a strong reading culture which promotes the Gaelic language and inspires all to read for enjoyment and take a real pleasure from reading and books. We love seeing the benefits this challenge brings in developing the use of Gaelic at our school."
For the Pupil Reading Journey award category, there were four national winners:
Primary 1 pupil Rory from Eastertoun Primary School​, West Lothian. Rory had put together a brilliant comic strip of his reading journey. From meeting an author and filling in his reading passport to tip toeing out of bed to ask for another bedtime story, Rory really brought his journey to life with his drawings and showed how much he loves to read.
Primary 2 class from Blackwood Primary School, South Lanarkshire. Pupils and their families have stayed connected while the school has been closed through their amazing Rainbow Warriors Story Group. Pupils take turns to write and illustrate a chapter of the story, with each part being posted online for the other pupils to read. This project is a creative way to keep pupils writing and connected to their classmates, and the staff and parents organising it have done a fantastic job of giving the pupils a positive project to focus on.
Primary 4 pupil Amy, from Kirknetwon Primary School in West Lothian. Amy created a fantastic powerpoint about her favourite author, Lari Don, the exciting books she has written and how much of an inspiration she is. Amy is now creating her own book called Lava Blast.
Primary 7 class from Bankhead Primary School in Glasgow. The pupils have had a great year discovering new books, visiting the library and responding to books in their reading passports. When the school closed, pupils were challenged to create created lockdown book review videos. The videos are fantastic, showcasing a great passion for reading, a huge variety of books enjoyed by pupils and remarkable confidence from the children as they discussed their thoughts on the books.
Now in its fourth year, the Challenge encourages children to read for pleasure and develop a life-long love of books. The awards recognise the efforts of schools and pupils to support reading for enjoyment and create a reading culture in their school, home or community. All those who submitted this year will receive book tokens, with the winners also receiving a trophy. The national winners of the School Reading Journey Award, Reading Inspiration Award and GME Reading Journey will also receive funding for an author event from Scottish Book Trust.
The First Minister's Reading Challenge was launched in 2016 for Primaries 4 to 7 and expanded to include all primary and secondary schools as well as libraries and community groups in its third year. Scottish Book Trust, the national charity changing lives through reading and writing, delivers this exciting reading initiative on behalf of the Scottish Government and every school in Scotland is invited to take part.
The First Minister said:
"Inspiring our young people to read for pleasure can help to improve literacy and mental health and increase creativity – that is why I launched the First Minister's Reading Challenge.
"It is great to see so many young people discover their own love of reading but also help to bring that passion and inspiration to their friends, families, schools and local communities.
"I want schools across Scotland to sign up to the Challenge when it launches in August so that we can keep sharing the joy of reading for generations to come."
Marc Lambert, CEO of Scottish Book Trust, said:
"It was fantastic to receive so many submissions to the First Minister's Reading Challenge despite the restrictions of lockdown. Pupils, parents, and teachers have come together to celebrate books and develop a reading culture within their schools and local communities. Although we cannot celebrate together in person this year, we hope the pupils are immensely proud of their achievements."
Notes to editors
For more information or images of the winners please contact PR and Marketing Manager KearaDonnachie on HYPERLINK "mailto:keara.donnachie@scottishbooktrust.com" keara.donnachie@scottishbooktrust.com or 07956 773749.
Full list of awards
School Reading Journey Award
National winner: Beancross Primary School, Falkirk
Highly commended:
Castle Douglas Primary School, Dumfries & Galloway: they put the voices of their pupils at the heart of their reading journey, with their Reading Ambassadors suggesting ideas, getting pupils involved with choosing new books and even a review column in the local newspaper where the children share their thoughts on what they have been reading.
Findochty Primary School, Moray: the school has been building a strong culture of reading for pleasure for a few years now, but have really gone the extra mile recently with Reading Dogs sessions to help raise pupil confidence in reading aloud, their Findochty Reads campaign, with the hidden books creating a great buzz in the community and a great Reading Ambassador programme to give senior pupils a leading role in where their reading journey takes them next.
Pupil Reading Journey Award
P1: Rory, Eastertoun Primary School​, West Lothian
P2 class, Blackwood Primary School, South Lanarkshire
P4: Amy, Kirknetwon Primary School, West Lothian
P7 class, Bankhead Primary School, Glasgow
Reading Inspiration Award
National winner: Arbroath High School, Angus
Highly commended: Prestwick Academy, South Ayrshire: the school library is at the heart of Prestwick Academy with the staff creating the perfect space for pupils to discover the joys of reading and writing, from creative writing club and author events to Chill Out Tuesdays to help pupils relax with a good book. Creative challenges for the pupils link with different departments across the school, encouraging pupils to discover a broader range of ideas, authors and books and learn new skills.
Community Reading Culture Challenge
Highly Commended: Heriot Mini Book Bank
GME Reading Journey
National winner: Staffin Primary School, Highland
Additional Quotes
P1 Pupil Reading Journey
Megan Holley, P1 Class Teacher at Eastertoun Primary School and ELC said:
"We are so proud of Rory's outstanding achievement and believe he is a very worthy winner of the P1 Pupil Reading Journey. This is a fantastic end to what has been an extremely exciting year of developing our reading culture at Eastertoun. Engaging with the First Minister's Reading Challenge to promote reading for enjoyment has inspired and motivated pupils, staff and parent/carers to re-discover the joy of books. Eastertoun's reading journey certainly does not end here and Rory's achievement, I have no doubt, will further develop a buzz about books that we can build on going forward into next session."
P4 Pupil Reading Journey
Pauline Bird, School Literacy Champion at Kirknewton Primary School said:
"At Kirknewton Primary, as part of our ongoing commitment to strengthening our reading culture, we value the contribution authors and illustrators can make in fostering a life-long love of reading. Amy's entry demonstrates just how impactful their engagement with pupils can be. This is a fantastic achievement for Amy and we are all delighted for her."
P7 Pupil Reading Journey
Celine McKinlay, Head Teacher at Bankhead Primary School said:
"We are immensely proud of all of our Primary 7a and Primary 7b children for enthusiastically rising to the First Minister's Reading Challenge to read for enjoyment, especially in a world where children are pulled in many directions. The fact these children were motivated to continue to read and review their reading for other pupils during the lockdown, demonstrates that they believe in the
benefits of losing yourself in a book. As a school, we always happily promote reading for pleasure in many different ways and our hope for all of our children who have participated in the First Minister's Reading Challenge is that they are developing a life-long desire to read for fun.
I would like to thank all of the staff and parents who have helped our children develop a deep love of reading, especially Mrs Napier, Principal Teacher, Miss Lindores and Mrs MacGregor, P7 teachers and the staff of Knightswood Library and Scottish Book Trust."
School Reading Journey
Highly Commended
Aidan Whan, Primary 7 Class Teacher at Castle Douglas Primary School said:
"We are delighted that the hard work and enthusiasm of our learners in Castle Douglas Primary School has been recognised through receiving the Highly Commended award in the 'School Reading Journey' category of the First Minister's Reading Challenge. Our learners have worked incredibly hard this year to develop a culture of reading for pleasure.
We are proud that the First Minister's Reading Challenge has recognised the commitment of our learners and support from our school community."
School Reading Journey
Highly Commended
Dawn Thompson, Head Teacher at Findochty Primary School:
"I am really proud of the efforts of everyone within my school. We have worked really hard at establishing and maintaining a reading culture not only within our school but within the wider community too. During these unprecedented times, our children have used reading as a way of relieving the uncertainty: it allows them to use their imagination to take them off to a different place in time. I have seen our children blossom becoming successful learners, responsible citizens, effective contributors and confident individuals."
Community Reading Culture Challenge
Highly Commended
Alison Crabbe, Mini Book Bank Co-ordinator at Heriot Mini Book Bank said:
"The Mini Book Bank is a community project based within the grounds of Heriot Primary School in the Scottish Borders. It was created to inspire younger community members (who have limited access to library facilities in our rural location) to develop an enthusiasm of reading for pleasure by providing a welcoming, engaging and accessible environment with a variety of quality children's books to browse / borrow without pressure. We've been delighted with the response from children and parents and hope families in our community continue to take joy and ownership in their personal reading journeys and the Mini Book Bank into the future."
About First Minister's Reading Challenge
The First Minister's Reading Challenge was launched in March 2016 and in its first year was open from August 2016 to March 2017 to all Primary 4 to Primary 7 children in local authority and independent schools across Scotland. In its second year the Challenge was expanded to include primaries 1 to 3, and in its third year, the Challenge was expanded to include secondary schools, libraries and community groups.
Scottish Book Trust administers the Challenge, working closely with Education Scotland. It includes book suggestions, learning resources, prizes, case studies and ideas to help young people develop a love of reading, as well as the opportunity to apply for author visits.
Scottish Book Trust
Scottish Book Trust is a national charity changing lives through reading and writing. We inspire and support the people of Scotland to read and write for pleasure through programmes and outreach work that include:
Gifting books to every child in Scotland to ensure families of all backgrounds can share the joy of books at home.
Working with teachers to inspire children to develop a love of reading, creating innovative classroom activities, book awards and author events.
Supporting Scotland's diverse writing community with our training, awards and writing opportunities.
Funding a range of author events for the public to enjoy and promoting Scottish writing to people worldwide.
In addition to the funding we receive from the Scottish Government and Creative Scotland, we need the constant support of trusts and foundations, corporate sponsors and individual donors.
Creative Scotland
Creative Scotland is the public body that supports the arts, screen and creative industries across all parts of Scotland on behalf of everyone who lives, works or visits here. We enable people and organisations to work in and experience the arts, screen and creative industries in Scotland by helping others to develop great ideas and bring them to life. We distribute funding provided by the Scottish Government and the National Lottery.