Looking for more in About us or Press releases?
Press release: The Bookbug Picture Book Prize 2021 shortlist announced
Scottish Book Trust has announced the shortlist for The Bookbug Picture Book Prize 2021, including Morag Hood, Ross Collins and Zoë Ingram.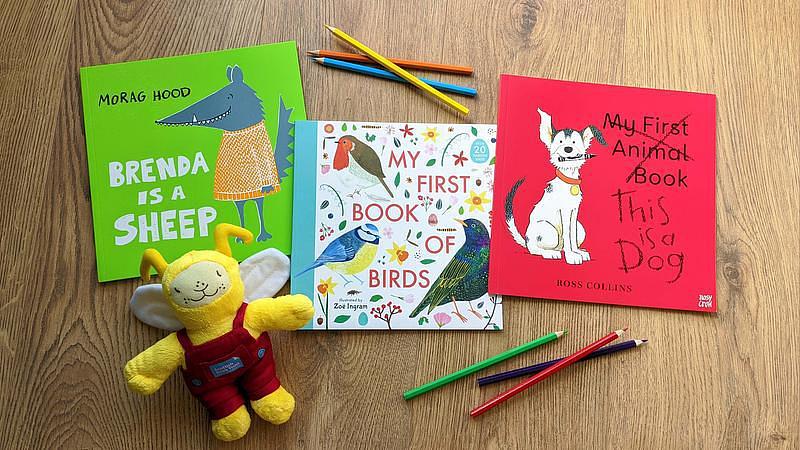 The Bookbug Picture Book Prize was established to celebrate the most popular picture books by Scottish authors and illustrators and to encourage reading for pleasure. The winner is chosen by thousands of children across the country who can cast their votes online either at school with their teacher or at home with their families.
The Bookbug Picutre Prize 2021 shortlist:
Brenda is a Sheep

by Morag Hood (Two Hoots)

This is a Dog

by Ross Collins (Nosy Crow)

My First Book of Birds

illustrated by Zoë Ingram (Walker Books)
The 2021 shortlist features Brenda who believes she is a sheep but is different from her fluffy friends; a dog that steals the show and plans to keep it that way, and an illustrated spotter's guide that is an ideal introduction to garden birds. Families can watch the books being read aloud here.
The winner of the Bookbug Picture Book Prize will be announced in an exclusive video to all registered groups on Thursday 4 March 2021 (World Book Day). The winner will receive a specially commissioned trophy and £2,000 while shortlisted authors and illustrators receive £500 per book.
62,000 pupils across Scotland will receive a free copy of each of the three books on the shortlist, which are given to every Primary 1 child during Book Week Scotland (16 November – 22 November), in the Bookbug P1 Family Bag.
Marc Lambert, CEO of Scottish Book Trust, said:
"It's always a delight to see familiar faces on the Bookbug Picture Book Prize, which was established to celebrate the work of great authors and illustrators in Scotland. We hope families across the country will enjoy reading these books together, and vote for the one they enjoy most."
Alan Bett, Literature Officer at Creative Scotland, said:
"The Bookbug Picture Book Prize promotes reading for enjoyment and engages young readers, not only through a fantastic shortlist of titles, but also by empowering them with the decision to choose the winner. Congratulations to all the shortlisted authors and illustrators."
The deadline for voting is Friday 5 February at 5pm.
Notes to editors:
For all press queries please contact PR & Marketing Manager Keara Donnachie: keara.donnachie@scottishbooktrust.com(this will open in a new window) or 07956 773749
Morag Hood
Morag Hood is a children's author and illustrator from Edinburgh. Her debut picture book Colin and Lee, Carrot and Pea was a runner up in the Macmillan Prize in 2014. Morag studied Costume Design at Wimbledon College of Art and worked backstage in theatre before applying for the MA in Children's Book illustration from Cambridge School of Art. After graduating in 2015 she moved back to her native Edinburgh where she now works with a view of the hills.
Morag Hood said:
"I am very excited and honoured that Brenda is a Sheep has been shortlisted for the Bookbug Picture Book Prize 2021! It feels brilliant that my little green book will be part of something which connects children across the whole of Scotland at a time when we can all feel far too far apart."
Ross Collins
Ross Collins attended the Glasgow School of Art and on graduating won the Macmillan Prize for his first picture book. Since then he's illustrated over 100 books for children and written a few of them too. Ross' book The Elephantom was recently adapted into a critically acclaimed play by the National Theatre. He has won many prestigious awards, including The Royal Mail Book Award and three Scottish Children's Book Awards.
Ross Collins said:
"I'm delighted to be shortlisted for this year's Bookbug Picture Book Prize. It's so great that This is a Dog will be in the incredibly well-washed hands of so many Scottish children!"
Zoë Ingram
Zoë Ingram is an artist and illustrator based in Edinburgh, Scotland. A trained textile designer, she was a graphic designer for many years before working on books. Zoë's work can be found on fabric, stationery, greetings cards, magazines and in books and home décor collections.
She absorbs inspiration from the places she has visited and lived, and also from the everyday little things, nature and cake.
Zoë Ingram said:
"Illustrating My First Book of Birds was an absolute dream for me so when I heard that it was shortlisted for the Bookbug Picture Book Prize this year it was a lovely surprise, what an honour! I absolutely love birds and nature in general so it's awesome to see it so loved and enjoyed by the children of Scotland. Working on this book has taught me a thing or two about all the lovely birds that we see around our parks and gardens too! I hope you enjoy learning about them and spotting them as much as I do."
The Bookbug P1 Bag
The P1 Bag was produced by Scottish Book Trust in conjunction with Education Scotland and the Scottish Government as part of Read, Write, Count. You'll find more ideas for fun activities and games that you can slip into your daily routine at parentclub.scot.
The Bookbug Picture Book Prize
The Bookbug Picture Book Prize is managed by Scottish Book Trust in partnership with Creative Scotland.
Teachers, librarians and book group leaders sign up their groups, then the children read and vote for their favourite books. Children can also vote online at home via the Scottish Book Trust website.
Books published during January - December 2019 were eligible for entry to the award. The Bookbug Picture Book Prize is open to authors and illustrators based in Scotland.
The winning book will be announced on 4 March 2021.
Scottish Book Trust
Scottish Book Trust is a national charity changing lives through reading and writing. We inspire and support the people of Scotland to read and write for pleasure through programmes and outreach work that includes:
Gifting books to every child in Scotland to ensure families of all backgrounds can share the joy of books at home.
Working with teachers to inspire children to develop a love of reading, creating innovative classroom activities, book awards and author events.
Supporting Scotland's diverse writing community with our training, awards and writing opportunities.
Funding a range of author events for the public to enjoy and promoting Scottish writing to people worldwide.
Creative Scotland
Scottish Book Trust is supported by Creative Scotland through Regular Funding. Creative Scotland is the public body that supports the arts, screen and creative industries across all parts of Scotland on behalf of everyone who lives, works or visits here. We enable people and organisations to work in and experience the arts, screen and creative industries in Scotland by helping others to develop great ideas and bring them to life. We distribute funding provided by the Scottish Government and the National Lottery. For further information about Creative Scotland please visit www.creativescotland.com. (this will open in a new window)