Looking for more in About us or Press releases?
Press release: Ten schools in Scotland receive free author residency
Programme aims to promote a lifelong love of reading and writing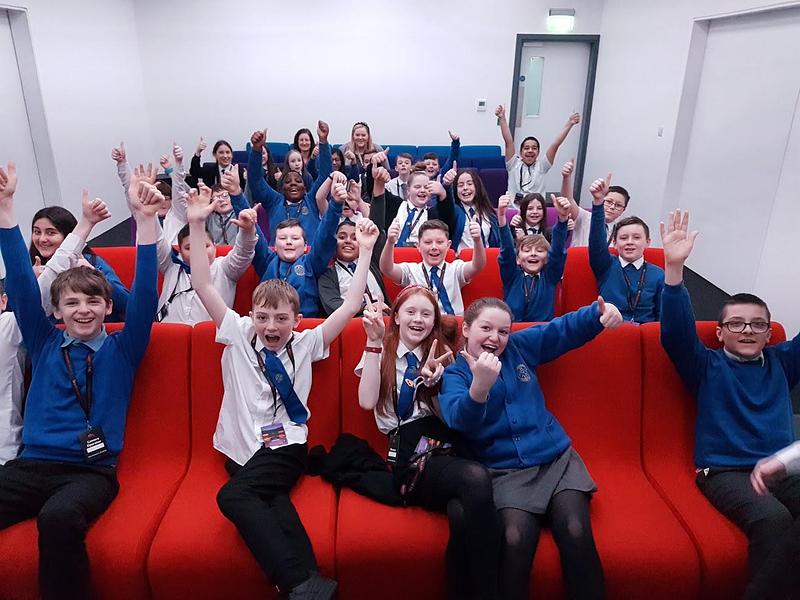 Scottish Book Trust today announced ten schools who will receive fully-funded author residencies this school year to inspire a lifelong love of reading and writing. The residencies will also give professional writers the opportunity to build relationships with the school and work together on a creative project.
The Live Literature School Residencies Programme, now in its fifth year, is funded by the Walter Scott Giving Group and delivered by Scottish Book Trust, the national charity changing lives through reading and writing.
Three ASN centres were also awarded fully-funded author residencies in the second year of the Additional Support Needs strand of the programme, funded by the Mohn Westlake Foundation.
Schools across the country were invited to apply to the programme which brings professional authors into the classroom to inspire and engage pupils. Each school taking part in the programme will receive 12 fully-funded residency sessions carried out by an author from Scottish Book Trust's author directory. It includes over 600 professional writers, poets, playwrights, illustrators, performance poets and storytellers.
The 10 successful schools and their chosen authors are:
Ellon Academy in Aberdeenshire with Catherine Deveney
Kemnay Academy in Aberdeenshire with Metaphrog
Kilmarnock Academy in East Ayrshire with P.M. Freestone
Stenhousemuir Primary in Falkirk with Lindsay Littleson
St John Paul II Primary in Glasgow with Juliette Forrest
St Michaels Primary in Glasgow with Cat Hepburn
Findochty Primary in Moray with Barbara Henderson
Perth High School in Perth & Kinross with Edward Ross
Prestwick Academy in South Ayrshire with Jenny Lindsay
Bridge of Allan Primary in Stirling with Kasia Matyjaszek
The 3 successful ASN centres are:
Hayshead Primary in Angus with Paul Bristow
St Philomena's Enhanced Nurture Provision in Glasgow with Allison Galbraith
Kilpatrick School in West Dunbartonshire with Joanne Marr
Marc Lambert, CEO of Scottish Book Trust, said:
"It has been a difficult year for pupils, and we are pleased that we can offer these Live Literature School Residencies to bring the magic of an author visit into the classroom. We are grateful to our funders, the Walter Scott Giving Group and the Mohn Westlake Foundation for making these fully-funded residency programmes possible."
The residencies will run across the 2020-21 school year and finish by May 2021. The Walter Scott Giving Group is the sole funder of the Live Literature School Residencies Programme and this is the fifth year they have financed it. As well as an author residency, schools will receive a resources grant of £500.
Each school's project will be showcased on Scottish Book Trust's website, alongside suggested learning resources and helpful tips to make the most of the residency sessions.
School Quotes
Adele Flynn, Depute Head Teacher at St Philomena's RC Primary School said:
"I can't believe we have been awarded this fantastic opportunity. The children are going to be so engaged by the passionate work of the resident author, this is something they will remember for years to come."
Suzanne Ferry, Project Lead Literacy Improvement at Bridge of Allan Primary School said:
"We are delighted to be selected for the Live Literature School Residency programme and are really looking forward to working with and learning from the author.
As a school we have been working hard to promote a reading culture, developing vocabulary, and transferring this work into children's writing. Working with an author will enrich learning experiences for both pupils and staff. We know this will inspire, motivate and encourage our learners to put pencil to paper and let their imagination take them on new adventures."
Dawn Thomson, Head Teacher at Findochty Primary School said:
"We are all extremely excited to be given this fantastic opportunity. The chance to work with a real live author will be a great benefit to both staff and pupils as we will have the opportunity to learn and grow together and further develop our school community's passion for reading and writing."
Valerie Black, librarian at Kilmarnock Academy said:
"We are delighted that our pupils and staff have been awarded the opportunity to work with a professional author on our LGBT+ themed writing project. P.M. Freestone will be a fantastic inspiration and support to our pupils. We look forward to our pupils being able to share their stories with the rest of our school community. Having achieved our LGBT+ Silver Award last session, this project will help us work towards Gold."
Stephen Sweeney, Challenge Leader of Learning at St John Paul II Primary said:
"We at St John Paul II Primary are so excited for our Live Literature School Residency. Our Primary 7 pupils are over the moon to be working with a real author and can't wait to get started on this fun and valuable project."
Louise Flanagan, Principle Teacher at St Michael's Primary said:
"St. Michael's is delighted to be welcoming our author-in-residence and we look forward to learning about spoken word. This supports the school's drive to promote performance skills, as well as enhance listening and talking."
Dawn Easton, Principle Teacher at Stenhousemuir Primary said:
"We are delighted that we have been selected for this project! This will be hugely beneficial in raising the profile and attainment of writing in our school. The children and staff are so excited to work with a real author."
Author Quotes
Barbara Henderson said:
"I can't wait to begin this residency! Findochty School are so committed to giving their kids amazing opportunities to read and write. It'll be lovely to be part of an ongoing journey instead of just a one-off visit."
Lindsay Littleson said:
"I'm really looking forward to engaging with the staff and pupils at Stenhousemuir Primary and I'm hoping that my ideas and my enthusiasm for the creative writing process will spark the pupils' interest and fire their imaginations."
Notes to editors
For more information, please contact Keara Donnachie, PR and Marketing Manager at Scottish Book Trust, on Keara.Donnachie@scottishbooktrust.com(this will open in a new window) or 0131 524 0184.
Scottish Book Trust
Scottish Book Trust is a national charity changing lives through reading and writing. We inspire and support the people of Scotland to read and write for pleasure through programmes and outreach work that include:
Gifting books to every child in Scotland to ensure families of all backgrounds can share the joy of books at home.
Working with teachers to inspire children to develop a love of reading, creating innovative classroom activities, book awards and author events.
Supporting Scotland's diverse writing community with our training, awards and writing opportunities.
Funding a range of author events for the public to enjoy and promoting Scottish writing to people worldwide.
In addition to the funding we receive from the Scottish Government and Creative Scotland, we need the constant support of trusts and foundations, corporate sponsors and individual donors.
Creative Scotland
In addition to general fundraising, Scottish Book Trust receives Creative Scotland support through Regular Funding.
Creative Scotland is the public body that supports the arts, screen and creative industries across all parts of Scotland on behalf of everyone who lives, works or visits here. It enables people and organisations to work in and experience the arts, screen and creative industries in Scotland by helping others to develop great ideas and bring them to life. It distributes funding provided by the Scottish Government and the National Lottery.