Looking for more in About us or Press releases?
Press release: Star of West Lothian nursery wins Bookbug Hero Award
Kylie Watt recognised for 20 year long career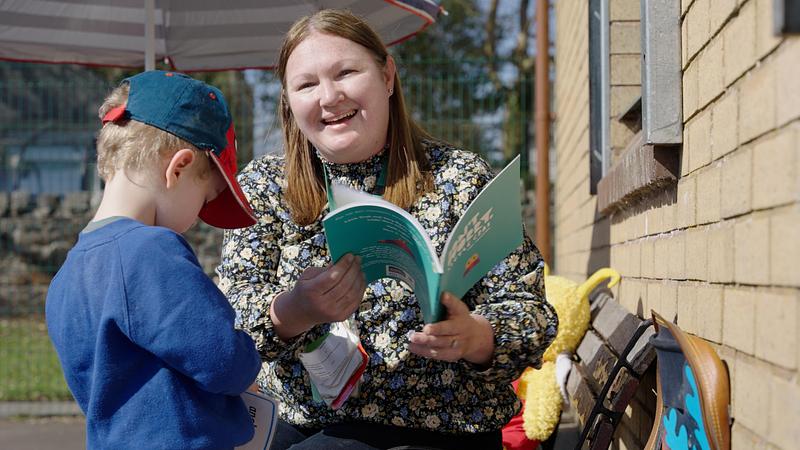 Scottish Book Trust, the national charity changing lives through reading and writing, has announced today (Thursday 20 May) that the recipient of the 2021 Bookbug Hero Award is Kylie Watt, Nursery Practitioner at Longridge Nursery, West Lothian. Nominated by her colleagues, Kylie has been recognised for dedicating her working career of over 20 years to children and early years education.
The Bookbug Hero Award has been announced during Bookbug Week, an annual celebration of Scotland's national book-gifting programme and Song and Rhyme Sessions. This year's theme is Bookbug's Big Splash, and events include: a brilliant story and craft and session from Bookbug Week illustrator Helen Kellock, and an online Splish Splash Bookbug Session (this will open in a new window)via Facebook. The full programme can be viewed here, and events will be available to watch on demand.
Bookbug has been central to the nursery's inclusive and nurturing approach as they returned after a prolonged lockdown due to COVID-19. Kylie's work helped transition the children back into the nursery environment and also helped make parents feel involved and valued. She delivered reading sessions in small groups, using books to introduce and consolidate learning objectives such as exploring and recognising rhyme, counting syllables in words, letter recognition, story sequences and retelling the story. The stories also linked in with health and wellbeing, supporting children in their return to nursery. Kylie's sessions explored emotions and feelings to enable children to express their own during a difficult transitional period of settling into the new routine of COVID-19 nursery life.
Kylie has been praised for using Bookbug as a consistent point of involvement and contact for parents, to build a bridge between the home and nursery setting. She has equipped the parents with information on how to use Bookbug Bags well and spend quality reading and bonding time with their children. She also maintained online communication with parents during the pandemic.
The nursery also uses a self-developed book-borrowing scheme, which became more important than ever with the closure of libraries during the pandemic. Kylie has provided parents with resources so they are able to explore and address many issues with their children that they may have been anxious about or lacked the knowledge or skills to discuss at a stage appropriate level. These resources supported the parent-child bond by dealing with events cooperatively and holistically in a method that a child can comprehend. Kylie also fostered a nursery bedtime read initiative as an addition to the Bookbug Explorer Bag gifting.
The Bookbug Hero Award is run in association with Walker Books and seeks to honour someone working with Bookbug who has used the programme to make a real difference to the lives of the young children, families and the communities they work with. As the winner of the Bookbug Hero Award, Kylie will receive a bundle of picture books worth £500 from Walker Books.
Marc Lambert, CEO of Scottish Book Trust, said:
"Congratulations to Kylie Watt on winning the 2021 Bookbug Hero Award. In an especially difficult year, Kylie has gone above and beyond to support the children of Longridge Nursery, their parents and her colleagues. It is wonderful to hear how Bookbug has been used to assist transition back into the nursery, and how a strong reading culture has supported the young people's health and wellbeing. Our thanks to Walker Books for sponsoring this important award."
Kylie Watt said:
"I am so proud to be announced as the winner of the Bookbug Hero Award. It was a lovely surprise that my colleagues and parents from Longridge Nursery Class nominated me and gave me recognition for doing a job that I love. The award confirms that what I am doing to promote literacy development within our early year's setting is having a positive impact on our families and children. Bookbug Explorer Bags have been an important part of promoting a love of books and the book bags have really helped us on our literacy journey because they give all children the opportunity to access high quality children's literature and literacy resources."
Kayleigh Brand, parent, said:
"Mrs Watt is an amazing member of staff at Longridge Nursery. She is loved by both the children she helps and teaches, and also by the parents. She always goes above and beyond for the kids, making sure they get every opportunity to practice in multiple activities, such as the Bookbug Bags and big book reading packs they get weekly. She also makes sure the parents are aware of what is going on, even in these difficult times. Mrs Watt is an amazing asset to the nursery and deserves to be rewarded or all of her hard work!"
Miss Harte, staff at Longridge Nursery said:
"Kylie is fabulous. Her commitment to ensuring each child gets a pack of stories at the Bookbug event and each week with her lending library is second to none. When it's Book Week Scotland, she always comes up with a new and inventive way to engage the children with stories and makes it exciting for the staff team to be involved."
Jane Winterbotham, Publishing Director at Walker Books, said:
"We're thrilled to be a part of the Bookbug Hero Award, helping to recognise the individuals who go above and beyond to support their community and engender a lifelong love of stories. Huge congratulations to Kylie for this well-deserved recognition of her skills and passion!"
The panel for the Bookbug Hero Award included:
Scottish Book Trust staff
Chae Strathie, Children's author
Dr Suzanne Zeedyk, Honorary Fellow, University of Dundee Founder of connected Baby
Neil Mathers, Chief Executive, Children's University Scotland
Udita Banerjee, Head of Visibility and Inclusion at Families Outside
Myra Mains, Bookbug Co-ordinator and Bookbug Hero Award Winner 2020
Those highly commended for the Bookbug Hero Award included:
David Murray, Mobile Library Driver at South Ayrshire Libraries (South Ayrshire)
David impacted every baby and toddler in South Ayrshire as he volunteered to deliver the Bookbug Bags throughout lockdown. David's initiative and willingness to help meant South Ayrshire was able to meet its commitment to deliver Bookbug Bags to every child throughout lockdown.
Shona Macmillan and Lindy Cameron Saunders, Development Officer and Gaelic Development Officer at Urras Oighreachd Ghabhsainn (Western Isles)
Shona and Lindy have gone above and beyond what was expected of them delivering English and Gaelic Bookbug Sessions to families living in rural areas on the Isle of Lewis. Mairi Graham, parent said: "Shona and Lindy's sessions were a lifesaver for us during lockdown, having just had a newborn, it was a great activity to keep both a baby and two year entertained."
Nina Greenoak, Bookbug Session Leader Volunteer (West Dunbartonshire)
Nina is a mum who at the start of lockdown set up a Bookbug Zoom Facebook group delivering Bookbug Sessions to a community of over 270 families on a weekly basis. Nina's enthusiasm and encouragement provided invaluable support to families with songs, stories and rhymes for them to enjoy together at home.
The shortlist for the Bookbug Hero Award included:
Julia Lawrie Morrison, Bookbug Session Leader Volunteer at The Childlike Reader (Aberdeenshire)
Joolz Christie, Library Assistant at Dingwall Library (Highland)
Diane Ireland, Customer Services Advisor at Windmill Library (Fife)
Debbie Smilies, Community Early Years Practitioner at Highland Council (Highland)
Teresa Argent, Early Years Officer at Bowhouse Early Learning Centre (Falkirk)
Nikki Kirkwood, Senior Early Years officer at Easter Carmuirs School (Falkirk)
Notes to Editors
For more information or interview requests, please contact Keara Donnachie on keara.donnachie@scottishbooktrust.com(this will open in a new window) or 0131 524 0184 / 07956 773 749.
Scottish Book Trust
Scottish Book Trust is a national charity that believes everyone living in Scotland should have equal access to books. Our work provides opportunities to improve life chances through books and the fundamental skills of reading and writing. Access to books and a love of books bring many important benefits from family bonding and advancing children's learning, to unlocking creativity, helping employability and improving mental health & well-being. Scottish Book Trust aims to support all communities across Scotland, with particular focus on those who are vulnerable and under-represented.
Our programmes and outreach work include:
Gifting books to every child in Scotland to ensure families of all backgrounds can share the joy of books at home, through Bookbug and Read Write Count
Working with teachers to inspire children to develop a love of reading, creating innovative classroom activities, book awards and author events such as Authors Live with the BBC and our Scottish Friendly Children's Book Tour
Supporting and nurturing Scotland's wide-ranging literary talent, both emerging and established through our training, awards and writing opportunities including New Writers Awards
Creating events to share books and connect writers with communities, including Book Week Scotland
Providing support to people living with dementia, and their carers, through Reading is Caring
In addition to the funding we receive from the Scottish Government and Creative Scotland, we need the constant support of trusts and foundations, corporate sponsors and individual donors.
www.scottishbooktrust.com(this will open in a new window) @scottishbktrust www.facebook.com/scottishbktrust(this will open in a new window)
About Walker Books
Home to books for all ages, Walker Books publishes many award-winning authors, illustrators, and literary franchises including Anthony Horowitz, Angie Thomas, Cassandra Clare, Lucy Cousins, Anthony Browne, Patrick Ness, Guess How Much I Love You by Sam McBratney and Anita Jeram, We're Going on a Bear Hunt by Michael Rosen and Helen Oxenbury, and Where's Wally? by Martin Handford. Walker Books is part of the vibrant international Walker Books Group that includes Walker Books Australia; Candlewick Press in America and its new division, Walker Books US; and Walker Productions.