Looking for more in About us or Press releases?
Press release: Scottish Book Trust announces recipient of Next Chapter Award 2021
Sumayya Usmani has been announced as the recipient of Scottish Book Trust's Next Chapter Award 2021.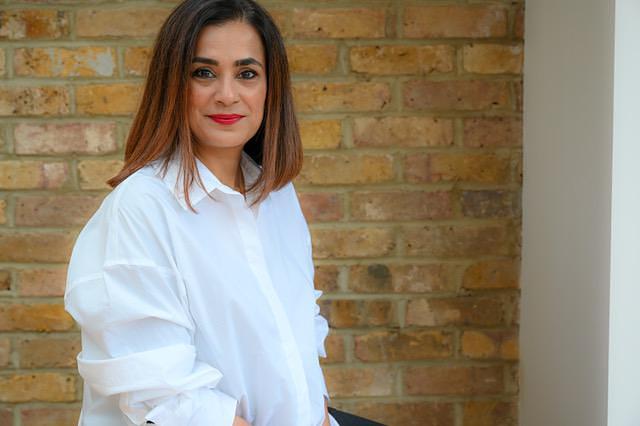 Sumayya Usmani has been announced as the recipient of Scottish Book Trust's Next Chapter Award 2021. Originally a cookbook writer, Sumayya has recently turned to narrative writing after attending Curtis Brown Creative's memoir writing course as well as University of Glasgow's prose fiction course. Based in Clarkston, East Renfrewshire, Sumayya is originally from Karachi, Pakistan. She runs Kaleyard(this will open in a new window), Glasgow's first non-profit social enterprise cook school.
The Next Chapter Award is run by Scottish Book Trust, the national charity transforming lives through reading and writing. The prize is aimed at writers aged over 40 who wish to develop a specific piece of work to publication standard, and applicants must demonstrate genuine potential for publication.
Sumayya grew up on merchant navy vessels for the first decade of her life – reading and cooking with her mother acted as an escape from life on the ship as well as growing up in Pakistan. After practising law for twelve years in both Karachi and London, Sumayya decided to turn to writing professionally, hoping her work would touch the hearts of Asian readers but also inspire others through personal and human stories of food, culture and history.
She has written two cookbooks on Pakistani cuisine, both published by Frances Lincoln. Summers Under the Tamarind Tree (2016) won the Gourmand Award for best first cookbook and Mountain Berries and Desert Spice (2017) was shortlisted for the Food & Travel Awards. Sumayya has appeared at many book festivals including Edinburgh Book Festival, Aye Write and Cheltenham Literary Festival. Sumayya has written for and appeared in The New York Times, The Guardian, BBC Good Food and more. She was a weekly columnist for The Sunday Herald Scotland from May 2018 to May 2019.
Sumayya is currently working on a food memoir, Andaza, about her life growing up on the sea and in Pakistan, around food and women. The book is set against the backdrop of political unrest and challenges of the country during the 1980s, from times of Zia ul Haq to Benazir Bhutto.
Sumayya Usmani said:
"I'm honoured to win this award and thank Scottish Book Trust for this incredible opportunity. Winning has not only given me confidence in my writing but also reinforced my belief that it's never too late to follow your dreams. This award will act as a stepping stone to a lifelong career as a narrative writer."
Previous winners of the Next Chapter Award include Gail Honeyman, bestselling author of Eleanor Oliphant is Completely Fine and Ryan O'Connor, whose debut novel The Voids will be published in 2022 (Scribe).
The Next Chapter Award will provide Sumayya with a £2000 bursary and nine months of mentoring and online training, with the aim of developing her collection to publication standard.
Marc Lambert, CEO of Scottish Book Trust, said:
"The Next Chapter Award supports writers aged over 40 because we recognise that it is never too late to pick up a pen and write that dream novel. Congratulations to Sumayya from all of us at Scottish Book Trust: we look forward to your memoir about your incredible story, and we hope it inspires others to write about their own experiences."
Ends
Notes to Editors
For all media enquiries, please contact PR & Marketing Manager Keara Donnachie: Keara.Donnachie@scottishbooktrust.com or 07956 773749.
Scottish Book Trust
Scottish Book Trust is a national charity that believes everyone living in Scotland should have equal access to books. Our work provides opportunities to improve life chances through books and the fundamental skills of reading and writing. Access to books and a love of books bring many important benefits from family bonding and advancing children's learning, to unlocking creativity, helping employability and improving mental health & well-being. Scottish Book Trust aims to support all communities across Scotland, with particular focus on those who are vulnerable and under-represented.
Our programmes and outreach work include:
Gifting books to every child in Scotland to ensure families of all backgrounds can share the joy of books at home, through Bookbug and Read Write Count
Working with teachers to inspire children to develop a love of reading, creating innovative classroom activities, book awards and author events such as Authors Live with the BBC and our Scottish Friendly Children's Book Tour
Supporting and nurturing Scotland's wide-ranging literary talent, both emerging and established through our training, awards and writing opportunities including New Writers Awards
Creating events to share books and connect writers with communities, including Book Week Scotland
Providing support to people living with dementia, and their carers, through Reading is Caring
In addition to the funding we receive from the Scottish Government and Creative Scotland, we need the constant support of trusts and foundations, corporate sponsors and individual donors.
www.scottishbooktrust.com(this will open in a new window) @scottishbktrust www.facebook.com/scottishbktrust(this will open in a new window)
Creative Scotland
Creative Scotland is the public body that supports the arts, screen and creative industries across all parts of Scotland on behalf of everyone who lives, works or visits here. We enable people and organisations to work in and experience the arts, screen and creative industries in Scotland by helping others to develop great ideas and bring them to life. We distribute funding provided by the Scottish Government and the National Lottery.
Follow Creative Scotland
Twitter: https://twitter.com/CreativeScots(this will open in a new window)
Facebook: www.facebook.com/CreativeScotland(this will open in a new window)
Instagram: www.instagram.com/creativescots(this will open in a new window)