Looking for more in About us or Press releases?
Press release: Renfrew author voted as favourite by teens of Scotland
Scottish Teenage Book Prize winner announced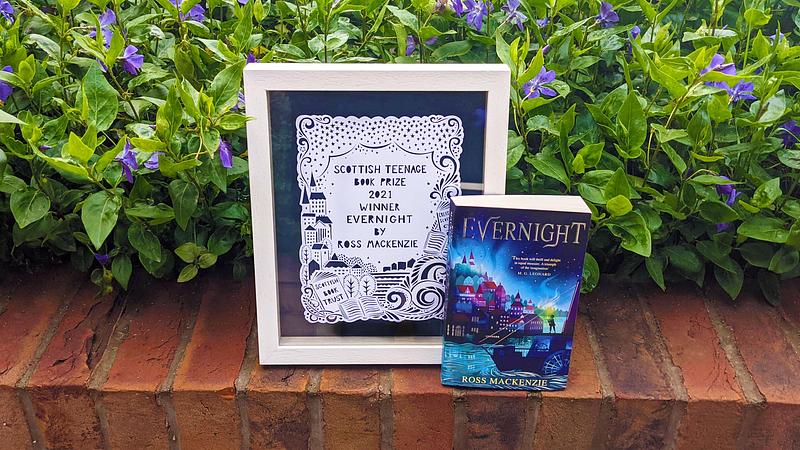 Scottish Book Trust today (Monday 24 May) has announced the winner of its annual Scottish Teenage Book Prize as Evernight Andersen Press) by Ross MacKenzie. The national charity encourages teenagers to get involved with the award by reading three shortlisted books and voting for their favourite as part of their class or reading group. Evernight was the most popular read with over 40% of the vote.
Ross MacKenzie is a multi award-winning author of books for children and teenagers, including Evernight, Shadowsmith and The Nowhere Emporium. Ross lives in Renfrew, with his wife and two daughters. He regularly visits primary schools, libraries and literary festivals where he discusses the power of stories and imagination, and holds Q&A sessions and writing workshops. His latest novel, Feast of the Evernight (Andersen Press) was released earlier this month and continues the story of Larabelle Fox and her friends.
The Gifted, The Talented and Me by William Sutcliffe (Bloomsbury) and White Eagles by Elizabeth Wein (Barrington Stoke) were both shortlisted for this year's Scottish Teenage Book Prize. The panel for the Scottish Teenage Book Prize included Shelagh Toonen, librarian at Elgin Academy, Moray and Stephen Shiels, librarian at The Royal High School, Edinburgh, along with staff from Scottish Book Trust.
Ross MacKenzie said:
"Winning any award is wonderful, but what makes the Scottish Teenage Book Prize so special is the fact that teenagers all over Scotland have voted Evernight as their winner. I can't tell you how grateful I am to everyone who voted, or how proud I am that my book just might have provided an escape of sorts during a very difficult, sometimes frightening year. Thank you all, and happy reading!"
Marc Lambert, CEO of Scottish Book Trust, said:
"Congratulations to Ross MacKenzie on winning this year's Scottish Teenage Book Prize. It's been fantastic to see young people across Scotland getting involved, reading the shortlisted books and voting for their favourite read. Thank you to the teachers and librarians that promoted the Scottish Teenage Book Prize within their schools. I'm sure those who voted in the prize will be thrilled to learn that the sequel to Evernight was released this month."
The Scottish Teenage Book Prize, now in its fifth year, was set up to celebrate the most popular teen books by authors in Scotland. It is run by Scottish Book Trust with support from Creative Scotland. Shortlisted authors receive £500 and the winner receives £2,000.
Notes to editors:
For all media enquiries, please contact PR & Marketing Manager Keara Donnachie on keara.donnachie@scottishbooktrust.com(this will open in a new window) or 07956 773 749.
Scottish Book Trust
Scottish Book Trust is a national charity that believes everyone living in Scotland should have equal access to books. Our work provides opportunities to improve life chances through books and the fundamental skills of reading and writing. Access to books and a love of books bring many important benefits from family bonding and advancing children's learning, to unlocking creativity, helping employability and improving mental health & well-being. Scottish Book Trust aims to support all communities across Scotland, with particular focus on those who are vulnerable and under-represented.
Our programmes and outreach work include:
Gifting books to every child in Scotland to ensure families of all backgrounds can share the joy of books at home, through Bookbug and Read Write Count
Working with teachers to inspire children to develop a love of reading, creating innovative classroom activities, book awards and author events such as Authors Live with the BBC and our Scottish Friendly Children's Book Tour
Supporting and nurturing Scotland's wide-ranging literary talent, both emerging and established through our training, awards and writing opportunities including New Writers Awards
Creating events to share books and connect writers with communities, including Book Week Scotland
Providing support to people living with dementia, and their carers, through Reading is Caring
In addition to the funding we receive from the Scottish Government and Creative Scotland, we need the constant support of trusts and foundations, corporate sponsors and individual donors.
www.scottishbooktrust.com(this will open in a new window) @scottishbktrust www.facebook.com/scottishbktrust(this will open in a new window)
Creative Scotland
Creative Scotland is the public body that supports the arts, screen and creative industries across all parts of Scotland on behalf of everyone who lives, works or visits here. We enable people and organisations to work in and experience the arts, screen and creative industries in Scotland by helping others to develop great ideas and bring them to life. We distribute funding provided by the Scottish Government and the National Lottery.
Follow Creative Scotland
Twitter: https://twitter.com/CreativeScots(this will open in a new window)
Facebook: www.facebook.com/CreativeScotland(this will open in a new window)
Instagram: www.instagram.com/creativescots(this will open in a new window)