Looking for more in About us or Press releases?
Press release: National charity opens for New Writers Awards submissions
Scottish Book Trust opens applications for the New Writers Awards 2022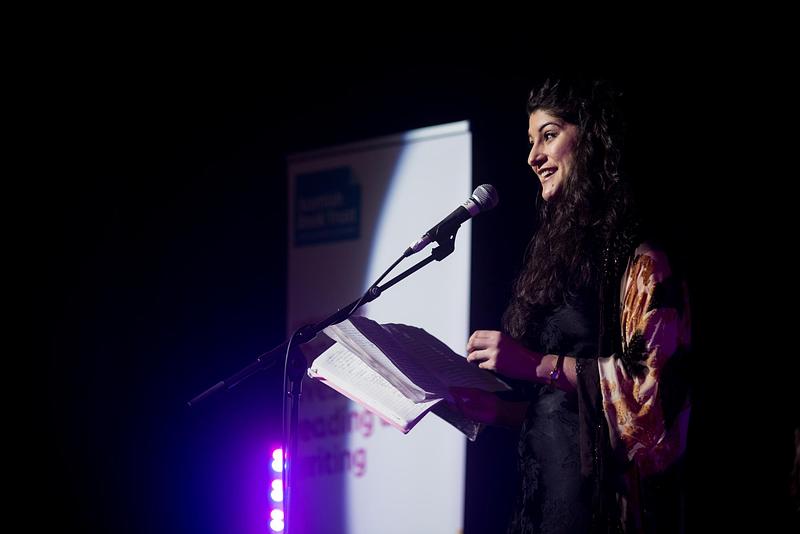 "The award was the most important turning point in my career"
Scottish Book Trust has today opened for applications for the New Writers Awards 2022. Each year the national charity champions a group of emerging writers, providing them with the time and support they need to take their writing to the next level. A number of New Writers Awardees have been published by major houses including HarperCollins, Simon and Schuster, Harvill Secker, Atlantic Books, Vintage Books and Sandstone Press. Awardees have also been shortlisted for prestigious awards, including The Booker Prizes.
The New Writers Awards are run by Scottish Book Trust in association with Creative Scotland, and each year they provide unpublished writers with financial support to enable them to concentrate on developing their work, as well as professional guidance to help them move towards publication. The awards are free to apply to, with travel expenses covered and awardees are chosen by an independent panel of judges.
Since 2009, the awards have helped to nurture writers such as Helen Sedgwick, who went on to become a bestselling author with her debut novel The Comet Seekers (Harvill Secker) in 2016. It was selected as Book of the Year by the Herald and Glamour Magazine and her second novel The Growing Season was shortlisted for the Saltire Society's Fiction Book of the Year. The latest instalment in her new crime series, Where the Missing Gather (Oneworld) will be released this June.
Helen Sedgwick, author and former New Writer Awardee, said:
"The New Writers Award was the most important turning point in my career, and it comes with the kind of wide ranging and long-lasting support that can be life changing. From that first opportunity to join a community of writers, to professional advice, writing retreats, training, publicity, live events and even voice coaching, Scottish Book Trust has been an invaluable part of building my confidence and career over the past decade. I encourage everyone to apply!"
Scottish Book Trust also provides an Access Fund as part of the New Writers Awards, to help support awardees with any barriers they may face. The programme is flexible and the charity works closely with awardees to help them participate as fully as possible. Support might include help with childcare costs, accommodation or equipment. Scottish Book Trust welcomes and supports writers who are carers, unemployed or unable to work for health reasons or who face any other barriers.
The Awards will run from January 2022 – January 2023. During the programme, awardees receive:
A £2,000 cash award to support their writing in whatever ways suit best
Tailored creative development opportunities, which can include mentoring from established writers and industry professionals
Press and marketing, social media, performance and presentation training
The opportunity to showcase work to publishers and agents
A retreat offering time, space and the freedom to create new work in idyllic surroundings with flexible structure based on each awardees needs (subject to circumstances and dependent on any applicable travel restrictions)
A year's free membership to the Society of Authors and a bespoke training session for awardees on contracts and rights
The chance to meet and engage with a group of writing peers
There are three categories: Fiction and Narrative Non-Fiction (also known as creative non-fiction), Poetry and Children's and Young Adult Fiction. Applications may only submit to one category per year. Entries are invited in English, Scots and a combination of both.
There are also two awards for Gaelic writers, run in association with the Gaelic Books Council. There is a separate application form for writers interested in applying for a Gaelic award.
Also this year, the Callan Gordon Award is open for applications for young writers aged 18 to 35. Entries are invited in English, Scots and a combination of both. One award is given every two years, for writers of short stories or poetry. The award is in memory of Callan, a young Scottish writer who took his life ten years ago.
Marc Lambert, CEO of Scottish Book Trust, said:
"A New Writers Award is often the beginning of an exciting journey for those seeking publication. At Scottish Book Trust, we are proud to offer support and opportunities to our awardees and continue to champion their work as they develop and grow. We look forward to receiving submissions from all across Scotland, and across genres from children's fiction to poetry."
Alan Bett, Head of Literature & Publishing, Creative Scotland, said:
"The New Writers Awards have been the first major step for many Scottish authors and poets – those whose work is now enjoyed and respected well beyond our borders, securing industry traction with major publishers and appearing on awards shortlists. The programme not only develops the creative practice of these writers, but also their professional profile. Creative Scotland is delighted to be associated with a programme that supports and mentors these new and exciting literary voices and helps bring their work to readers."
Tim Craven, New Writer Awardee 2021 said:
"Having my work recognised in the form of a New Writers Award was a wonderful, motivating fillip. The staff at Scottish Book Trust are the warmest people, all of whom are absolutely focused on ensuring my writing realises its full potential by removing barriers and facilitating a programme packed full of opportunities. I'm incredibly grateful for being invited into this community of dedicated readers and talented writers, and I'm certain the experiences provided to me by the New Writers Award will have a lasting impact on my work."
The full eligibility criteria and application for the New Writers Awards is available on Scottish Book Trust's website.
The New Writers Awards 2021 Digital Showcase is now available to watch.
Notes to Editors
For media enquiries please contact Keara Donnachie, PR and Marketing Manager at Scottish Book Trust, on Keara.Donnachie@scottishbooktrust.com(this will open in a new window) or 07956 773749.
Scottish Book Trust
Scottish Book Trust is a national charity that believes everyone living in Scotland should have equal access to books. Our work provides opportunities to improve life chances through books and the fundamental skills of reading and writing. Access to books and a love of books bring many important benefits from family bonding and advancing children's learning, to unlocking creativity, helping employability and improving mental health & well-being. Scottish Book Trust aims to support all communities across Scotland, with particular focus on those who are vulnerable and under-represented.
Our programmes and outreach work include:
Gifting books to every child in Scotland to ensure families of all backgrounds can share the joy of books at home, through Bookbug and Read Write Count
Working with teachers to inspire children to develop a love of reading, creating innovative classroom activities, book awards and author events such as Authors Live with the BBC and our Scottish Friendly Children's Book Tour
Supporting and nurturing Scotland's wide-ranging literary talent, both emerging and established through our training, awards and writing opportunities including New Writers Awards
Creating events to share books and connect writers with communities, including Book Week Scotland
Providing support to people living with dementia, and their carers, through Reading is Caring
In addition to the funding we receive from the Scottish Government and Creative Scotland, we need the constant support of trusts and foundations, corporate sponsors and individual donors.
www.scottishbooktrust.com(this will open in a new window) @scottishbktrust(this will open in a new window) www.facebook.com/scottishbktrust(this will open in a new window)
Creative Scotland
Creative Scotland is the public body that supports the arts, screen and creative industries across all parts of Scotland on behalf of everyone who lives, works or visits here. We enable people and organisations to work in and experience the arts, screen and creative industries in Scotland by helping others to develop great ideas and bring them to life. We distribute funding provided by the Scottish Government and the National Lottery.
Follow Creative Scotland
Twitter: https://twitter.com/CreativeScots(this will open in a new window)
Facebook: www.facebook.com/CreativeScotland(this will open in a new window)
Instagram: www.instagram.com/creativescots(this will open in a new window)
The Gaelic Books Council
Comhairle nan Leabhraichean (The Gaelic Books Council) is the lead organisation with responsibility for Gaelic writing and publishing, and for raising the profile and reach of Scottish Gaelic books in Scotland and internationally. Established in 1968, Comhairle nan Leabhraichean is a registered charity and receives funding from Creative Scotland and from Bòrd na Gàidhlig to support its programme of grants, professional training and events.
www.gaelicbooks.org(this will open in a new window) @LeughLeabhar(this will open in a new window) and www.facebook.com/ComhairlenanLeabhraichean(this will open in a new window)