Looking for more in About us or Press releases?
Press release: Bookbug Hero Award searches for Early Years champion
Nominations for the Bookbug Hero Award 2021 are now open.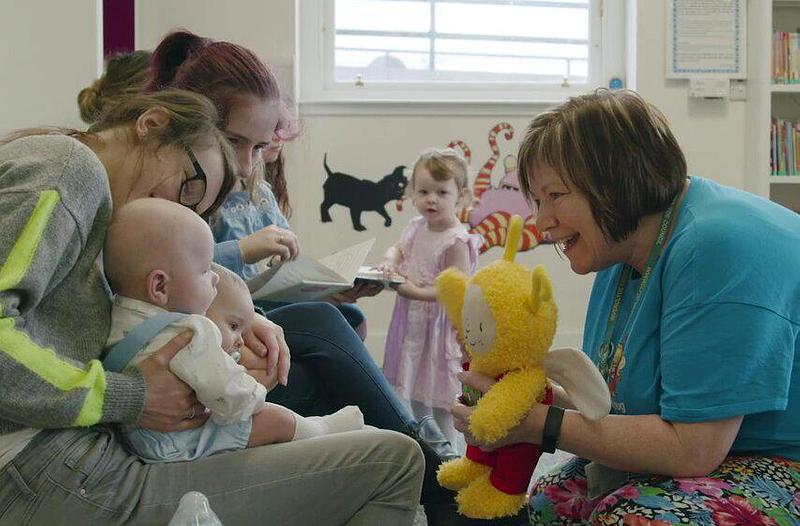 Run in association with Walker Books, the award aims to honour someone working with Bookbug who has used the programme to make a real difference to the lives of the young children, families and communities they work with.
Scottish Book Trust is asking people across the country to nominate a librarian, early years worker, volunteer, health visitor, or anyone who uses Bookbug in their work. The winner will receive a special trophy and a bundle of picture books worth £500 from Walker Books.
Marc Lambert, CEO of Scottish Book Trust, said:
"It's fitting to open nominations for the Bookbug Hero Award on International Literacy Day, as the Bookbug programme aims to support speech and language development through songs and rhymes. There are many fantastic Bookbug practitioners working across Scotland inspiring the next generation of readers and writers. Our thanks to Walkers Books for supporting the prize and allowing us to celebrate their work."
Myra Mains, winner of the Bookbug Hero Award 2020, said:
"I was overwhelmed but absolutely delighted to receive the very first Bookbug Hero Award. I have loved being involved with the Bookbug programme since it started in 2010. Sharing stories, songs and rhymes is fun but Bookbug is so much more than fun and having the opportunity to help share the many benefits to families is so rewarding in itself!
Bookbug is definitely a team effort and it's an absolute joy to be part of Bookbug's extended family!"
Jane Winterbotham, Publishing Director at Walker Books said:
"We really appreciate all that Bookbug and the heroes who run the programmes do for communities and we are really pleased that we can continue to show our appreciation and support of that work by sponsoring the award. We love that it shines a light on those practitioners who champion reading, and work tirelessly to change lives through stories and can't wait to hear more about the next winner!"
Nominations for the Bookbug Hero Award can be made online via Scottish Book Trust's website. The closing date for nominations is Friday 30 October 2020.
Notes to Editors
For more information or interview requests, please contact PR & Marketing Manager Keara Donnachie on keara.donnachie@scottishbooktrust.com(this will open in a new window) or 07956 773 749.
Bookbug, run by Scottish Book Trust, is now in its eleventh year.
Scottish Book Trust
Scottish Book Trust is a national charity changing lives through reading and writing. We inspire and support the people of Scotland to read and write for pleasure through programmes and outreach work that include:
Gifting books to every child in Scotland to ensure families of all backgrounds can share the joy of books at home.
Working with teachers to inspire children to develop a love of reading, creating innovative classroom activities, book awards and author events.
Supporting Scotland's diverse writing community with our training, awards and writing opportunities.
Funding a range of author events for the public to enjoy and promoting Scottish writing to people worldwide.
Walker Books
Home to books for all ages, Walker Books publishes many award-winning authors, illustrators, and literary franchises including Anthony Horowitz, Cassandra Clare, Lucy Cousins, Guess How Much I Love You by Sam McBratney and Anita Jeram, Anthony Browne, Patrick Ness, and Where's Wally? by Martin Handford. Walker Books is part of the vibrant international Walker Books Group that includes Walker Books Australia; Candlewick Press in America and its new division, Walker Books US; and Walker Productions. The Walker Books Group enjoys a unique ownership structure which includes employees from around the world and more than 150 long-term authors and illustrators. Walker is the world's leading wholly independent publisher of English-language children's books.