Looking for more in About us or Press releases?
Press release: Nominations open for annual Bookbug Hero Award
Scottish Book Trust has opened nominations for its Bookbug Hero Award 2023.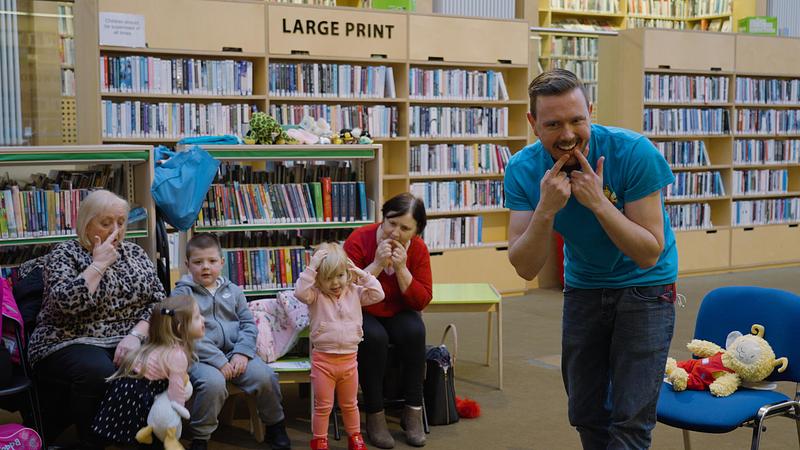 The national charity, which runs the Scotland-wide Bookbug programme for young children and families, is asking people across the country to nominate a librarian, early years worker, volunteer, health visitor, or anyone who uses Bookbug in their work.
Run in association with Walker Books, the award honours someone who has made a real difference to the lives of young children, families and communities they work with.
Marc Lambert, CEO of Scottish Book Trust, said:
'Bookbug touches the lives of so many young families all over Scotland, in libraries, early years and nursery settings and also through the health service. We are excited to open nominations for our fourth Bookbug Hero Award, which celebrates the brilliant work of our Bookbug practitioners. Without this work, many families and children would not discover the fun and lifelong benefits of sharing stories, songs and rhymes. We are grateful to Walker Books for their support in helping us recognise these heroes in local communities.'
Ian Keane, librarian and Bookbug Co-ordinator, Clackmannanshire Council and winner of the Bookbug Hero Award 2022, said:
'I was very surprised to win the Bookbug Hero Award. The idea expressed by the people who nominated me was that somehow during Covid times, I had offered an anchor that helped bring a bit of stability to the week. However, the truth is they offered me an anchor, a light to cling to in darker times, I'll forever be grateful to the attendees for recalling me to life. I think without Bookbug we have all been a lot poorer – it is a panacea for our times.'
Ed Ripley, Walker UK Sales and Marketing Director:
'At Walker we appreciate the huge impact individuals can have on supporting communities to grow their reading culture, and as such we're delighted to get behind any initiative that celebrates and applauds these individuals. Scottish Book Trust's programmes have a huge impact on families and young people, and the vast array of practitioners who help implement them do stellar work, so we are thrilled to support the Bookbug Hero Award.'
Nominations for the Bookbug Hero Award can be made online via Scottish Book Trust's website. The closing date for nominations is Friday 4 November 2022. The winner will receive a special trophy and a bundle of picture books worth £500 from Walker Books.
Notes to Editors
For all media queries, please contact Marketing and PR Manager, Abi Baross, at abi.baross@scottishbooktrust.com(this will open in a new window).
Scottish Book Trust
Scottish Book Trust is a national charity that believes everyone living in Scotland should have equal access to books. Our work provides opportunities to improve life chances through books and the fundamental skills of reading and writing. Access to books and a love of books bring many important benefits from family bonding and advancing children's learning, to unlocking creativity, helping employability and improving mental health & wellbeing. Scottish Book Trust aims to support all communities across Scotland, with particular focus on those who are vulnerable and under-represented.
Our programmes and outreach work include:
Gifting books to every child in Scotland to ensure families of all backgrounds can share the joy of books at home, through Bookbug and Read Write Count
Working with teachers to inspire children to develop a love of reading, creating innovative classroom activities, book awards and author events such as Authors Live with the BBC and our Scottish Friendly Children's Book Tour
Supporting and nurturing Scotland's wide-ranging literary talent, both emerging and established through our training, awards and writing opportunities including New Writers Awards
Creating events to share books and connect writers with communities, including Book Week Scotland
Providing support to people living with dementia, and their carers, through Reading is Caring
In addition to the funding we receive from the Scottish Government and Creative Scotland, we need the constant support of trusts and foundations, corporate sponsors and individual donors.
Visit the Scottish Book Trust website
Follow Scottish Book Trust on Instagram(this will open in a new window)
Follow Scottish Book Trust on Twitter(this will open in a new window)
Follow Scottish Book Trust on Facebook(this will open in a new window)
Bookbug
Bookbug is Scotland's national book gifting programme, gifting books to every baby, toddler, 3 and 5-year-old in Scotland in four free Bookbug bags:
Baby Bag (gifted by a health visitor to every baby)
Toddler Bag (gifted by a health visitor to every toddler)
Explorer Bag (gifted at childcare settings to every 3-year-old)
Primary 1 Family Bag (gifted at school to every P1 pupil)
There are also two Bookbug books in the Scottish Government's Baby Box scheme, gifted pre-birth. The Bookbug programme is managed by Scottish Book Trust and run in partnership with libraries, health professionals and early years settings. The programme benefits from sponsorship from children's publishers and central funding from the Scottish Government through a grant from the Children and Families Directorate.
Bookbug Sessions are run by local libraries or community groups, with training for practitioners provided by Scottish Book Trust and funded by Creative Scotland's Youth Music Initiative. These are free, fun-filled story and rhyme sessions for babies to four-year-olds, attended by thousands of parents and children a year.
Bookbug's targeted outreach programme, Bookbug for the Home, trains Early Years practitioners to give support to families on a one-to-one basis. Bookbug for the Home practitioners work in every local authority in Scotland.
Scottish Book Trust also supports the delivery of Dolly Parton Imagination Library in Scotland (free books delivered monthly to every Looked After and adopted child aged 0-5).
About Walker Books
Home to books for all ages, Walker Books publishes many award-winning authors, illustrators, and literary franchises including Anthony Horowitz, Angie Thomas, Cassandra Clare, Lucy Cousins, Anthony Browne, Patrick Ness, Guess How Much I Love You by Sam McBratney and Anita Jeram, We're Going on a Bear Hunt by Michael Rosen and Helen Oxenbury, and Where's Wally? by Martin Handford. Walker Books is part of the vibrant international Walker Books Group that includes Walker Books Australia; Candlewick Press in America and its new division, Walker Books US; and Walker Productions.