Looking for more in About us or Press releases?
Press release: Dragon day at Stirling Castle with Cressida Cowell
Waterstones Children's Laureate joins schools across Scotland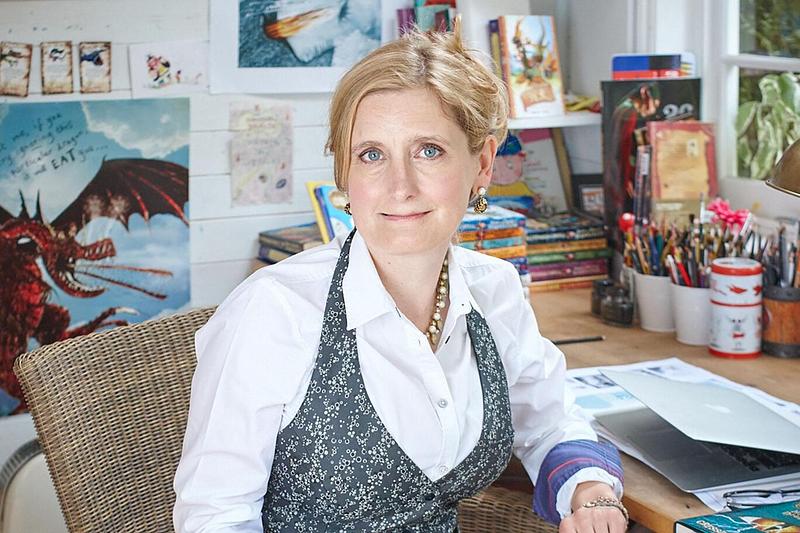 Cressida Cowell MBE, current Waterstones Children's Laureate, will join the Scottish Friendly Children's Book Tour from Monday 21 March to Friday 25 March, including an exclusive event at Stirling Castle that will be live-streamed to schools across Scotland. The award-winning author-illustrator of the How to Train Your Dragon series will visit schools in Argyll and Bute, Clackmannanshire, East Renfrewshire, Glasgow City, Highland, Renfrewshire and Stirling.
Cressida Cowell is also author-illustrator of The Wizards of Once series, set in an ancient, magical time, full of wizards, warriors, giants and sprites, and the author of the Emily Brown picture books, illustrated by Neal Layton. She has sold over 11 million books worldwide in 38 languages. Alongside her role as the current Waterstones Children's Laureate (2019-2022), Cressida is an ambassador for the National Literacy Trust, a trustee for World Book Day and a founder patron of the Children's Media Foundation.
The Scottish Friendly Children's Book Tour is supported by Scottish Friendly and organised by Scottish Book Trust, the national charity transforming lives through reading and writing. During the pandemic, the tour has been delivered virtually throughout classrooms in Scotland, with educational watch on demand video content viewed over 100,000 times.
Pupils in P4–7 across Scotland will join the Stirling Castle event on Monday 21 March in person and online. Cressida Cowell will reveal how her childhood on a remote Scottish island inspired the How to Train Your Dragon series, which became a DreamWorks film and TV franchise. During the event, there will be an opportunity for the young people to ask Cressida about her work.
Cressida Cowell said:
'Scotland inspired my How to Train Your Dragon series and it's always a pleasure to return and meet pupils. It's thrilling to hold an event in Stirling Castle, a place with fantastic history and wonderful stories. I'm sure the young people will have many interesting questions and I look forward to meeting them all during Scottish Friendly Children's Book Tour.'
Marc Lambert, CEO of Scottish Book Trust said:
'Hosting an event with Cressida Cowell in Stirling Castle is a significant milestone for the Scottish Friendly Children's Book Tour. The hybrid event will allow pupils across Scotland to join in from the comfort of their classrooms. We're pleased that Cressida will also be able to tour schools in person and meet budding authors and illustrators.'
Notes to Editors
For all press queries, please contact Keara Donnachie on Keara.Donnachie@scottishbooktrust.com(this will open in a new window) or 07956 773 749.
About Scottish Friendly
Scottish Friendly is one of the UK's largest mutual life offices. At Scottish Friendly we believe saving and investing should be for everyone, which is why we offer a range of affordable investment and savings products to help individuals and their families achieve their financial goals.
Scottish Friendly has sponsored the programme for the past 20 years, touring some of the finest children's authors and illustrators including former Waterstones Children's Laureates Chris Riddell, Malorie Blackman, Michael Rosen, Michael Morpurgo and Jacqueline Wilson as well as Melvin Burgess, Steve Cole, Michael Morpurgo and Sophie McKenzie.
Scottish Book Trust
Scottish Book Trust is a national charity that believes everyone living in Scotland should have equal access to books. Our work provides opportunities to improve life chances through books and the fundamental skills of reading and writing. Access to books and a love of books bring many important benefits from family bonding and advancing children's learning, to unlocking creativity, helping employability and improving mental health & well-being. Scottish Book Trust aims to support all communities across Scotland, with particular focus on those who are vulnerable and under-represented.
Our programmes and outreach work include:
Gifting books to every child in Scotland to ensure families of all backgrounds can share the joy of books at home, through Bookbug and Read Write Count
Working with teachers to inspire children to develop a love of reading, creating innovative classroom activities, book awards and author events such as Authors Live with the BBC and our Scottish Friendly Children's Book Tour
Supporting and nurturing Scotland's wide-ranging literary talent, both emerging and established through our training, awards and writing opportunities including New Writers Awards
Creating events to share books and connect writers with communities, including Book Week Scotland
Providing support to people living with dementia, and their carers, through Reading is Caring
In addition to the funding we receive from the Scottish Government and Creative Scotland, we need the constant support of trusts and foundations, corporate sponsors and individual donors.
Visit the Scottish Book Trust website
Follow Scottish Book Trust on Instagram(this will open in a new window)
Follow Scottish Book Trust on Twitter(this will open in a new window)
Follow Scottish Book Trust on Facebook(this will open in a new window)