Looking for more in About us or Press releases?
Press release: Community Campfires project to spark new stories
Story Wagon to visit North Ayrshire, Inverclyde, Fife and Western Isles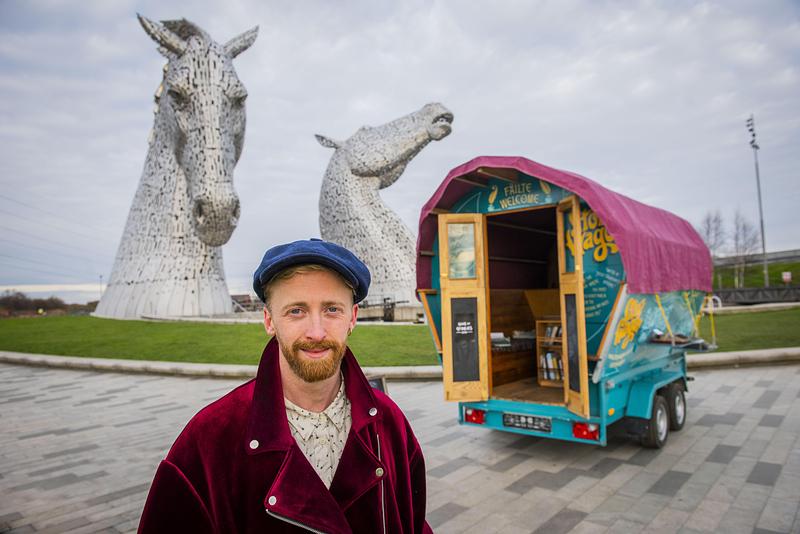 Scottish Book Trust, the national charity changing lives through reading and writing, has today launched their Community Campfires residencies project. It marks the 14th year of Scottish Book Trust's annual Your Stories campaign and four intensive story making residencies will take place in communities across Scotland via the Story Wagon.
The Community Campfires residencies will work in partnership with four different library services. Over five days, the charity will support people in the community to tell the stories from their lives that matter to them. The residencies are supported by EventScotland as part of Scotland's Year of Stories 2022.
Scotland's Year of Stories spotlights, celebrates and promotes the wealth of stories inspired by, written, or created in Scotland. Stories are vital to every part of Scotland. Every community has its own tales to tell, places to highlight as inspiration for well-known books and films, visitor attractions that showcase our literature, poetry and storytelling heritage and all kinds of places and spaces where stories, old and new, can be enjoyed.
The Story Wagon(this will open in a new window) will tour: Garnock Valley, North Ayrshire; Greenock, Inverclyde; Lochgelly, Fife and the Western Isles, gathering real life stories from the public. Luke Winter, Navigation Officer of the Story Wagon, will be joined by a team of digital storytellers, filmmakers and podcasters producing content in English and Gaelic.
Story Wagon stops:
Monday 18 April to Friday 22 April, North Ayrshire
Monday 25 April to Friday 30 April, Inverclyde
Monday 23 May to Friday 27 May, Fife
Monday 30 May to Friday 3 June. Western Isles – Barra, South Uist and Eriskay, Benbecula and North Uist.
Culture Minister Neil Gray said:
'Every community has a story to tell and it's exciting to see Scottish Book Trust working with local libraries to bring these to life as part of their Community Campfire residences.
'Our partners, Scottish Book Trust, have a fantastic track record when it comes to using stories to transform lives and I'm sure those that emerge from this project will make an important contribution to Scotland's Year of Stories.'
Luke Winter, Navigation Officer of the Story Wagon, said:
'I'm incredibly excited for Story Wagon to be visiting four areas of Scotland with Scottish Book Trust as part of Scotland's Year of Stories with EventScotland. As craic catalysts, Story Wagon encourages people to explore and create stories. The Your Stories programme from Scottish Book Trust has done a brilliant job of collating treasure troves of stories across Scotland over the past fourteen years. We are incredibly excited to be joining with them to meet with the public across Scotland and to help collect personal stories from the extraordinary times we're all living through.'
Marc Lambert, CEO of Scottish Book Trust, said:
'The Your Stories programme has always been a cornerstone of Scottish Book Trust, giving a platform for the public to share personal experiences and for some, be published for the first ever time. Through the Community Campfires residencies project, we will be able to connect directly with these important stories and share them with a wider audience. We're grateful to EventScotland for funding this programme and we look forward to celebrating stories from North Ayrshire to North Uist.'
Each residency will conclude with a celebratory 'community campfire' for each local authority. These events will allow the public to come together and share their stories through a wide variety of formats such as print, audio and film.
On Friday 1 April, Scottish Book Trust will open their national Your Stories project, which encourages the public to submit their real-life experiences, tied in to Scotland's Year of Stories 2022. A selection of these stories will be published in a free book that is distributed during Book Week Scotland (14–20 November 2022). Information about submission will be shared on Scottish Book Trust's website. There will also be a Scotland's Stories: Community Campfires flagship event that will take place during Book Week Scotland, celebrating the stories gathered across the country.
Notes to editors:
For all media enquiries, please contact Keara Donnachie on keara.donnachie@scottishbooktrust.com(this will open in a new window) or 07956 773 749.
Lochgelly Centre, Fife said:
'ONFife Libraries are delighted to be able to take part in this project celebrating the Year of Scotland's Stories with Scottish Book Trust. Our residency will be based in Lochgelly; a vibrant ex-mining community that has an abundance of history and people willing to share their stories. We're looking forward to working with our author, digital storyteller, film maker and podcaster to draw out stories and experiences of people and place from both past and present to give a real flavour of the people who make up this corner of Fife.'
Western Isles Library said:
'We couldn't be more thrilled to be hosting one of the Community Campfires Residencies in this very special Year of Stories. It's been a tough few years for everyone, and what better way can there be to celebrate family and being together, than by coming together to share stories. The Story Wagon will be a fantastic sight to see travelling up the islands to gather and share stories wherever it goes, and the final Community Campfire will be a glorious time to celebrate the magic of words and the chance for everyone to share their own story.'
Scottish Book Trust:
Scottish Book Trust is a national charity that believes everyone living in Scotland should have equal access to books. Our work provides opportunities to improve life chances through books and the fundamental skills of reading and writing. Access to books and a love of books bring many important benefits from family bonding and advancing children's learning, to unlocking creativity, helping employability and improving mental health & well-being. Scottish Book Trust aims to support all communities across Scotland, with particular focus on those who are vulnerable and under-represented.
Our programmes and outreach work include:
Gifting books to every child in Scotland to ensure families of all backgrounds can share the joy of books at home, through Bookbug and Read Write Count
Working with teachers to inspire children to develop a love of reading, creating innovative classroom activities, book awards and author events such as Authors Live with the BBC and our Scottish Friendly Children's Book Tour
Supporting and nurturing Scotland's wide-ranging literary talent, both emerging and established through our training, awards and writing opportunities including New Writers Awards
Creating events to share books and connect writers with communities, including Book Week Scotland
Providing support to people living with dementia, and their carers, through Reading is Caring
In addition to the funding we receive from the Scottish Government and Creative Scotland, we need the constant support of trusts and foundations, corporate sponsors and individual donors.
Visit the Scottish Book Trust website
Follow Scottish Book Trust on Instagram(this will open in a new window)
Follow Scottish Book Trust on Twitter(this will open in a new window)
Follow Scottish Book Trust on Facebook(this will open in a new window)
Scotland's Year of Stories 2022
Scotland's Year of Stories 2022 will spotlight, celebrate and promote the wealth of stories inspired by, written, or created in Scotland.
Led by VisitScotland, the Year of Stories 2022 will sustain and build upon the momentum of preceding Themed Years, showcasing a nationwide programme of major events and community celebrations.
From icons of literature to local tales, Scotland's Year of Stories encourages locals and visitors to experience a diversity of voices, take part in events and explore the places, people and cultures connected to all forms of our stories, past and present.
Scotland's Year of Stories will encourage responsible engagement and inclusive participation from the people of Scotland and our visitors.
Join the conversation using #YS2022 and #TalesOfScotland.
Following an industry consultation, Themed Years will take place every second year to enable more time for planning and collaboration. The next Themed Year will take place in 2024.
Story Wagon
Story Wagon is a touring story sanctuary. We offer creative writing, writing for wellbeing & traditional storytelling activities to communities across Scotland.
Built in response to the pandemic in 2021, Story Wagon is an outdoor, well-ventilated arts venue. We can pop up on the streets of villages, towns and cities to provide community arts activities centred on writing and storytelling.
Story Wagon was funded by 210 people in a public crowd-funding campaign in 2020. We've received additional support from Creative Scotland.
Visit the Story Wagon website(this will open in a new window)
Follow Story Wagon on Instagram(this will open in a new window)
Follow Story Wagon on Facebook(this will open in a new window)