Looking for more in About us or Press releases?
Press release: Book Week Scotland plots reading map
National charity to share Scotland's favourite reads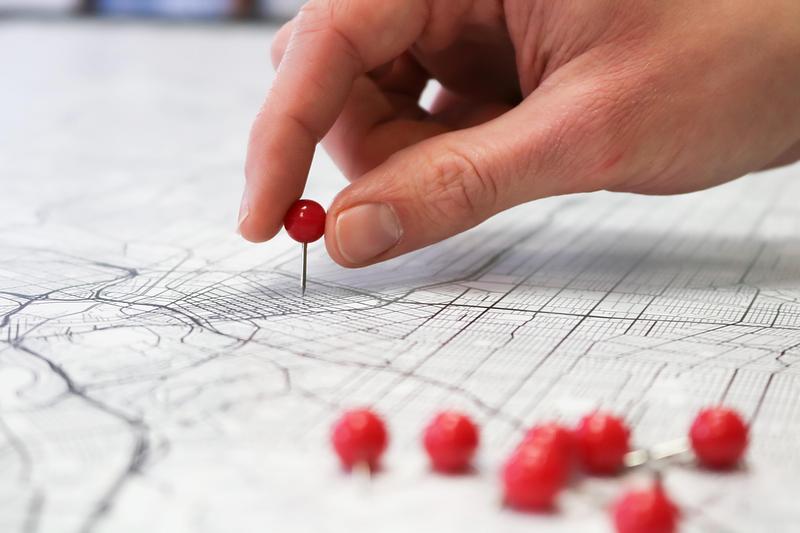 Book Week Scotland kicks off today (Monday 15 November), marking the tenth anniversary of the country-wide celebration of reading and writing. Scottish Book Trust, the national charity that runs Book Week Scotland, has worked closely with partners to provide both online and in person events centred around this year's theme of 'celebration' including an interactive reading map to reveal the nation's reading habits.
Philippa Cochrane, Head of Reading Communities at Scottish Book Trust, said:
'It is so exciting to be celebrating the 10th Book Week Scotland. Over the last decade Book Week Scotland has grown to become a joyful, inclusive week in Scotland's book calendar. Once again Book Week Scotland is delivered with fantastic partners – libraries, community organisations, charities, schools and many more – across the country and offers a riotous collection of events and activities. We hope everyone in Scotland feels welcomed to the party and celebrates Book Week Scotland's 10th anniversary by reading, gifting, discussing and celebrating the books they love.'
The new Reading Map of Scotland, designed to capture and share what the nation is reading now, is live from Monday 15 November. Members of the public are encouraged to plot their location and current book of choice on the interactive map via Scottish Book Trust's website.
Book Week Scotland will also launch #ILoveMyLibrary, a week-long social media campaign in support of libraries, encouraging the public to join in and share their memories of their favourite or local library. Top authors in Scotland will also take part, celebrating the library they most treasure. The memories and anecdotes will be displayed on a dedicated social wall on Scottish Book Trust's website.
For music lovers, there's the opportunity to create a playlist poem using song titles. Poet Nadine Aisha Jassat and author Harry Josephine Giles have contributed their own #BookWeekScotlandPlaylistPoem, which can be viewed in Scottish Book Trust's online playlist poem library.
50,000 free copies of a new book, Celebration, which includes real life stories from people around the country, will be available from libraries and other community venues during Book Week Scotland. The book includes 22 stories selected by a panel, plus commissioned pieces from Courtney Stoddart, Elle McNicoll, Eòghan Stewart, Mòrag Law and Ross Sayers.
Event highlights of Book Week Scotland include:
The full Book Week Scotland programme can be viewed on the Scottish Book Trust website.
British sign language and closed captions will be available for all the panel events.
Ends
Notes to Editors
Please direct all media requests to PR and Marketing Manager:
Keara.Donnachie@scottishbooktrust.com(this will open in a new window) or call 07956 773749.
Scottish Book Trust
Scottish Book Trust is a national charity that believes everyone living in Scotland should have equal access to books. Our work provides opportunities to improve life chances through books and the fundamental skills of reading and writing. Access to books and a love of books bring many important benefits from family bonding and advancing children's learning, to unlocking creativity, helping employability and improving mental health & well-being. Scottish Book Trust aims to support all communities across Scotland, with particular focus on those who are vulnerable and under-represented.
Our programmes and outreach work include:
Gifting books to every child in Scotland to ensure families of all backgrounds can share the joy of books at home, through Bookbug and Read Write Count
Working with teachers to inspire children to develop a love of reading, creating innovative classroom activities, book awards and author events such as Authors Live with the BBC and our Scottish Friendly Children's Book Tour
Supporting and nurturing Scotland's wide-ranging literary talent, both emerging and established through our training, awards and writing opportunities including New Writers Awards
Creating events to share books and connect writers with communities, including Book Week Scotland
Providing support to people living with dementia, and their carers, through Reading is Caring
In addition to the funding we receive from the Scottish Government and Creative Scotland, we need the constant support of trusts and foundations, corporate sponsors and individual donors.
Follow Scottish Book Trust on Instagram(this will open in a new window)
Follow Scottish Book Trust on Twitter(this will open in a new window)
Follow Scottish Book Trust on Facebook(this will open in a new window)
Book Week Scotland
Initiated by the Scottish Government and supported by £200,000 from the National Lottery through Creative Scotland Targeted Funding and over £24,000 from SLIC, Book Week Scotland 2021 will be delivered by Scottish Book Trust from 15 November – 21 November.
For more information about Book Week Scotland 2021 and how you can get involved, visit www.bookweekscotland.com(this will open in a new window) where you can find information about all the events taking place in your local area. Follow @Bookweekscot on Twitter, check out #bookweekscotland or like the Book Week Scotland Facebook page.
Creative Scotland
Creative Scotland is the public body that supports the arts, screen and creative industries across all parts of Scotland on behalf of everyone who lives, works or visits here. We enable people and organisations to work in and experience the arts, screen and creative industries in Scotland by helping others to develop great ideas and bring them to life. We distribute funding provided by the Scottish Government and the National Lottery.
Follow Creative Scotland
Twitter: https://twitter.com/CreativeScots(this will open in a new window)
Facebook: www.facebook.com/CreativeScotland(this will open in a new window)
Instagram: www.instagram.com/creativescots(this will open in a new window)
The Scottish Library and Information Council (SLIC)
The Scottish Library and Information Council (SLIC) is the independent advisory body to the Scottish Government on library and information services. It leads the implementation of Ambition and Opportunity: A strategy for public libraries in Scotland 2015–2020, develops innovative projects like Film Education in Libraries and provides support for libraries in the form of advocacy, consultation and research. It administers Scottish Government funding for public libraries (Public Library Improvement Fund), for school libraries (School Libraries Improvement Fund) and funding for the wider library and information sector (Innovation and Development Fund). It supports public libraries to participate in Book Week Scotland by providing Scottish Book Trust with event funding for every public library service and Further Education College Libraries.