Looking for more in About us or Press releases?
Press release: Peter May's Lockdown tops Book Week Scotland 2020 poll
Scottish Book Trust today reveals that Peter May's Lockdown topped the Book Week Scotland poll for 2020.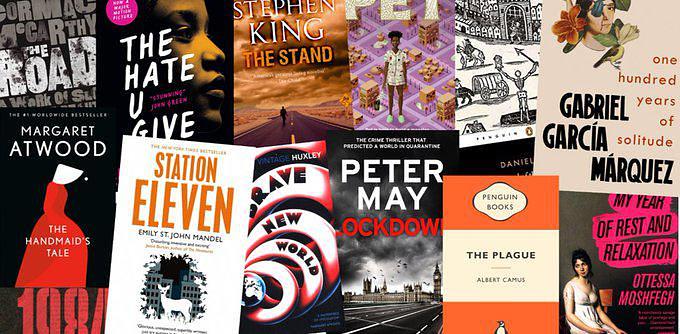 The public were asked to vote for the book that 'sums up' the year so far, and the mystery thriller, set against the background of a deadly influenza pandemic, was selected with 30% of the votes. May wrote the novel in 2005, but it was rejected by publishers as being unrealistic. During COVID-19, the book was finally published against the background of lockdowns happening across the UK.
The top ten list also includes a mixture of classic novels and new bestsellers, from George Orwell's 1984 to The Hunger Games by Suzanne Collins. As well as pandemics, topical issues explored in the books include social change, political upheaval and racism.
The top ten books as voted by the public are:
Lockdown

by Peter May

The Plague

by Albert Camus

1984

by George Orwell

It Can't Happen Here

by Sinclair Lewis

Station Eleven

by Emily St John Mandel

The Stand

by Stephen King

The Hunger Games

by Suzanne Collins

The Handmaid's Tale

by Margaret Atwood

Journal of the Plague Year

by Daniel Defoe

The Hate U Give

by Angie Thomas
Marc Lambert, CEO of Scottish Book Trust, said:
"2020 has been a strange year so far, but it has sparked the opportunity to discuss books that can help us understand and cope with the current situation. This list of books represents many of the challenges and major events we have faced this year, from COVID-19 to recent elections. It's great to see so many members of the public taking part in our vote, and we hope they will also get involved with our jam-packed and varied Book Week Scotland programme and the many fantastic online events happening this week."
Author Peter May said:
"I am delighted to sit at the top of a list of some very distinguished names. But, in truth, I would rather Lockdown had remained unpublished in a drawer than that we'd had to suffer the curse of this appalling pandemic. However, there is no doubt that it has chimed with a lot of readers, and very much reflects the world we have been living in this year. I did predict a vaccine in the book which, sadly, didn't work. Let's hope the real life one does!"
Book Week Scotland is the country's biggest celebration of reading and writing and it is run by national charity Scottish Book Trust. Although there will be no face-to-face events this year, the Digital Festival(this will open in a new window) has a stellar line-up including award-winning author Denise Mina; actress and comedian Ruby Wax; bestselling crime writer Louise Welsh and First Minister Nicola Sturgeon.
Book Week Scotland event highlights
Notes to Editors
Please direct all media requests to PR and Marketing Manager: Keara.Donnachie@scottishbooktrust.com(this will open in a new window) or call 07956 773749.