Looking for more in About us or Press releases?
Press release: 2022 Bookbug Picture Book Prize Announced
Three Edinburgh based authors nominated for award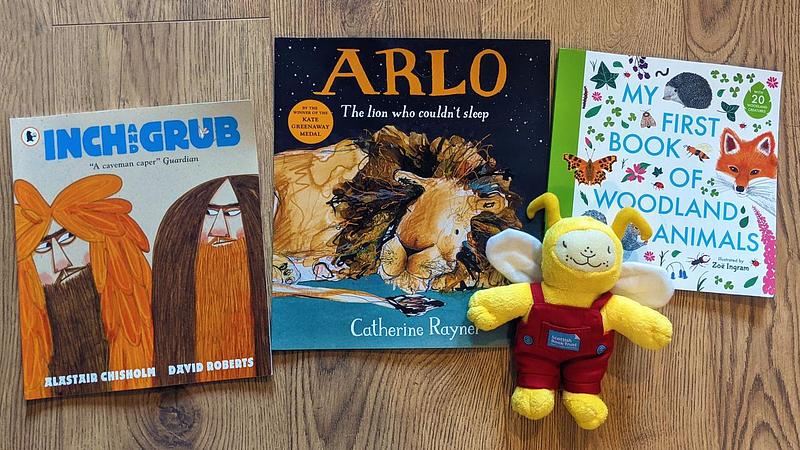 Scottish Book Trust, the national charity transforming lives through reading and writing, has today announced the shortlist for the 2022 Bookbug Picture Book Prize. Now in its sixth year, the shortlist includes Alastair Chisholm, Catherine Rayner, David Roberts, and Zoë Ingram.
The award was established to celebrate the most popular picture books by Scottish authors and illustrators and to encourage reading for pleasure. The shortlist is selected by an independent panel of experts including Primary 1 teachers, a children's librarian, children's bookseller and Bookbug coordinator as well as experts from Scottish Book Trust's Early Years Team. The winner is then chosen by thousands of children across the country who can cast their votes online either at school with their teacher or at home with their families, via the Scottish Book Trust website.
The Bookbug Picture Book Prize 2022 Shortlist
THE BOOKBUG PICTURE BOOK PRIZE 2022 SHORTLIST IS:
Arlo the Lion Who Couldn't Sleep

by Catherine Rayner

Inch and Grub

by Alastair Chisholm and illustrated by David Roberts

My First Book of Woodland Animals

illustrated by Zoë Ingram
The 2022 shortlist features an exhausted lion who meets an owl friend; competitive cavemen; and a beautifully illustrated wild animal spotter guide.
61,000 pupils across Scotland will receive a free copy of each of the three books on the shortlist, which are given to every Primary 1 child during Book Week Scotland (15 November – 21 November), in the Bookbug P1 Family Bag.
The winner of the Bookbug Picture Book Prize will be announced in an exclusive video to all registered groups on Wednesday 26 January. The winner will receive a specially commissioned trophy and £2,000 while shortlisted authors and illustrators receive £500 per book.
Marc Lambert, CEO of Scottish Book Trust, said:
'Congratulations to all those who have been shortlisted for the Bookbug Picture Book Prize. We encourage schools and families across Scotland to read the shortlisted titles and vote for their favourite. We hope the children receiving their Bookbug P1 Family Bag will enjoy sharing these stories at home and with their classmates.'
Katalina Watt, Literature Officer at Creative Scotland, said:
'The Bookbug Picture Book Prize is such a special award with its focus on reading for enjoyment and placing young readers at the heart of the selection process. Warm congratulations to all the authors and illustrators who submitted their stories and to those making up such a rich and varied shortlist.'
The deadline for voting is Friday 10 December 2021 at 5pm.
ENDS
Notes to editors
Catherine Rayner is an author and illustrator of children's picture books. She studied Illustration at Edinburgh College of Art where, for her final degree show, she created what would go on to be her debut picture book. Originally from Yorkshire, Catherine fell in love with the city of Edinburgh and still lives there. She was winner of the 2009 CILIP Kate Greenaway Medal for Harris Finds His Feet. In 2010, she was the inaugural illustrator in residence at the Edinburgh International Book Festival.
Catherine Rayner said:
'I'm so excited to be on such an amazing shortlist. I'm a huge supporter of Scottish Book Trust and all they do so this is an exceptionally special honour. Arlo is extremely excited too!'
Alastair Chisholm is an award-winning children's author and puzzle creator. He's the author of the sci-fi middle-grade adventures Orion Lost and Adam-2, and children's picture books The Prince and the Witch and the Thief and the Bears, as well as books of Sudoku, Kakuro and other puzzles, including the Kids' Book of Sudoku and Kids' Book of Kakuro series. Alastair lives in Edinburgh with his wife and two children.
David Roberts is a children's illustrator originally from Liverpool. He has illustrated a large number of books in both black and white and colour. He has worked with such well-known authors as Philip Ardagh, Peter Bently and Julia Donaldson. His sister Lynn Roberts is also a writer and the siblings have collaborated on several retellings of fairy stories, including Rapunzel: A Groovy Fairy Tale, which was shortlisted for a Blue Peter Book Award, and Little Red: A Fizzingly Good Yarn, which was shortlisted for the Kate Greenaway Medal.
Alastair Chisholm said:
'It's a joy to see Inch and Grub shortlisted for the Bookbug Picture Book Prize, and especially to be included in the Bookbug bag! This is a brilliant and vital project, and one my own daughters benefited from when they were younger – it's wonderful now to think of my and David's book becoming part of it. Thank you so much!'
Zoë Ingram is an artist & illustrator based in Edinburgh, Scotland. With a printed textile design degree under her belt and a career in the creative arts spanning over twenty years, Zoë now focuses on client commissions and personal work.
Zoë primarily works with mixed media and digital applications, often combining traditional and digital techniques. Zoë has also recently written and published her first book, Oh My Gouache!, a beginner's guide to painting with opaque watercolour.
Zoë Ingram said:
'I'm so thrilled to be shortlisted for the Bookbug Picture Book Prize. It's such an honour to be chosen and I just hope that everyone who reads My first book of Woodland Animals has as much fun finding out about all the lovely animals and insects in the book as I did when I was illustrating them.'
For all press queries please contact PR & Marketing Manager Keara Donnachie by email at keara.donnachie@scottishbooktrust.com(this will open in a new window) or call 07956 773749.
The Bookbug P1 Bag
The P1 Bag was produced by Scottish Book Trust in conjunction with Education Scotland and the Scottish Government as part of Read, Write, Count. You'll find more ideas for fun activities and games that you can slip into your daily routine at parentclub.scot(this will open in a new window).
Bookbug Picture Book Prize
The Bookbug Picture Book Prize is managed by Scottish Book Trust in partnership with Creative Scotland.
Teachers, librarians and book group leaders sign up their groups, then the children read and vote for their favourite books. Children can also vote online at home via the Scottish Book Trust website.
Videos of each author/illustrator reading and talking about their book are available at https://www.scottishbooktrust.com/bpbp

(this will open in a new window)

Books published during January – December 2020 were eligible for entry to the award. The Bookbug Picture Book Prize is open to authors and illustrators based in Scotland.
The winning book will be announced on Wednesday 26 January 2022.
Scottish Book Trust
Scottish Book Trust is a national charity that believes everyone living in Scotland should have equal access to books. Our work provides opportunities to improve life chances through books and the fundamental skills of reading and writing. Access to books and a love of books bring many important benefits from family bonding and advancing children's learning, to unlocking creativity, helping employability and improving mental health & well-being. Scottish Book Trust aims to support all communities across Scotland, with particular focus on those who are vulnerable and under-represented.
Our programmes and outreach work include:
Gifting books to every child in Scotland to ensure families of all backgrounds can share the joy of books at home, through Bookbug and Read Write Count
Working with teachers to inspire children to develop a love of reading, creating innovative classroom activities, book awards and author events such as Authors Live with the BBC and our Scottish Friendly Children's Book Tour
Supporting and nurturing Scotland's wide-ranging literary talent, both emerging and established through our training, awards and writing opportunities including New Writers Awards
Creating events to share books and connect writers with communities, including Book Week Scotland
Providing support to people living with dementia, and their carers, through Reading is Caring
In addition to the funding we receive from the Scottish Government and Creative Scotland, we need the constant support of trusts and foundations, corporate sponsors and individual donors.
Follow Scottish Book Trust on Instagram(this will open in a new window)
Follow Scottish Book Trust on Twitter(this will open in a new window)
Follow Scottish Book Trust on Facebook(this will open in a new window)
Creative Scotland
Creative Scotland is the public body that supports the arts, screen and creative industries across all parts of Scotland on behalf of everyone who lives, works or visits here. We distribute funding provided by the Scottish Government and The National Lottery. Further information at creativescotland.com(this will open in a new window).
Follow Creative Scotland on Twitter(this will open in a new window)
Follow Creative Scotland on Facebook(this will open in a new window)
Follow Creative Scotland on Instagram(this will open in a new window)